In this Rising Stars story, we talk to two emerging talents that are stars in their own rights – one a Coverings Rock Star from 2020 and another, an installer and artist who is intent on manifesting greatness in every area of his life, after a daunting series of challenges early on.
---
Seth Ready, Ready Set Tile & Mosaic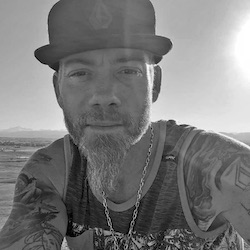 Seth Ready of Broomfield, Colo.'s Ready Set Tile & Mosaic is 45, a bit beyond what might be considered the age range for the traditional "emerging talent" category. But in his case, it's right on time.
Ready has made a name for himself these last few years performing stellar residential remodel installs, and adding a custom touch with artful mosaic. For the past months, he's been steadily working on "the dragons" – a pair of red dragons for project in a Colorado home that was a referral from two contractors he'd worked with previously. The dragons project took exquisite design and precise execution – down to cutting 1,200 glass diamonds to create the dragon bodies and incorporating actual diamonds into the pearl that both dragons circle. In April, this project was the subject of the NTCA Roundtables Live! Artisan Edition. Watch that episode at the NTCA YouTube channel.
Ready has been an artist since youth – always drawing and creating. Growing up on the beach, and encouraged by his grandmother, he was "sticking and gluing stuff" since he was a kid. And it was his art – and access to a full library – that sustained him through 15 years of prison time for three separate charges, starting at age 18, and the tragic death of his parents shortly before he was released.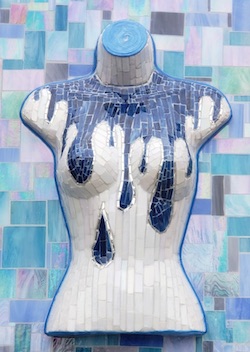 In prison, art was a "commodity" – he colored envelopes, created cards, decorated cups with boot polish rubbed into etched lines made by a sewing needle melted to a BIC pen (the latter unfortunately earned him a write-up that put the kibosh on his chances of going to a lower security facility). "Being locked up, you can have pencil and paper at all times – there was not a day I did not have it," he said. "Whether I was writing, drawing, coloring, or planning."
When he was first released in 2005, he took a job as a tile helper and quickly took to the trade, seeing it as an opportunity to make a living from his art, and worked to establish his own business. That passion stayed with him when he was released after another 4-year stint for DUI that carried a heavier penalty due to the previous felony. He invested himself in a therapeutic program while in prison the second time, intent on never coming back. Upon release, he dove back into tile, learning all he could and amassing a serious following. But alcohol is cunning. Another DUI earned him a year of work release, and renewed his commitment to be sober, and felony-free when he emerged in 2016 to take the tile world by storm.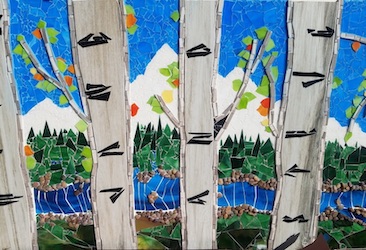 He dove into training by Schluter and wedi, and large panel training by Dekton, as well as NTCA regional training in Topeka. Though he is confident with his skill set in heated floors, linear drains, steam showers, he wants to learn to mud, and just had his first job using large panels. He takes lessons from each job, which allows him to refresh his knowledge.
In addition to using his skills and having the mindset and incentive to manifest a positive, thriving future, the relationship he develops with the client brings him deep joy, especially when he is able to "incorporate my own vision or custom touch to a job."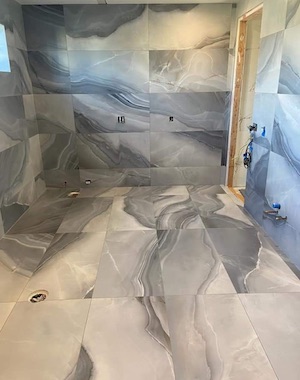 He is also fiercely passionate about the role of artistry in the trade and "bringing back the 5,000-6,000 year old roots of the tile trade," he said. "Artists are going to art – and it's important to encourage the ones who choose tile and stone to express themselves. The industry is responsible for placing this path and the process in front of people to let them know it's possible to do." He has mad respect for artisans like Lee Callewaert of Dragonfly Tile and Stone, Joshua Nordstrom of Tierra Tile and Angie Ré of Unique Mosaics, LLC for leading the way.
For Ready, being a Rising Star isn't just about the work – it's about his continual growth and elevation into a sober, felony-free, positive existence where he gets to create the life he wants for himself and his family, with his skills, his wisdom and his appreciation for trusted relationships with his clients.
"From a humble seat, I am overcoming legacy issues, which keeps me forever ambitious to be better at all I do. From father to tile setter, human and every other label I fit. I am for sure, a work in progress. I also realize that good things – great things – take time. Perhaps that is why I love mosaic."
---
Ilisha Harris, America's Floor Source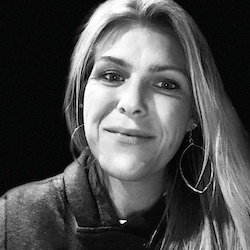 Ilisha Harris, installer with America's Floor Source, was recognized as an emerging talent in 2020 with a Coverings Rock Star award.
Harris exudes pride and joy when she talks about her trade. "You walk in, you have this blank space, and when you walk away you have created something beautiful," she said. "Many of us don't even realize the freedom and creative input we have in our everyday job. You can give five installers the same bathroom, with the same tile, and the same basic layout. What you will end up with are five different projects, they will be laid out differently, trimmed out differently, different materials being used to install and every installer has little personal touches which come across in the overall look of the project. I really enjoy seeing the people involved in tile and stone take pride in their work; it's almost contagious to be around these guys (and ladies) that love the trade."
Harris has held many roles in the industry: in the field, the showroom, and back of the building "where all of the not so glamorous work goes on," she said. "At the end of the day I always consider myself an installer; this is where my greatest joy comes from. There is something to be said for walking into an open bathroom looking at bare studs and plywood floors, and walking away with a beautiful lasting project. It doesn't hurt that tile and stone are some of the hands down most beautiful finishes that can be placed in a home."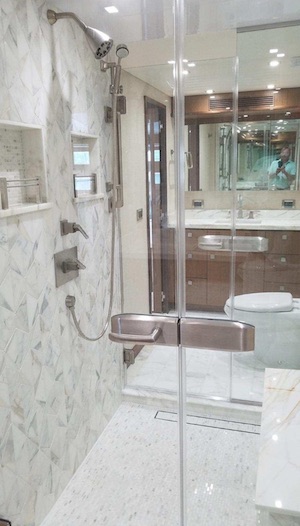 Harris acknowledges that the industry is adept at constantly pushing those involved to evolve. "We are an ever-changing trade, with new challenges to always overcome with the ever changing building practices," she said. She would also like to see "more new blood in the industry; I would love to see knowledge of the trade freely flowing to help younger generations evolve into the trade."
"Creative reality" is a phrase Harris has coined to express mixing reality with creativity to meet customer expectations. She asked, "What if those expectations are unrealistic for the space? If you do not communicate and mix reality with the creativity – which is always abundantly flowing where tile and stone are involved – it is a recipe for disaster. I try to always start with the given design and build from there….Making sure that we communicate with those we are working with and making sure that we utilize the space and materials in a way that works for the space and the customer.
"There is also nothing more gratifying than completing a project and knowing you gave the customer more than they could have imagined, and knowing that you contributed to that," she said.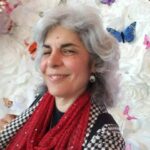 Editorial Director and Senior Writer for TileLetter and TileLetter ARTISAN
Lesley Goddin has been writing and journaling since her first diary at age 11. Her journey has taken her through a career in publishing and publicity, landing her the editor position of TileLetter and its special publications in 2006. Her goal is to educate, inspire, recognize and encourage those in the tile industry -- especially the tile and stone contractor. Other interests include the soft, purring marvels known as cats, labyrinth walking, drumming and percussion, and a range of spiritual, musical and artistic pursuits.