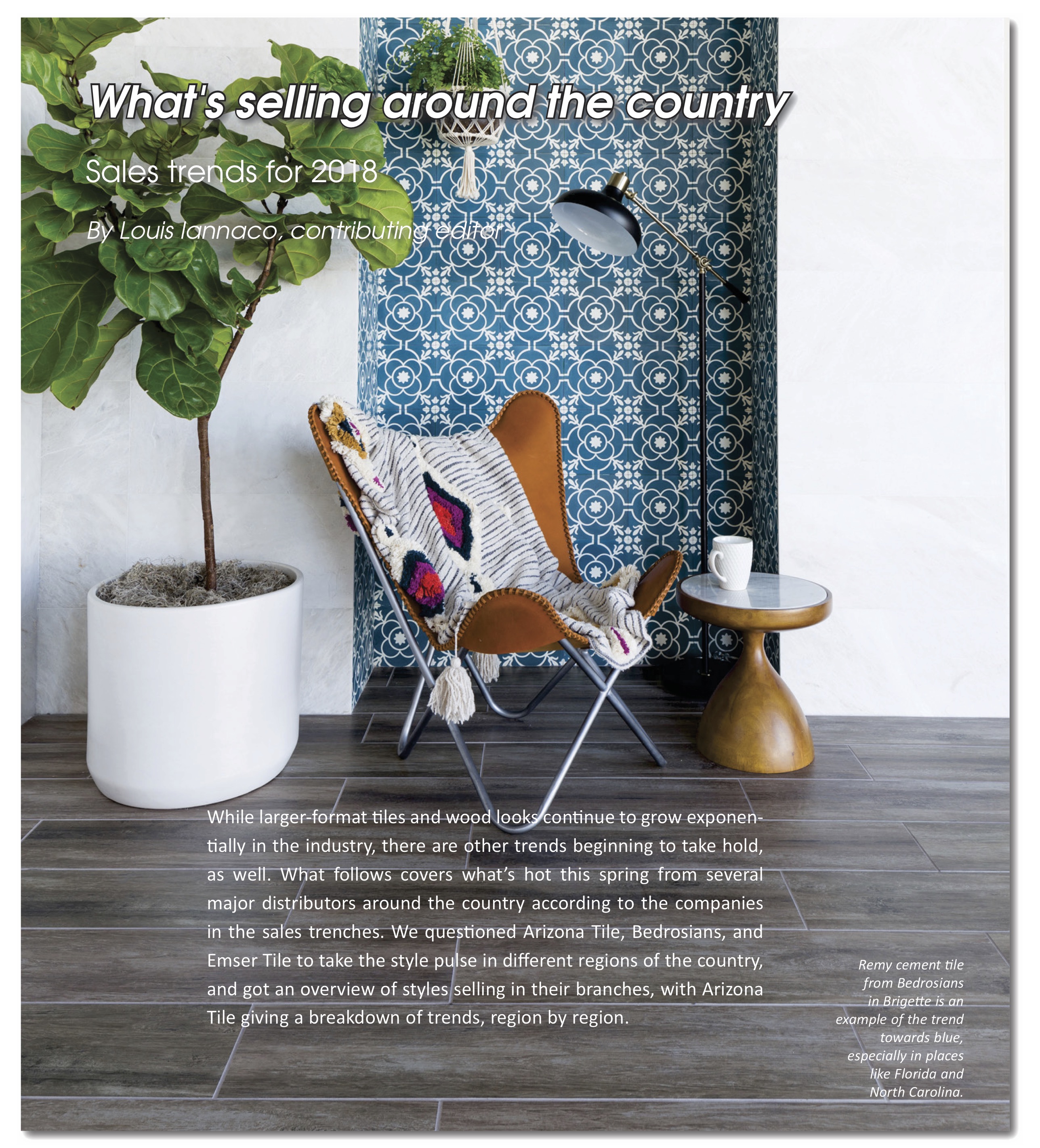 Arizona Tile
Anaheim, Calif. – Trending in Anaheim is large-format tile (24"x 48", 24"x24"), in 8" wide minimum wood planks, and cement aesthetics. Matte finishes prevail, and more color, moving away from white and into warm neutrals like greige, taupe, cream and off-white. Textures are in demand, as are linear sizes for backplashes and mixing of elements – modern with traditional touches such as brick or wood-like tile together with chevron glass. Textile aesthetics have not yet taken off in this market, though some customers do seek them. 
In terms of stone, satin and honed slabs are very popular right now since they camouflage etching or imperfections.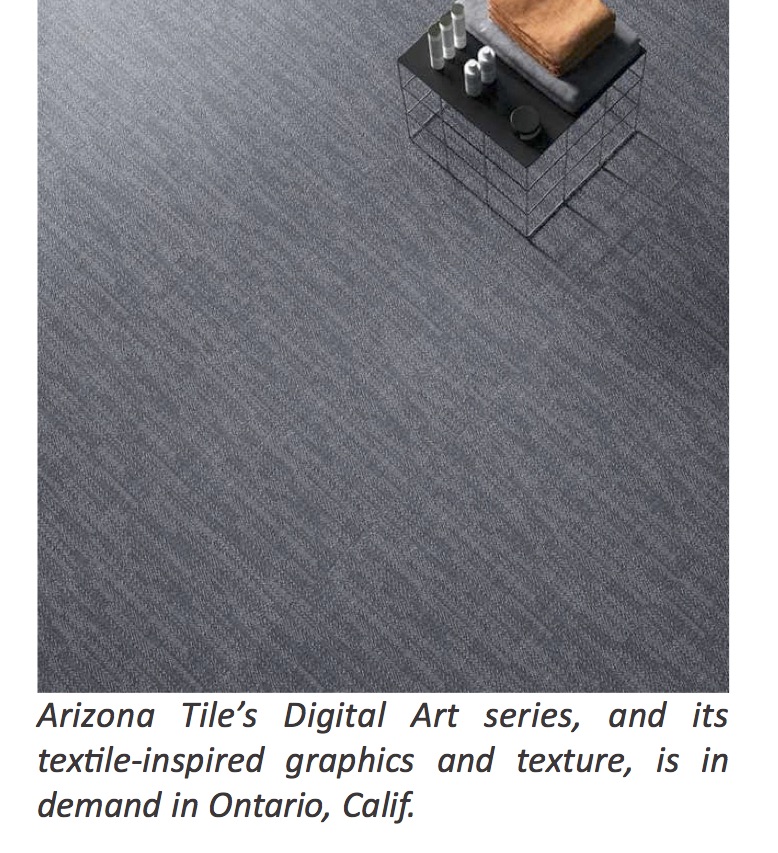 Ontario, Calif. – Large-format is king in Ontario, with sizes such as 36" x 36", 24" x 48", 16" x 32" and 24" x 24" as well as large wall sizes like 8" x 24" and 12" x 24." Stone and wood aesthetics are key. Colors are darkening, with dark tone-on-tone popular. Variety also is in demand, with more textured surfaces, colored penny rounds, geometric shapes and iridescent and shimmery glass tiles pairing with trending colors and shapes. The Digital Art series, a collection of Italian-made, fabric-inspired rectified glazed porcelain with rich textures, is very trendy here.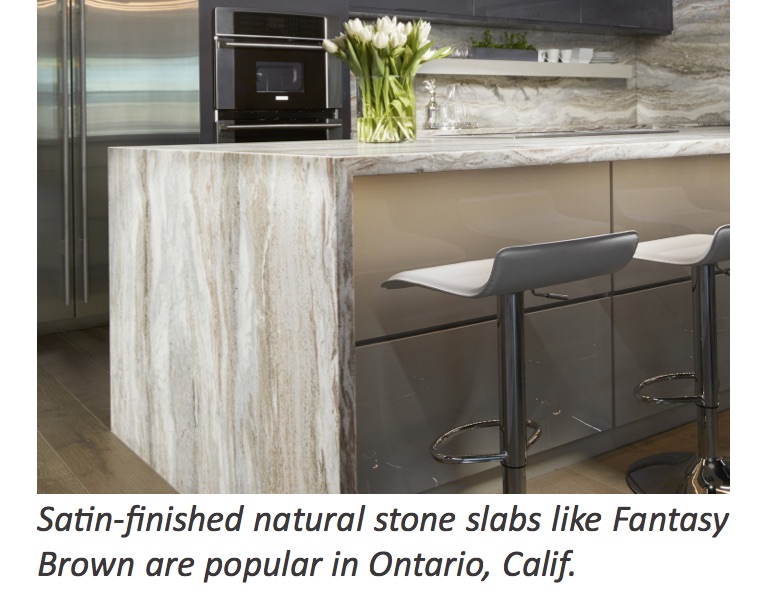 Satin-finished natural stone slabs are the rage with Fantasy Brown Satin one of the top selling species.
Palm Desert, Calif. – This market continues the trend to large-format tile in cement, wood, and textile aesthetics as well as patterned tile. In stone, both satin and polished finishes reign. 
Dallas, Texas – In addition to the ubiquitous demand for large-format tiles in 24" x 48", 16" x 32" and 24" x 24" in wood and concrete looks, porcelain tile with a realistic marble and limestone style are the rage. Minimalism with bold, neutral contrast is in demand here, with textile textures adding interest. But at the same time rustic brick aesthetics – like those in the Castle Brick series – add warmth and variety.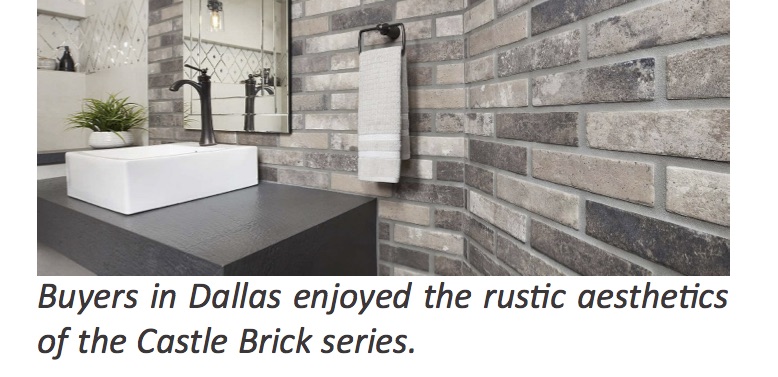 Stone slabs in all finishes are equally in demand.
Tempe, Ariz. – Larger sizes in wood and concrete porcelain styles are joined by a passion for subway tile and solid backsplashes in this market. Matte, semi-polished surfaces are in demand, along with rustic wood and brick aesthetics and marble looks. Textile-textured tile is getting a slow start in this market, but in natural stone, honed and satin finishes are in fashion. 
Bedrosians
According to Eddie Bedrosian, marketing director for the company – which has branches located throughout California, Arizona, Colorado, Nevada, Utah, Washington, North Carolina and Florida and delivers nationwide – 2018's top design trends will take shape with some older aesthetics making a re-appearance; mixing old with new, and bold with soft.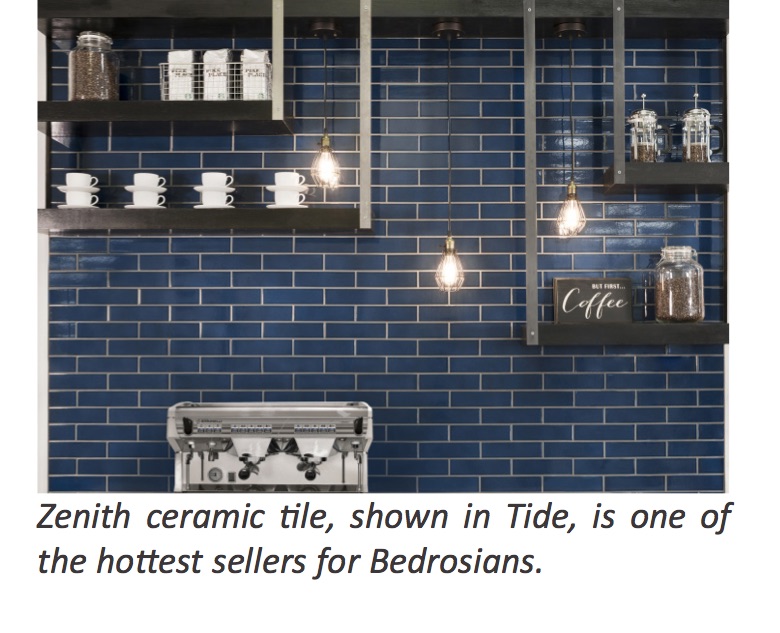 Navy Blue – Dark navy blue tones add allure and mystique. Used as a neutral, it is the perfect substitute for black, making a rich base color that breathes elegance and class or an accent to make a statement. Reminiscent of the ocean, navy blue is a calming and soothing color, making it a design favorite.
Wallpaper look tile – This look is prized for offering the elaborate patterning of modern-day wallpapers while being durable enough to wipe down with mild soap and water. Pattern packs a heavy punch when it comes to design, so it may work better as an accent wall, rather than an entire room. Since it will be on the
wall for decades to come, it's best to choose a style and color scheme you know you enjoy vs. something novel you've recently discovered. 
Patterned floors and walls – Ornate or simple, patterned floors add drama to a room. Designers and trendsetters are showcasing their floors as eye-catching, modern décor. Options are endless. You can choose tile with distinct designs or find simple geometric shapes you can set in a pattern.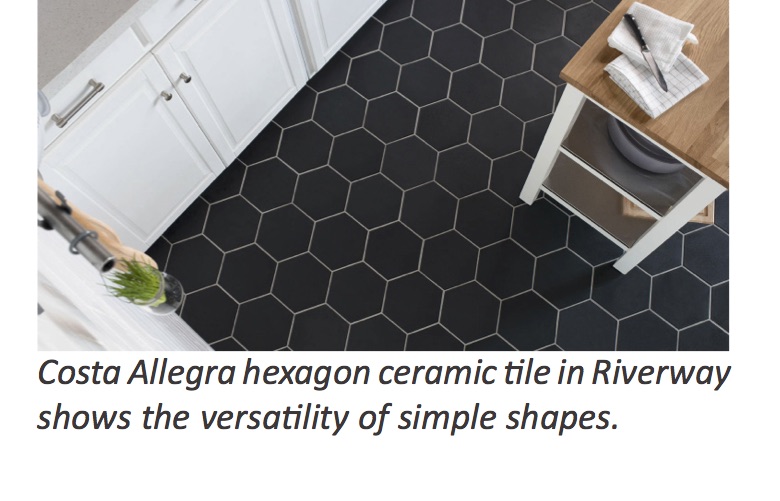 Shapes – Whether shapes are used loudly in a room or in a subtle way, they greatly impact the mood and tone of the space. Simple shapes, like triangles, hexagons, diamonds and chevrons, are incredibly versatile and will liven up your space and even make it seem bigger than it actually is.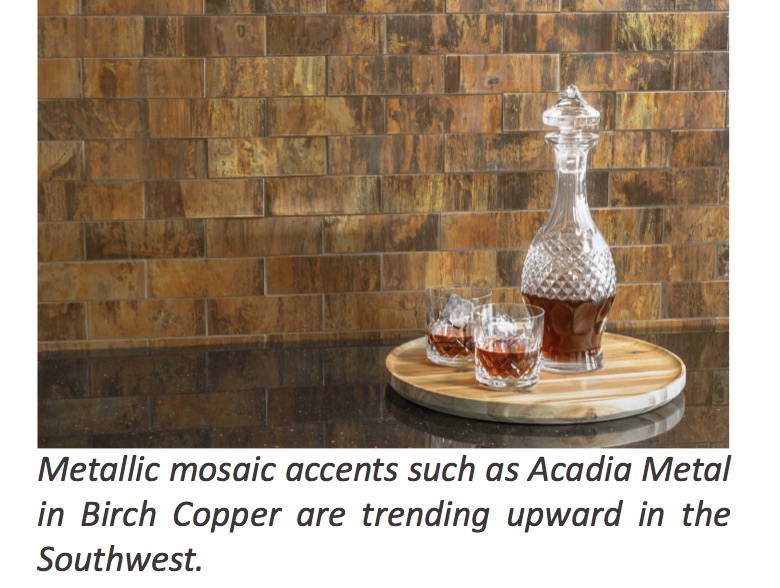 Metallic accents – Customers are inviting copper, brass, rose, gold, silver and shiny mirrors into interiors. These metallic accents bring light in to a room seamlessly and add a luxe appeal.
Bold backsplashes – Bold colors, shapes and textures are being installed on kitchen backsplashes as a way to express individuality and personality.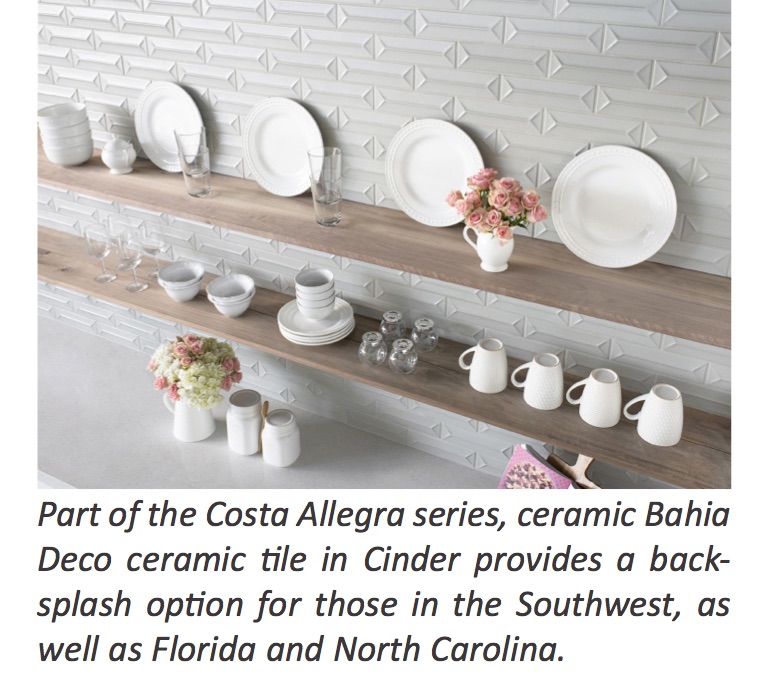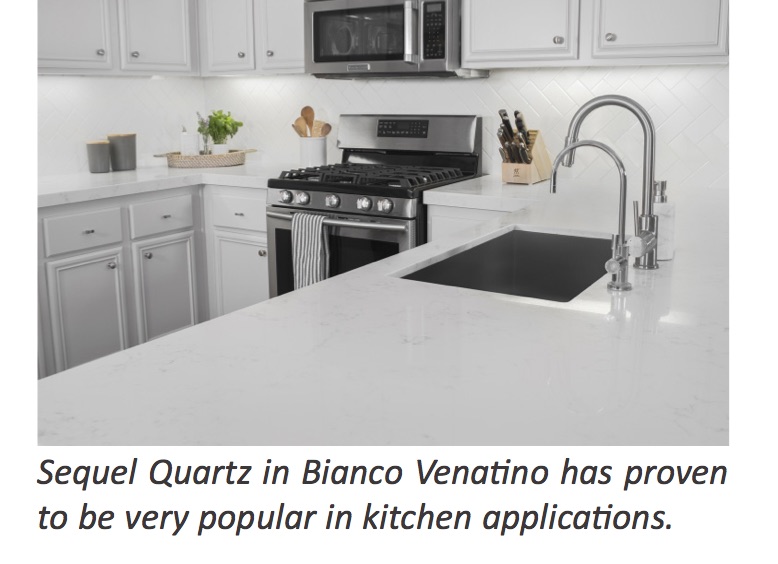 Quartz – Quartz is highly resistant to staining and is one of the most hygienic countertop options for homeowners. Add to the fact that quartz is extremely strong; it is one of the most durable and desired kitchen surfaces. Bedrosians' Sequel Quartz is offered in 44 of the most popular and enduring colors, polished and matte finishes, plus pre-fab options for smaller projects.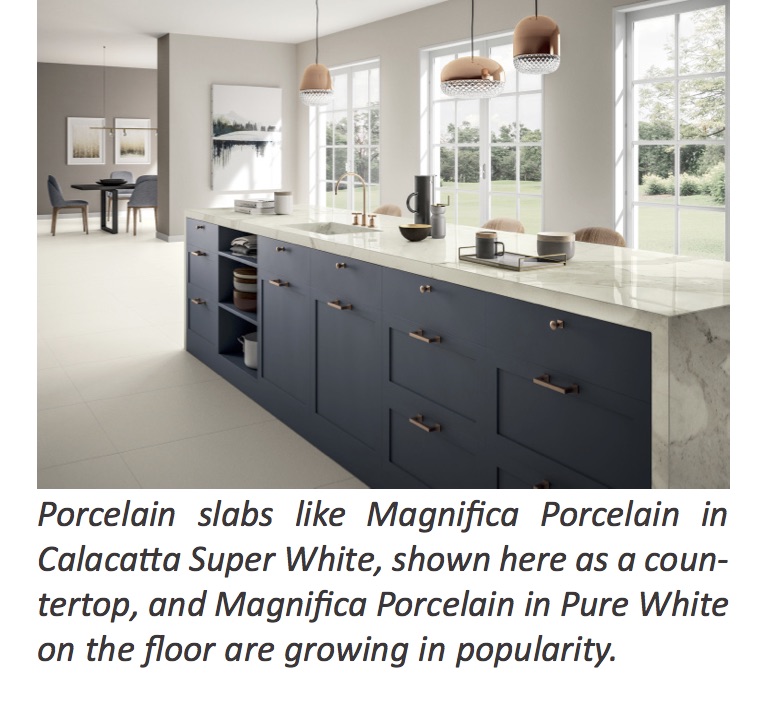 Porcelain slabs – Porcelain slabs allow customers to achieve the look of timeless stone and contemporary design with durable, large porcelain panels. The thin profile options and large dimensions of Magnifica Porcelain by Bedrosians lends itself to creating seamless countertops, islands, floors, walls and ventilated building facades. Designers and architects are drawn to its sleek aesthetic that allows for minimal grout lines and the grandeur of a solid wall or floor.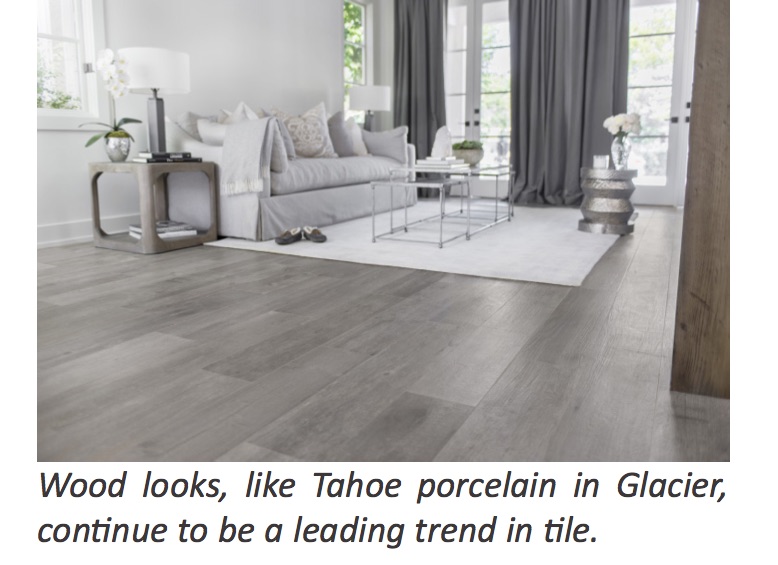 Wood-look porcelain – While wood-look porcelain floors have been around for some time, recent improvements in ink-jet technologies make the wood effect more realistic than ever. It's a beautiful, durable and easy to maintain flooring option.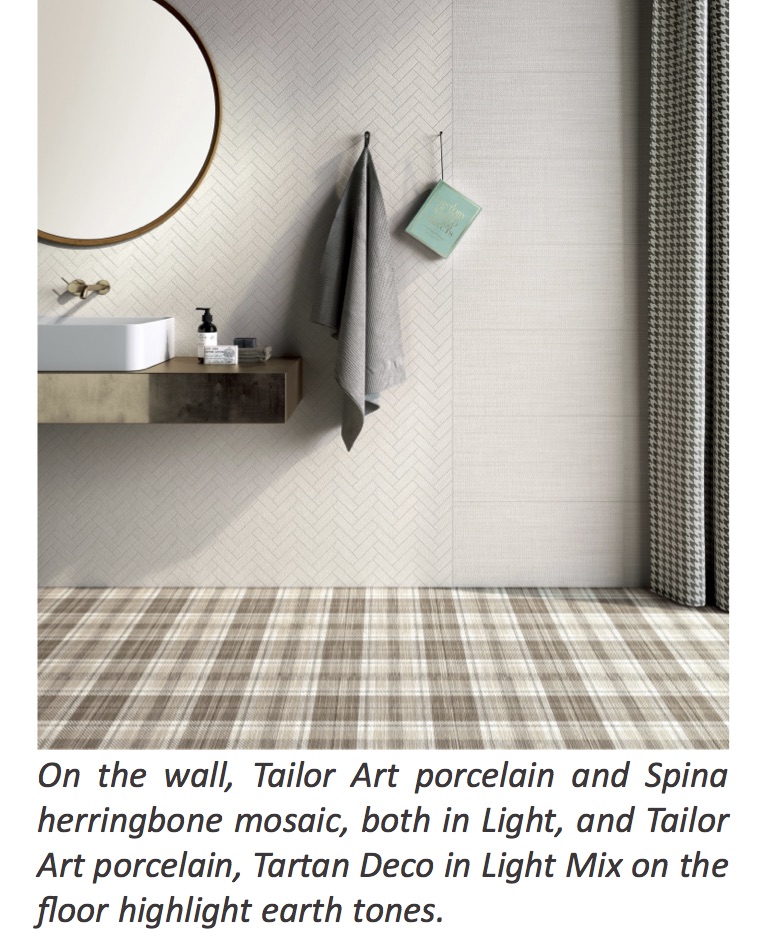 Earth tones – Soft shades of grey and beige create a rejuvenating home spa, a place that's a healing retreat.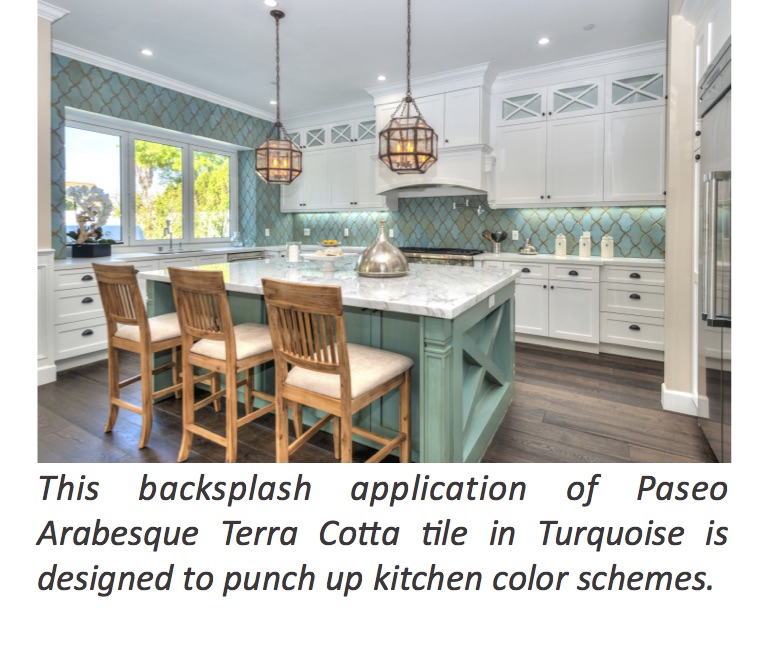 Bright kitchen colors – White will always be a classic palette for kitchens, but people want to add a little oomph to the white and put their personality into the space. White kitchens continue as favorites, but expect a rise in bold color kitchen accents, richer and warmer color cabinets, rugs, accents and patterned tiles on walls and backsplashes.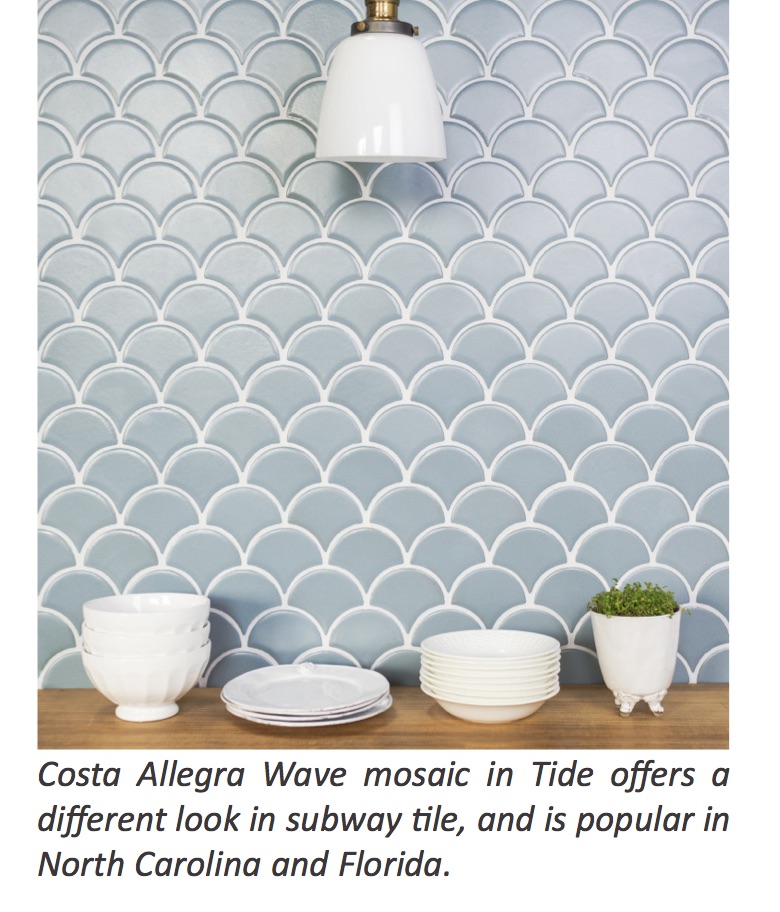 Fish scale tiles – These tiles create an interesting pattern, bringing visual interest to spaces in a fun way, that's a departure from traditional subway tile, offering an updated look. They work well in the kitchen, as well as the bathroom for floors and walls.
Black matte – Look out for matte black in all parts of the home. Designers and homeowners want that statement look that is everyday-comfortable, yet doesn't dominate the room. This bold look is contemporary and complements a variety of materials and styles on countertops, floors, walls or backsplashes. Matte black is also appearing in kitchen and bathroom faucets and showerhead and also lighting fixtures.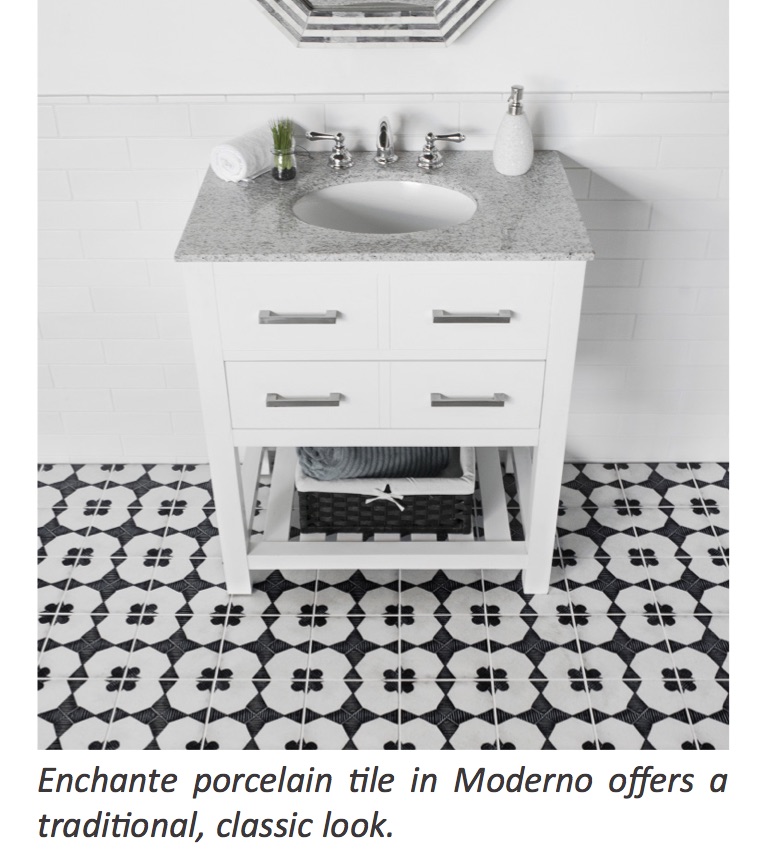 Black and white – Simple and traditional, classic black adds a focal point of color that grounds, anchors, and adds a sophisticated look to a room. White acts as a striking contrast that balances the bold, adding a spark of light. 
Emser Tile
According to Barbara Haaksma, vice president of marketing for Emser – which has showrooms located coast to coast throughout the U.S. – in addition to large-format tiles for floors and walls from 24" x 48" up to 63" x 126" and larger, gauged porcelain panels are heating up the market and will continue to do so throughout 2018. Gauged porcelain panels are creating never-before-seen aesthetics for wall, fireplace façade, shower and exterior cladding applications. In addition to panels, these other trends are prevalent for 2018: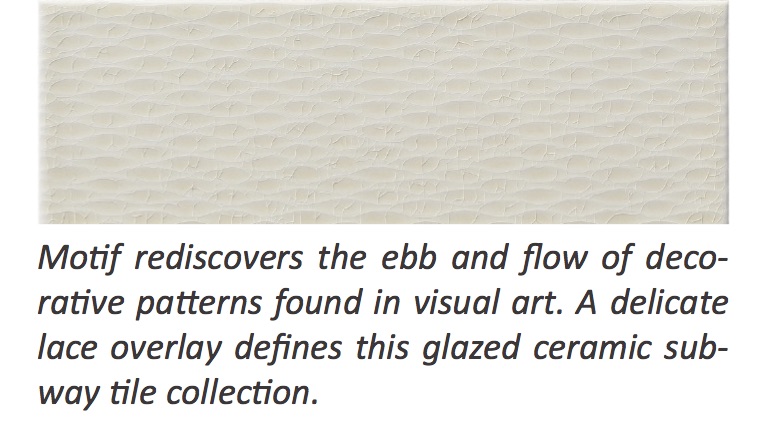 Accent walls with color, dimensionality, texture and pattern are being achieved through large-format ceramic wall tile in 18" x 36" and larger sizes.
Metallic finishes are creating a captivating, shimmering effect across mosaic series and are intertwined with a mixture of materials and textures. We're seeing alternating gloss and matte finishes in series, with both glass and metal, or marble and porcelain materials for subtle contrast.
Shades of blue, soft greens and even pastels are emerging as we enter the spring season, especially in the form of glass mosaics.

 

From small-scale, fabric-look textures to large-scale graphic patterns, textile aesthetics are experiencing growth in the market.
Wood-look tile is evolving with refreshing approaches, including bold color variation, enabling customizable installations with striking detail.
Concrete looks continue to resonate in residential and commercial design with porcelain tile in a range of aesthetics, including formed concrete with a plaster effect or raised textile or diagonal texture.