By Joe Lundren, Joseph Lundgren Consulting
As we prepare for Coverings in Atlanta, be assured that we will see a large turnout of buyers since the economy is strong and the show will be full of factories from around the globe showing their newest products and innovations for 2018 and beyond. 
The big question is "What are the trends and how can I be at the forefront to capitalize on them?" Equally important is "How does one keep inventory of the right products on hand – and devote a portion of that inventory to 'edgy or trending looks' to be at the leading edge of the competition?"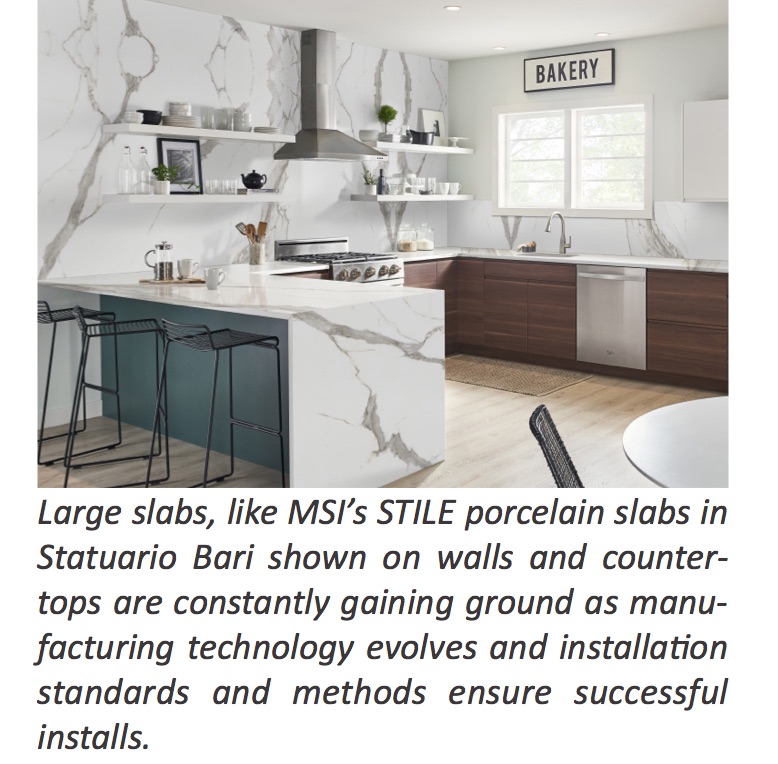 First, let's look at what's selling and how it may evolve into newer generations of that style. Remember, a trend is a pattern of gradual change that we see in the industry and not a "one-hit wonder" that fills a niche and is not a broad selling category. We have seen those come and go in our industry, but this article focuses on solid trends. 
Technology
Ink jet has changed the industry and has taken us to a level of design no one could have imagined, and it alone has allowed us to continue to grow with the development of other floor coverings. In addition, we see the large panels/slabs being promoted by manufacturers and distributors alike. Finally, we see the U.S. market being more accustomed to larger sizes from around the world, including 24″ x 24″ and 24″ x 48″. 
When we discuss technology, we cannot forgo the next step of some of these new products, which is how they are installed. We are fortunate to have industry associations and leaders such as Bart Bettiga (Executive Director of the National Tile Contractors Association), Eric Astrachan (Executive Director of the Tile Council of North America), and Scott Carothers (Training Director of the Ceramic Tile Education Foundation) that ensure our industry is focused on quality installation with certification programs such as the Certified Tile Installer (CTI)and Advanced Certifications for Tile Installers (ACT). The CTI credential certifies installers in basic installation knowledge and skills, and ACT certifies installers in seven specific areas: in setting large-format porcelain tile and subfloor preparation, mud walls and floors, showers and membranes, grouts and thin porcelain tile.
Wood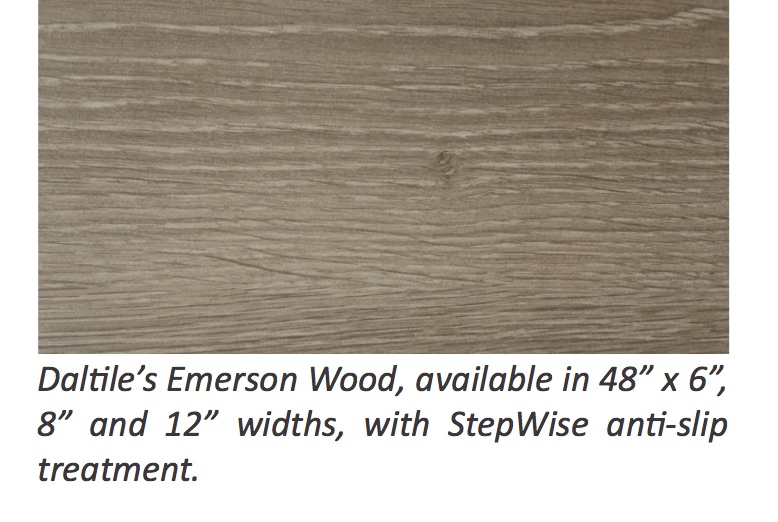 Rest assured, one of the categories in which we will see new introductions is wood. Wood has become a category on its own with some distributors saying wood looks account for 30%-40% of their tile sales. The question is, how many wood looks do you need to ensure you have the right mix and you limit the cannibalization? We have seen multiple new generations of wood looks that target both the residential and commercial market. Ink jet technology has allowed us to emulate the look of real wood and we have the ability to press or cut plank sizes that we see in real wood. In addition, users love the differentiating factor that comes with tile, which is durability and ease of maintenance.
Porcelain slabs/panels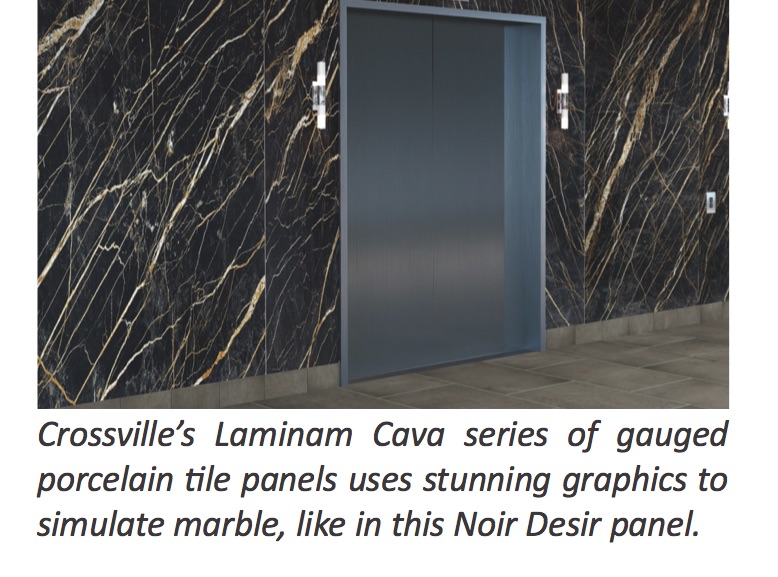 A trend that we see continuously evolving is the gauged porcelain tile panels (GPTP) and slabs. These products are manufactured differently from traditional dust-pressed tile with technology like Lamina or Continua machinery. We have seen the thickness gauge of the products range from as thin as a 3mm to as thick as 30mm, the latter of which allows it to be used on countertops and compete with the traditional stone and quartz market. The beauty of the technology is that it allows you to get a wide variation in the graphic and retain the virtues of porcelain. I believe as we train installers and our specifiers become more acquainted with it, we will see this material replace a portion of the countertop market as well as traditional wall coverings as consumers and designers look to differentiate their projects.
Terrazzo
Terrazzo is a product we traditionally view as a competing flooring product to the tile industry, however, with the emergence of ink jet, manufacturers can now produce porcelain tile with the majestic look of real poured terrazzo. Porcelain terrazzo tile brings the benefits of porcelain with the visual of the real mixed product modeling embedded marble, granite, quartz or glass chips.
Marble looks
Wow, this is one of my favorite products with the advances we see in ink jet technology! Again, the virtues of porcelain combine with the beauty of marble curated from around the world. In addition, porcelain provides the ability to perfect a finish from matte to honed and a perfect polish. Tile now rivals the beauty of real stones' intricate veining and realistic color palettes.
Encaustic cement tiles
Manufacturers have reproduced traditional hand-made encaustic cement tiles, which evolved in the 13th century. The look allows you to romance a space with designs that vary from classic, geometric, and metropolitan patterns that can be used individually, or mixed.
Cement Looks
Cement looks aren't new, but they continue to trend higher with each new generation of product, from the conventional concrete to refined visuals. Consumers and designers love the industrial look, and cement visuals lends themselves to the growing design trend of more modern or contemporary looks. Manufacturers have and will continue to evolve this style with new textures, formats and colors replicating the stained, stamped, and polished effects to create a much more classy and enduring floor. 
Glass
Glass is here to stay and continues to mature, utilizing the ever-popular ink jet technology. In addition, we will see new sizes and shapes (manufactured via casting, pressing and slumping) with colors that add translucency and a shimmer to an installation. We see glass as what makes a room pop and catches the eye of everyone who enters it.
Fabric Looks
Fabric in tile? Yes, we have seen some manufacturers take it to the extreme of emulating tartan patterns while others focus on simple woven patterns. This allows us to displace the growth of carpet tiles in lieu of a porcelain tile that will have the benefits of easy maintenance and endurance of porcelain. 
Wall Tiles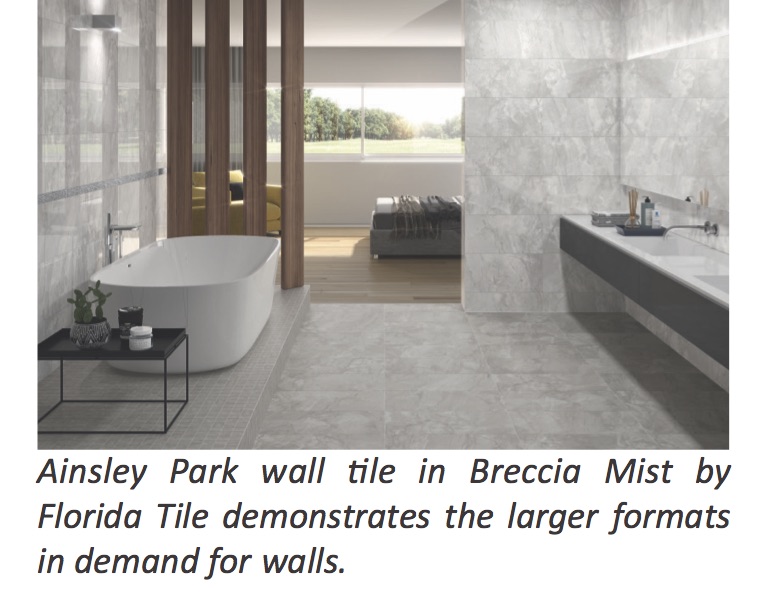 Specifically, you'll see rectangular looks that have evolved from the traditional subway tiles into larger sizes including 3″ and 4″ x 12″ tiles and even larger, and patterned tiles (domed, beveled, arched, and sculptural) that allow the usual monochromatic look to move into the next generation with endless design possibilities. Furthermore, larger wall tiles including 12″ x 24″ sizes are becoming more commonplace.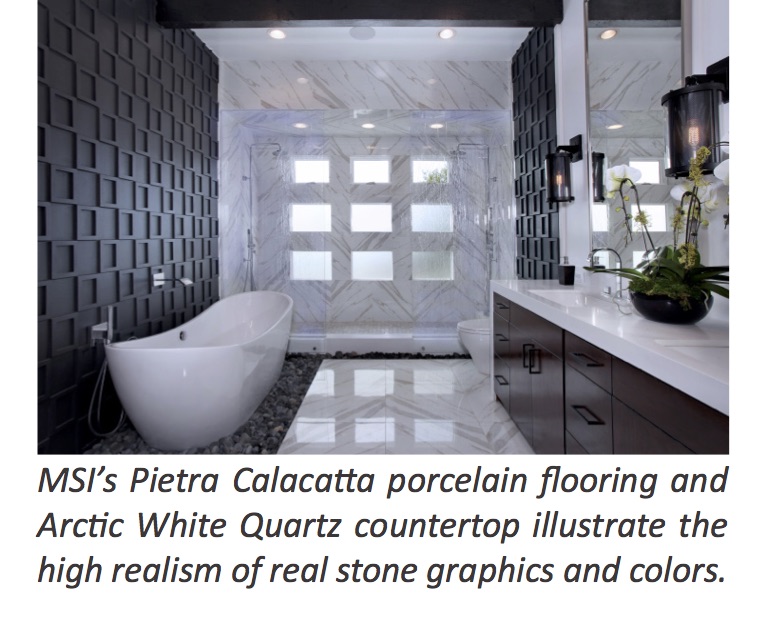 Stone
The rustic stone look still is here to stay as consumers love the appeal of natural stone, but not the maintenance and cost that accompany it. Manufacturers endlessly pursue new designs as we see the capability to create a tile with wide-ranging graphics has flourished, and has allowed us to see visuals emulating the real stone graphics and colors.
Colors, what will we see?
Yes, white, beige and grey – our industry neutrals will continue to be the "go to colors," with a palette of warming tones, moody dark tones and warm creams. Some refer to neutral colors as any hue that doesn't compete with other colors, yet ceramic tile typically involves a large space, therefore giving the eye the ability to flow from one point to the next without the distraction of a singular color. Furthermore, regardless of your design style, there is a place for neutral colors in your décor. 
Additionally, when feature colors are used in the room it enhances the "pop" more when amidst neutrals. With the introduction of additional shapes and textures in the tile, industry neutral colors benefit these without becoming an eyesore. 
To reach Joe, phone 214-641-7773 or visit josephlundgrenconsulting.com.