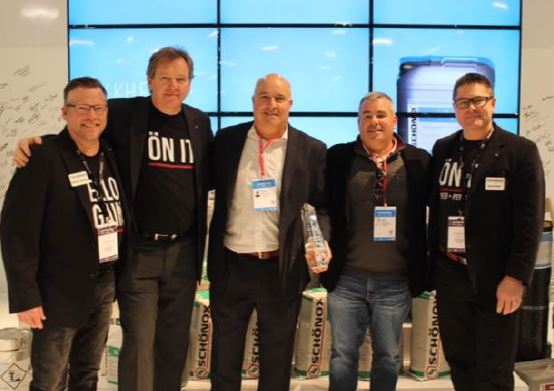 LAS VEGAS, Nev. – 29 JANUARY 2020 Schönox HPS North America, Inc. presented its mid-Atlantic distributor partner, Spartan Surfaces, with the 2019 Smooth Performer Award in recognition of their high level of support and dedication to the Schönox brand. The award was announced during The International Surface Event on January 29, 2020 in Las Vegas, Nev.
Spartan Surfaces, headquartered in Bel Air, Md., with showrooms in New York City, Chicago and Washington, D.C., received a trophy and a ceremonial check made out to the charity of their choice. The name Smooth Performer symbolizes the results achieved with the Schönox smoothing, patching and self-leveling products. 
"We developed this award to acknowledge our distributor's achievements in sales growth. But more importantly, to recognize their contributions in working hand-in-hand with the Schönox team in investing, educating and training our customers, the professional flooring installer. We wanted to ensure that the top performers were given the recognition they deserve," said Schönox HPS North America, Inc. Principal, Thomas Trissl.
"Spartan Surfaces has been a great resource and partner to us. Their exceptional growth with Schönox products over the past year made them a natural choice to receive the Smooth Performer Award," said Schönox Vice President of National and Strategic Accounts, Mike Penney.