CHINO, Calif. — Sika, global leader in specialty chemicals, strengthened its offerings to the commercial and residential tiling markets with a new ready-to-use (RTU) grout.  SikaTile®-Ultima Grout upholds the high quality the company's tile setting product line while carrying several new features.  The superior-performance grout was developed with the aim to ease installation, give lasting results and eliminate callbacks.    SikaTile®-Ultima Grout achieves these by being: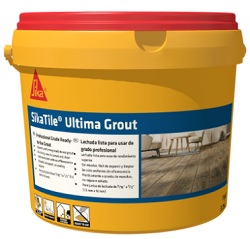 Virtually stain proof without sealing
Color consistent
Efflorescence free
Reusable
Mold and mildew resistant
Easy to spread and clean
SikaTile®-Ultima Grout is used to grout interior and exterior applications, as well as intermittent wet conditions. Colored quartz technology ensures uniform color, stain resistance, easy workability and fast cleanup. It is ideal for ceramic and natural-stone tiles, glass tile, gauged porcelain tile panels and slabs (GPT/S), luxury vinyl tile (LVT), and luxury vinyl plank (LVP). SikaTile®-Ultima Grout fills joints 1/16″ to 1/2″ (1.5 to 13 mm) wide, eliminating the need for multiple grout products.
"There is a growing demand for ready-to-use grouts," said Sika National Sales Manager Vladimir Jaksic.  He believes SikaTile®-Ultima Grout will be a strong addition the RTU grout market, appealing to customers demanding Sika quality in a fast, reliable product. "They can see the color immediately; it's easy to apply; it's great for quick repairs."
"Ultima Grout's formula drives the speed and simplicity that a lot of contractors need in a grout," noted Sika Senior Product Manager Tom Carroll. "Our customers will have more time flexibility knowing that mixing, significant cleaning and unwanted callbacks won't need to be factored into grouting projects. Instead, they can refocus these energies on additional tile projects."
To learn more about SikaTile® Ultima Grout, go to https://usa.sika.com/en/construction/floor-covering/tile-stone-installation/grouts/sikatile-ultima-grout.html.
---
About Sika:
Sika AG, located in Baar, Switzerland, is a globally active specialty chemicals company. Sika supplies the building and construction industry as well as manufacturing industries (automotive, bus, truck, rail, solar and wind power plants, façades).  Sika's product lines feature high quality concrete admixtures, specialty mortars, sealants and adhesives, damping and reinforcing materials, structural strengthening systems, industrial flooring, as well as roofing and waterproofing systems. Worldwide local presence in over 100 countries and more than 24,000 employees link customers directly to Sika and guarantee the success of all partners. Sika generated annual sales of CHF 8.1 billion in 2019. For more information on Sika Corporation Interior Finishing Business, visit www.sikatile.com.