Back in early October, TileLetter connected with Jason McDaniel, local Global Tile Posse (GTP) tile installers Jeremy Johnson of Colorado Home Revival, and Matt Coppo of Set in Stone Tiling, ARDEX's William White and industry supporters to bring you the scoop on what's come to be known as the "Sledgehammer Bathroom" up in Colorado Springs. You remember: a disgruntled tile contractor claimed that since his client hadn't yet paid him (despite not yet finishing the job), he had the right to enter her home with a sledgehammer and bust up the bathroom tile work that had been completed, in effect "taking back" his work.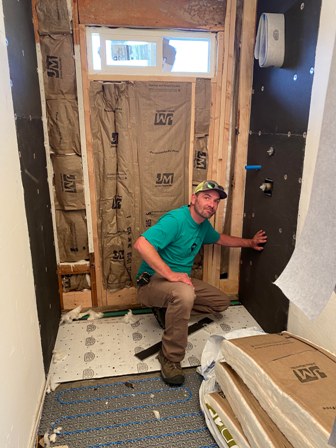 Due to quick action by McDaniel and industry supporters including ARDEX, The Tile Shop, Bill Parker of Rapid Recess, Daryll Jones with QuickDrain, Helix, Sarah Hurtado Williams of iQ Power Tools, Rubi Tools,  general contractor (GC) Steve Sells of Sells Construction,  and other industry members and individuals – including the NTCA – homeowner Amber Trucke now has the bathroom of her dreams, all free of charge.
McDaniel, Co-Founder of GTP, Owner of Stoneman Construction, LLC out of Portland, Ore., and Certified Tile Installer #1273 pulled lots of strings before he even left Portland on October 4, arranging details for the tile installation as well as a new window, connecting with a general contractor to reframe the back wall due to termite damage, make appointments with the city, and get an electrician to run dedicated circuit for the floor heat.
"I operated with a sense of urgency," McDaniel said. "I had everything lined up and it went perfectly from start to finish." He called William White of ARDEX "instrumental" in completing the project and GC Steve Sells was also a key player, carrying the permit for the project, obtaining an upgraded fan that included Bluetooth, a speaker and nightlight, arranging for it to be vented and inspected and making arrangements with the glass installer.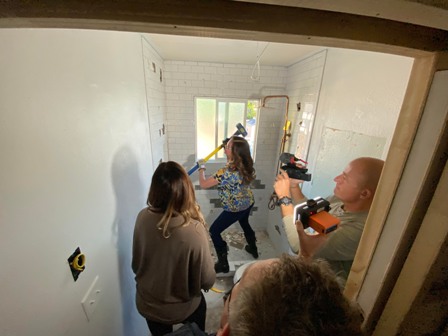 The project started in earnest on Tuesday, October 5, when the team demoed the bathroom down to the studs, working around a visit from syndicated news magazine Inside Edition. McDaniel, with Johnson, Coppo, White, and local Colorado tile contractors Adam Gasper and Garrett Olson followed the schedule McDaniel laid out – completing the job by Monday, October 11.
"We had virtually zero problems, except for needing a different grout color for the cobble pebble scribe," McDaniel said. "Everything else was seamless. It was an amazing project and time. All in all it was a win." He also noted of that Coppo and Johnson that "their willingness to give is unbelievable. They care so much about the trades."
The impetus to help
The original contractor's violation of Trucke's home touched a nerve among industry members, which spurred the desire to help.
"The first thing I thought of was, what if this was my sister or my mom and that a guy goes crazy in their house with a sledge hammer ?!?!," ARDEX's White admitted.
"Your home is everyone's personal space, your most intimate surrounding. Having a contractor in your home requires a level of trust. Unfortunately, in this situation that trust was broken by the acts of this contractor. When Jason McDaniel reached out to me to ask if I or ARDEX would be interested in helping, I immediately answered YES!"
For Angie Ré of Unique Mosaics, who donated a mosaic of Columbine, the Colorado state flower, she wanted to prove the disgruntled contractor wrong.
"When I heard about what happened to Amber's bathroom — and heard her side of the story — and I remembered that man saying that no one would be willing to help her — I immediately wanted to help," she said. "Since I create custom mosaics, I wanted to give her a piece of 'tile jewelry' for her shower niche. I like giving back in ways that I can. There are times in life when we could use a helping hand, or just a moment to be kind to someone. I felt in my heart that this opportunity was a moment to share some love to someone deserving, I wanted to do something nice for her. I couldn't imagine how scary and threatening that situation was for her. Amber reached out to me and told me how much she loves her Columbine flower mosaic. That makes me happy."
Bart Bettiga, Executive Director of the National Tile Contractors Association (NTCA) recognized that though industry members were donating materials, transportation and even food, McDaniel was going to be out revenue for work while he did this good deed. "We at NTCA wanted to support Jason and help cover some of his missed work with a cash donation," he said.
While working on the job along with McDaniel, Coppo observed, "One great job may only seen by homeowners, but one bad job can tarnish the entire industry."  He called the process of working on the job, "emotional — a good kind of emotional as I'm absolutely blessed that I was able to help my community and craft that I love so much," he said. "I wouldn't be in this industry if I didn't love what I do, and I hope that shows in the work I perform. When I saw an opportunity to do something greater than myself, I had to jump on it."  Coppo was happy Trucke reached out to him early on to be part of the project.  The experience also was a learning process for him. "I haven't used a lot of ARDEX products before, but Jason and William were gracious enough to teach me how to install some of these products."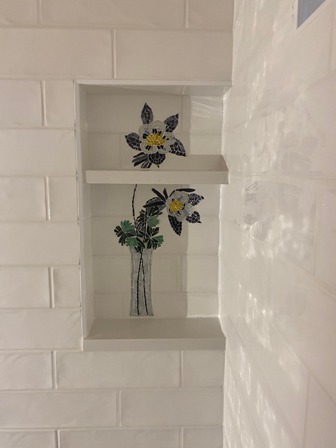 Johnson was similarly appalled by the reprehensible behavior of the original contractor and his heart went out to Trucke. "No one should ever have to go through something like that! She trusted him in her home and it had to feel like a complete violation," he said. He jumped to action, posting about it and got on the bandwagon to help with the project. "It was a great experience to work with the other installers and I gained even more knowledge. They all taught me something on this job and now I can share what I've learned. This job went flawlessly despite so many of us having never met each other — let alone never worked together either. I don't think we had any hiccups in my opinion. And I appreciate all the support from my customers that hung in there with us during this project. They knew the story and stood behind us to do this job. It was an epic job to be a part of and I gained some new family during the process," he said.
In addition to wanting to create a new bathroom for Trucke, he was concerned about the reputation the disagreeable and unprofessional contractor cast on the trade. "Contractors like the other company give us all a bad name," he said. "Things like this make people fearful to hire contractors. You have to trust them and they have to trust you."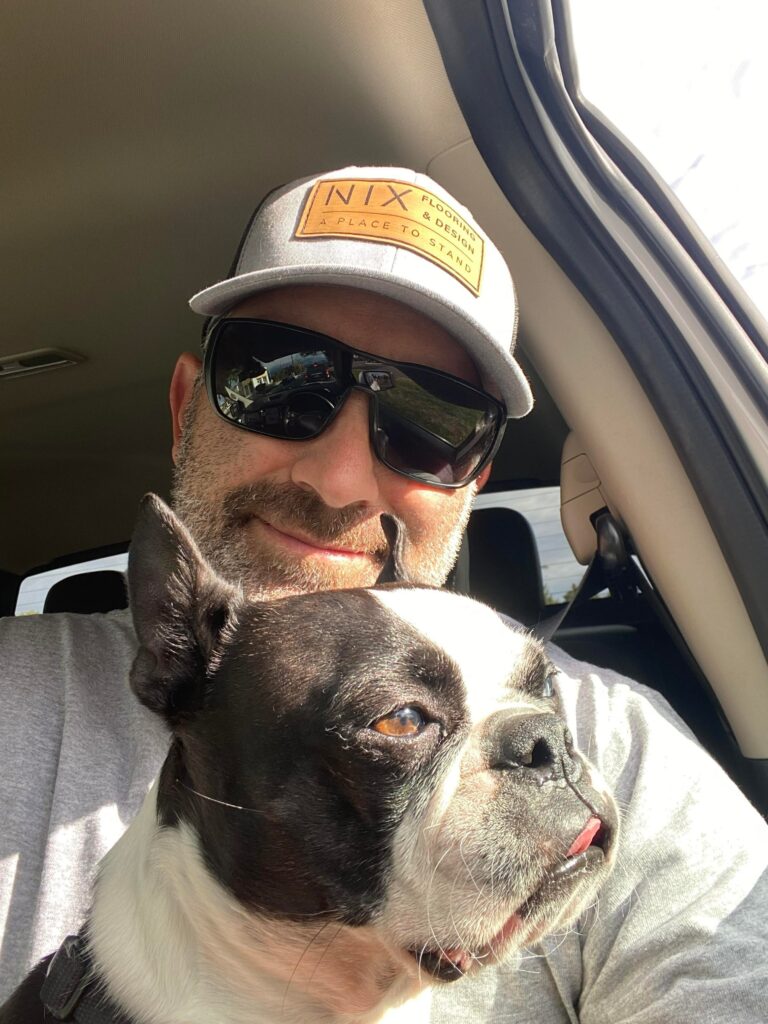 McDaniel – Certified Tile Installer (CTI) #1273 – had a theme for this project: the difference that qualified labor makes to a project – from actual expertise with the installation, to the level of conduct that was clearly not demonstrated by the original contractor. His intent to adhere to industry standards for all work done on this project drove the excellence of the finished project. And to expand the number of qualified tile contractors in the area, GoBoard has jumped in to pay for Coppo and Johnson to take the CTI exam when it's scheduled in the Colorado Springs area to secure their credentials as well. GoBoard also held a reception for everyone who worked on the job on October 6 at PRS Flooring Supplies and Distribution.
In addition to previously-named supporters, others dropped by, lent a hand or otherwise supported the project. Colorado-based Dawn Marie Suiter and her husband drove over one day to do what they could – they wound up grabbing grout for the construction team. In addition to William White, Aaron Chafee of ARDEX was also a big help. Robert Ford supplied a tile sledgehammer, Jim Richards and Jacob Garcia donated lunch money, David Todd supplied core bits and polishing pads. Jeremy Bourgois donated his time for the plumbing, and Dustin Maze made sure to get a dumpster to the site. The team worked with Justin Sacks at The Tile Shop, which donated all the tile, and Alex Rosa provided the white quartz.
So a situation that started out as a harrowing experience for the homeowner, turned into not only a to-die-for bathroom installation, but also as a living testament to qualified – and quality – labor, the goodness inherent in people and the kindness that runs throughout the tile industry.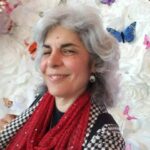 Editorial Director and Senior Writer for TileLetter and TileLetter ARTISAN
Lesley Goddin has been writing and journaling since her first diary at age 11. Her journey has taken her through a career in publishing and publicity, landing her the editor position of TileLetter and its special publications in 2006. Her goal is to educate, inspire, recognize and encourage those in the tile industry -- especially the tile and stone contractor. Other interests include the soft, purring marvels known as cats, labyrinth walking, drumming and percussion, and a range of spiritual, musical and artistic pursuits.