Patti Smith-Connelly, a tile industry veteran, has been appointed by Portobello America as the company's Commercial Sales Manager. This announcement was made by the firm's Vice President of Sales, Mike Ward, who stated, "We've known Patti for a long time. She embodies the professionalism we've been looking for. She knows the industry inside and out, is motivated and open-minded… and is already making progress on a national level!"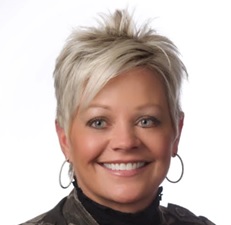 Patti began her tile industry career over 25 years go with Crossville Ceramics and has spent more than two decades in distribution. At Portobello America, not only is she directly calling upon A&D customers and prospects with and for our current distribution, she is working on national accounts, as well.
"I couldn't be more excited," beamed Smith-Connelly. "This is the opportunity of a lifetime. First of all, our company is in the process of building a new factory (in Baxter, TN and slated to be operational during Q1 of next year) which will be completely state-of-the-art in every possible aspect. It will be producing a totally comprehensive line of both floor and wall tile, which will be offered to the marketplace at excellent price points.
"And secondly," continued Smith-Connelly, "I'm thrilled to be working on a national level and look forward to building up new and long-term customer relationships for Portobello America."
Patti Smith-Connelly and the Portobello America team will be at Coverings 2022, April 4th – April 7th at exhibit #N2526 which takes place at the Las Vegas Convention Center.
---
About Portobello America
Portobello America, a Portobello Group company, designs, produces and provides complete and competitively priced hard surface solutions focused on the U.S. market. Our belief is that design can transform the way people feel by shaping the environments in which we live. This idea is the essence of Portobello America. Our business model is an integrated one. With expertise in retail and logistics, as well as being founded on design and innovation, our company is uniquely positioned to provide comprehensive support to our partners. To learn more, visit www.portobelloamerica.com.
About Portobello Group
Portobello Group or PBG S.A. is a publicly traded company, part of the Novo Mercado Bovespa since 2008, and was incorporated on December 22,1977. It started its production activities in 1979 and has since been a company that has always been oriented towards "new ideas." This concept was born with the goal of transforming the life of the city and region of Tijucas and bringing creative design to the greatest number of people.
Today, Portobello is one of the largest ceramic tile manufactures in the world, and the company believes that their vision of an agile, integrated and market-driven business model is the right strategy to follow to continue its success. The company possesses unparalleled design competence, and their innovative products transform people's lives by creating unique environments in the home, commercial and industrial settings. The Company operates globally but is always aware that the design must reflect the context of the location where its units are purchased. Their culture, strategy, and management focus on enabling the creation and distribution of that design. They generate value for all buyers, through an integrated business model while maintaining operational efficiencies that drive substantial profit margins.
For additional information, please contact: Terri Sparks: [email protected]. For a high-resolution photo of Patti Smith-Connelly, please click HERE.