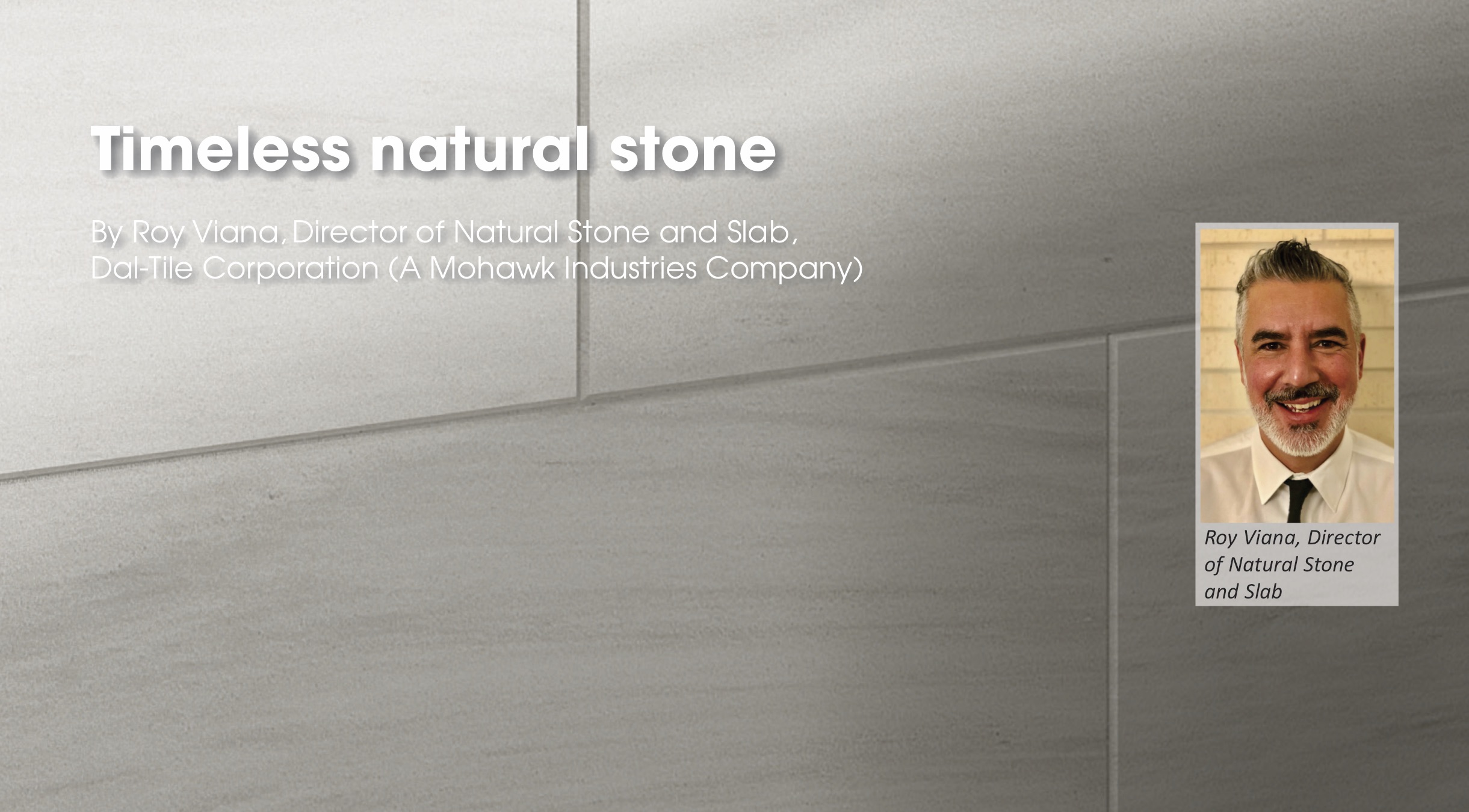 In a world where trends can come and go in the blink of an eye, natural stone withstands the test of time. Around the world, eager designers continue to turn to natural stone, making it a top-selling solution for countertops, floors and walls. As new offerings hit the market in a variety of shapes, sizes, colors and textures, natural stone continues to offer a timeless look for spaces.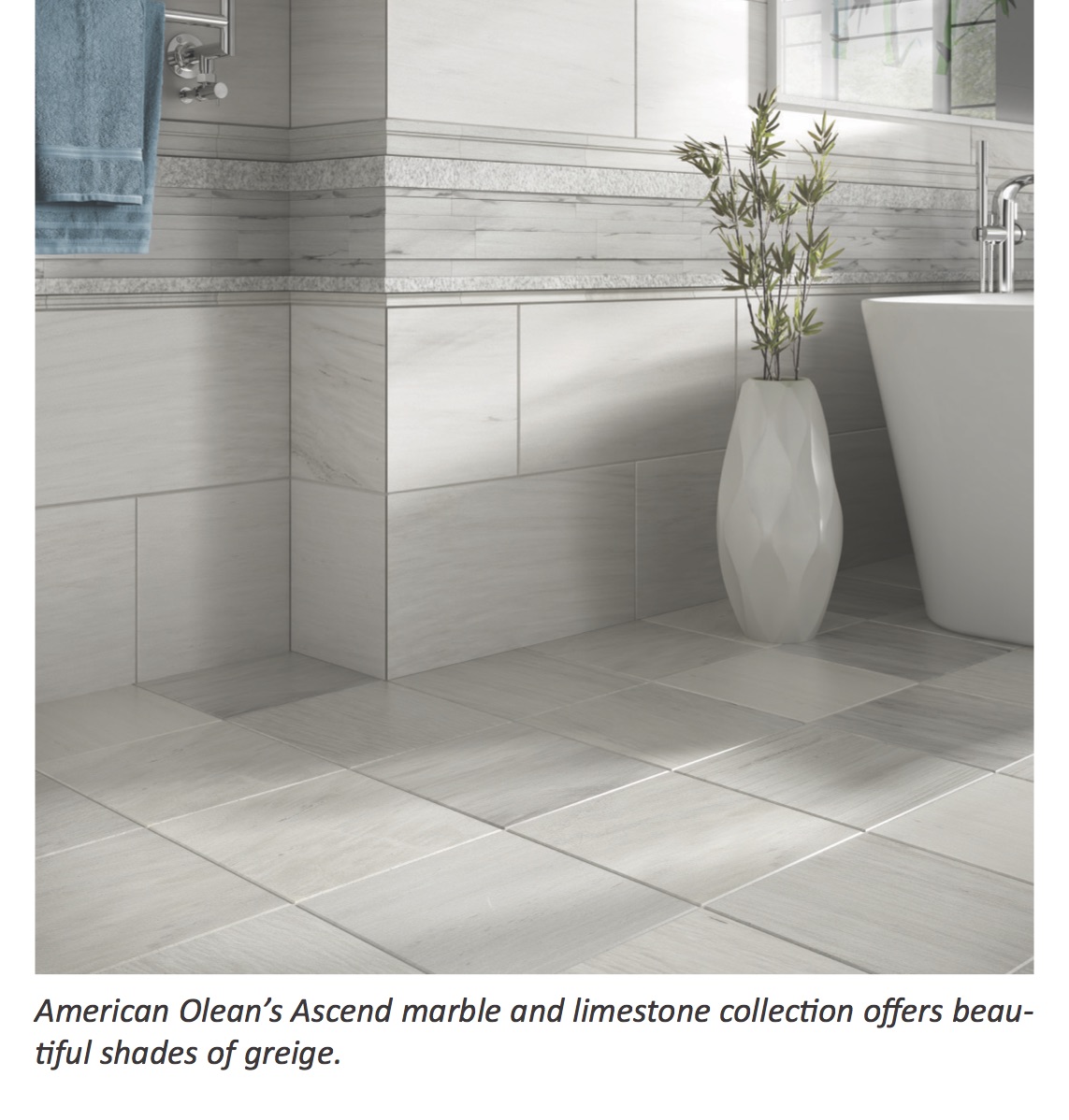 The popularity of natural stone can be attributed to its innate uniqueness, as each cut is unlike any other. With no two pieces alike, natural stone inherently brings individuality to spaces. Natural stone also offers customers the flexibility of customization because of its ability to be cut into different shapes and sizes. 
Warming palettes favor
grey, white, black and "greige"
One of the most appealing qualities of natural stone is the variety of options, allowing stone to provide a solution regardless of the design vision. From a color perspective, the industry has shifted toward grey, white and black, colors often found in limestone and marble. Additionally, the color combination of grey and beige, fondly known as "greige," is a trend we're seeing come into play more and more. Greige is a fresh way to incorporate warmer shades into spaces, while still giving a contemporary feel. This color blend can range from sand tones, to deeper charcoal tones. A nice 
example of this color range is found in the American Olean Ascend™ marble and limestone collection, which offers beautiful shades of greige.
Marble, granite and quartzite reign supreme; colorful stone emerges
From a trend perspective, designers are shifting toward specific stone types in designs. Exuding luxury, marble has risen as a top option. New color variations boost its appeal as a solution for modern designs, while still maintaining its timeless style. Granite has remained a classic, sought-after option, bringing an upscale feel to any space. Its distinctive granular appearance is a more traditional choice for those looking for a natural stone countertop. The vast color offerings of granite, which include deeper hues with specks of intriguing color for a more striking look, make it an appealing option. The hot new trend product in stone is natural quartzite. Natural quartzites feature the look and feel of marble, with all of the benefits of granite's durability and hardness.
Customers looking to stand out from the norm are seeking options that divert from the traditional characteristics of natural stone. As a result, there has been an increase in colorful natural stone offerings, a stark difference from the more muted hues often associated with natural stone. Distinctive veining paired with unexpected pigments such as Daltile's Mercury is an example of this growing color trend.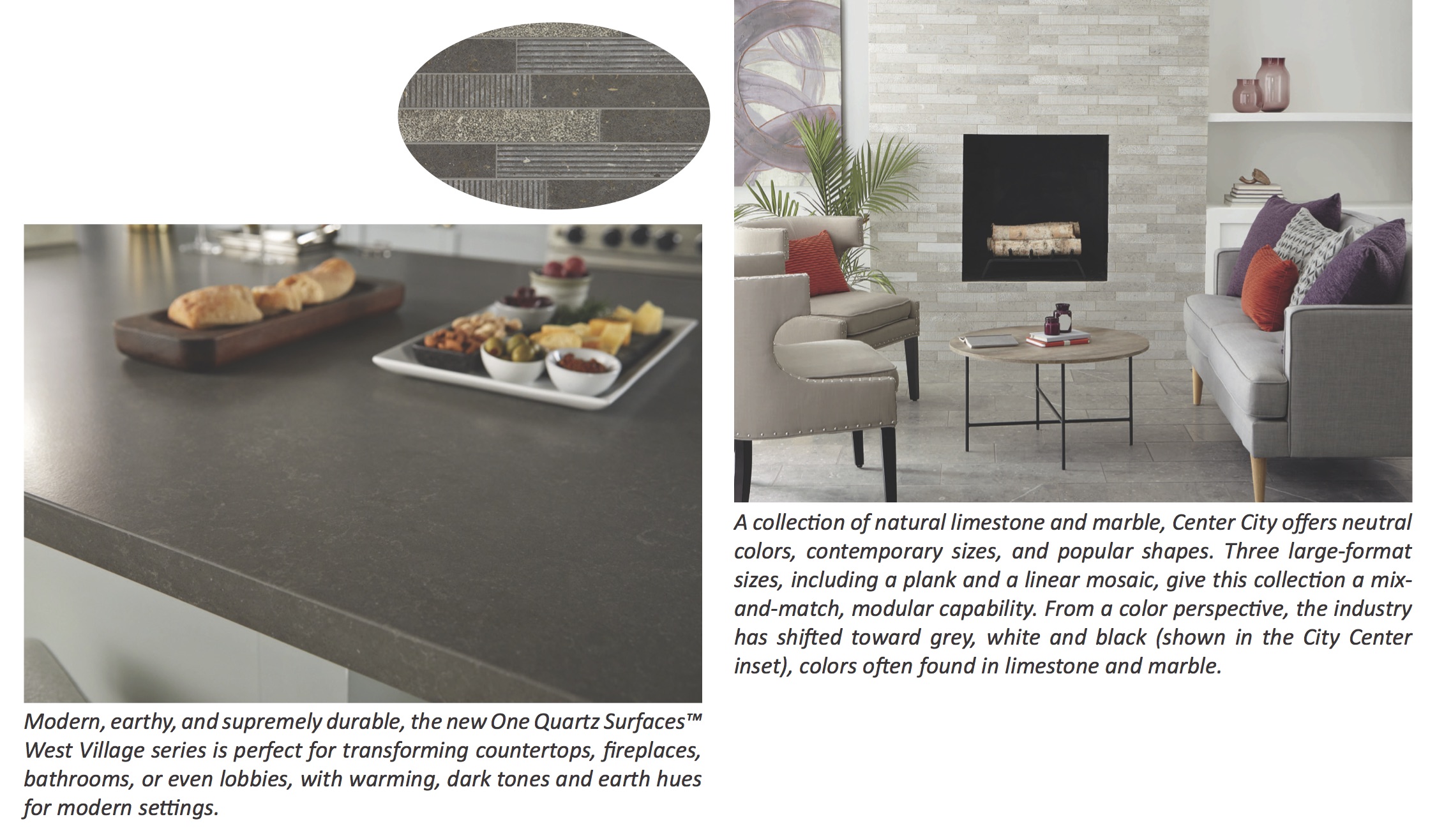 Large sizes sizzle; mosaics multiply
In addition to colors, specific sizes are growing in popularity within the natural stone segment. One of the hottest trends in the industry is extra-large pieces. This size category is appealing because it empowers customers to create continuous, seamless design. From floors and walls to countertops, large-format natural stone creates a luxurious statement in spaces.
On the opposite end of the spectrum, we are seeing growth in stone mosaics. A space once dominated by glass mosaics, stone has stolen the spotlight, as it allows designers to show off their personal style. Available in polished, honed and split face finishes, these natural stone decorative pieces provide an unexpected break of texture in otherwise continuous, sleek spaces.
A growing trend in applications, more designers are utilizing natural stone on areas beyond countertops. After primarily using natural stone on floors and countertops, designers are now using stone to create a contemporary, continuous feeling on walls or as an eye-catching accent wall. This trend is being boosted by the new extra-large slab offerings, which help to create a statement in rooms. Additionally, natural stone is beginning to be used more frequently in outdoor spaces, particularly to create a cohesive look throughout the entire design. From large-format sizes being used as a countertop surface throughout a space to small mosaic details as backsplash in an outdoor kitchen, stone is beginning to appear in new, unexpected spaces, a trend that is positioned to grow over the next five years.
A far cry from the stone of yesteryear, the natural stone category has completely transformed. Boosted by the uniqueness of the products, the ability of stone to combine function and beauty has it positioned for continued growth. With what seems like infinite application possibilities and color options, these natural stone trends are here to stay for the foreseeable future.