New Continua production line aims to produce 1000 5' x 10' gauged porcelain panels a day
Crossville, Tenn. – On September 12, a group of customers, press, state and local dignitaries, and company management assembled at the StonePeak High Tech Porcelain plant here to celebrate the expansion of the first U.S.-based plant to produce 5' x 10' gauged porcelain panels.
The $70 million expansion adds 160 workers to the facility, which now measures 1 million square feet. Federica Minozzi, CEO of the Iris Ceramica Group, parent company of StonePeak, SapienStone, FMG, Porcelaingres, Ariostea, Eiffelgres, and Fiandre, spoke during the ribbon-cutting ceremony, stating that not only is this plant the first in the U.S. to produce gauged porcelain 5' x 10' panels, but it's the first in the world to also to offer the capacity to cut those panels to smaller sizes such as 12" x 12".  Panel thicknesses range from 6 mm to 2 cm.
"We didn't even do this investment in Italy," she said. "We decided to do it in Crossville."
Iris Ceramics Group CEO Federica Minozzi with StonePeak leadership and state and local dignitaries cut the ribbon on the Crossville Tennessee's factory expansion, the first in the world that produces 60 x 120 gauged porcelain tile panels and also cut sizes down to 12 x 12.This $70 million expansion also adds 160 workers and at peak will produce 1000 panels a day.
Clays are sourced from the Carolinas, Kentucky and Tennessee to manufacture the panels, said Fiandre USA's director of sales marketing Eugenio Megna, who led visitor tours through the plant.
The company uses the Continua production process and Sacmi machinery on the line, and utilizes sophisticated inkjet graphics to achieve looks like Calacatta or other aesthetics that are nearly indistinguishable from natural stone, as well as other in-demand looks. Random patterns, continuous veining and bookmatching can also be achieved here. It takes two hours from start to finish to produce a porcelain slab, and the end product is 25-30% harder than granite, when measured on the Mohs scale. Full size panels including StonePeak's Plane 2.0 line, are shipped on A-frames, 25 to a side. The line has been operational since May.
Fiandre USA's Eugenio Megna led tours through the new plant expansion. This A-frame filled with porcelain panels is ready for shipping, and holds 25 5′ x 10′ panels on each side.
Local dignitaries praising the investment in the Crossville, Tenn., local economy included Angela Regitko, business development consultant for the State of Tennessee, Crossville Mayor James Mayberry, and newly-elected County Mayor Alan Foster, who noted that StonePeak has made a $200 million investment in machinery and its facility since it opened in 2005, and has provided jobs for 400 workers in Crossville.
After expressing thanks to employees and state and local support, Minozzi revealed that the decision to hold the ceremony on September 12, a day after the 17th anniversary of the September 11 attacks in the U.S., was intentional, as a way to both honor the significance of the day and to celebrate the resilient, renaissance spirit of the USA to rebuild after that tragedy. "I love America," she said.
In the evening, guests and hosts gathered for a soiree at LA Jackson, the rooftop bar of the new Thompson Hotel in Nashville.
At the post-tour party on the rooftop bar of Nashville's Thompson hotel are (l to r) StonePeak Ceramic's Todd Ware, exec vp of national accounts;Leonardo Pesce, vp of operations; and Iris's Marco Portiglia, sales & marketing director.
Mediterranea's Michael (l) and Don Mariutto at the StonePeak afterparty atop the Thompson hotel in Nashville.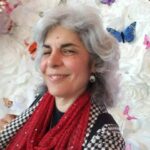 Editorial Director and Senior Writer for TileLetter and TileLetter ARTISAN
Lesley Goddin has been writing and journaling since her first diary at age 11. Her journey has taken her through a career in publishing and publicity, landing her the editor position of TileLetter and its special publications in 2006. Her goal is to educate, inspire, recognize and encourage those in the tile industry -- especially the tile and stone contractor. Other interests include the soft, purring marvels known as cats, labyrinth walking, drumming and percussion, and a range of spiritual, musical and artistic pursuits.