Editor's Letter – September 2018
Leadership and learning are indispensable to each other. – John F. Kennedy
As we move into the fall, we focus on a number of training events and technical stories in this issue. Our Business Tip on the University of Ceramic Tile and Stone gives information on some online courses that can enhance your knowledge and professionalism. NTCA Technical Trainer Robb Roderick's Tech Talk story on mock-ups is a comprehensive story on something we don't discuss that often but that is really essential to the success of an installation – creating a mock-up to not only fully visualize how the product will look, but also troubleshoot other aspects about the job such as lighting that will impact its ultimate success.
In our Thin Tile/GPTP section, MAPEI's Dan Marvin reports on a thin tile seminar and demo that took place at Coverings and the essential information presented and demonstrated on this increasingly popular tile format. In our Training & Education section, we spotlight the NTCA Five Star Contractor Summer Meeting, held in Nashville, Tenn., and the caliber of technical and business training that took place, in addition to a tour of Daltile's Dickson, Tenn., manufacturing plant.
Ron Meler was the business speaker at this Five Star meeting, and in this issue he shares his expertise on the change order process, to help you navigate what can be a complex and confusing aspect of doing business.
We also check in with NTCA member Stephen Belyea of JSG Tile & Stone in Weymouth, Mass., to learn about his path to professional tile setting when he started out as a professional chef! And we spotlight Hawthorne Tile's challenging and beautiful install of first, a mermaid mosaic by Ruth Frances Greenberg in a residential pool, followed by RFG's backsplash mosaic in the pool house kitchen. These projects are true testaments to the skills qualified tile setters possess.
What is your favorite topic to read about? We are in the throes of putting together our editorial calendar and story topics for next year. Give us your input on what you want to learn about or see, and help us hone our content to be more useful to you. Just email me at the address below!
God bless,
Lesley
[email protected]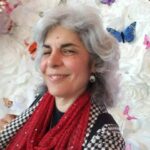 Editorial Director and Senior Writer for TileLetter and TileLetter ARTISAN
Lesley Goddin has been writing and journaling since her first diary at age 11. Her journey has taken her through a career in publishing and publicity, landing her the editor position of TileLetter and its special publications in 2006. Her goal is to educate, inspire, recognize and encourage those in the tile industry -- especially the tile and stone contractor. Other interests include the soft, purring marvels known as cats, labyrinth walking, drumming and percussion, and a range of spiritual, musical and artistic pursuits.