Median spend on minor renovations increased by 40% year over year, while spending for major renovations of large kitchens remained flat following significant growth in the past two years
Palo Alto, Calif., January 10, 2023 – Houzz Inc., the leading platform for home remodeling and design, including the all-in-one software solution for industry professionals, today released the 2023 U.S. Houzz Kitchen Trends Study*. The survey of more than 3,600 respondents found that the vast majority of homeowners incorporate sustainable features during a kitchen renovation (92%). Popular choices include LED bulbs (65%), energy-efficient appliances (61%), water-efficient fixtures (34%) and energy-efficient windows (27%). Also, nearly half of homeowners opt for a timeless design as a sustainable choice during renovations (47%). While the most frequently cited reason for incorporating sustainable options is "long-run cost-effectiveness" (74%), making choices that are environmentally friendly is also top of mind for more than half of renovating homeowners (54%).
Kitchens continue to command significant investment. After continuous growth over the past four years, median spend on minor remodels increased by 40% year over year to $14,000, up from $10,000 mid-2021, and up 75% compared to mid-2020 ($8,000). Median spend on major* renovations of large kitchens (250 square feet or larger) remained flat year over year at $50,000 in mid-2022.
"Homeowners are gravitating towards sustainable choices during kitchen renovations, and it is interesting to see the intersection of economics and environmental concerns. The most frequent reason behind choosing sustainable options is long-run cost effectiveness, with environmental-friendliness as a secondary consideration," said Marine Sargsyan, Houzz staff economist. "In addition, homeowners continue to invest in their kitchens with major and minor remodels. We are seeing a significant increase in the median spend for minor remodels, when homeowners partially upgrade their cabinets or appliances, and may tackle plumbing or electrical issues."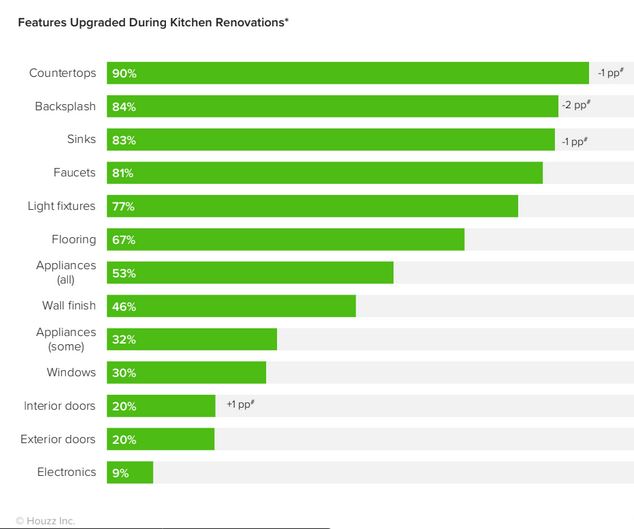 On the design front, open kitchens made a significant gain, in contrast to last year's dip. Forty percent of renovating homeowners are making their kitchens more open to interior spaces, up from 38% last year, and 20% are making kitchens more open to the outdoors. When opening kitchens to interiors, most homeowners completely open the space with no wall separation (61%), although this is down four percentage points from last year. The most common ways to open kitchens to the outdoors include double doors or a row of doors (46%), a single door (29%) or a pass-through window (14%).
Pro hiring for kitchen renovations remains strong with 84% of homeowners working with a pro for their project. Hiring cabinetmakers increased for the fourth consecutive year (32% in 2023, a steady increase from 26% in 2020). General contractors remain in highest demand for kitchen remodeling (50%); and other popular categories include kitchen designers (22%), interior designers (15%), architects (11%) and kitchen remodelers (11%). Three percent of homeowners hire dedicated professionals to advise on eco-friendly options.
Additional insights from the 2023 U.S. Houzz Kitchen Trends Study include:
Style changes widespread: Consistent with past years, more than four in five homeowners change the style of their kitchens during renovations (83%). Transitional remains the top style choice for renovated kitchens in 2023, down two points from last year. Contemporary style also saw a decrease of three percentage points to 12%, making it the third most popular style, trailing modern (14%). Farmhouse style saw a gain of one percentage point to 11%, and traditional increased by two points to 11%.
Cabinet style shift: While shaker-style cabinet doors remain the most popular choice for kitchens, the percentage of homeowners choosing them is three points lower this year than last year (61%). In contrast, flat-panel doors are on the upswing, with one in five (20%) renovators opting for them, up three points from last year. When it comes to cabinet pulls, bar pulls are by far the most popular (72%), followed by knobs (34%) and cup pulls (10%). Six percent chose no cabinet pulls at all. 
Wood cabinets gain popularity: White cabinets remain most popular in renovated kitchens (40%), followed by wood-toned cabinets, which saw a three percentage point gain to 24%. Among the 46% of homeowners who install contrasting island cabinet colors, blue and gray saw slight declines (24% from 26% in 2022, and 15% from 18% in 2022, respectively). Meanwhile, black, medium wood and dark wood saw increases for contrasting islands (12% up from 10%, 12% up from 10%, and 11% up from 6%, respectively).
Multicolored Countertops Fall Further Out of Favor: Multicolored countertops have been steadily declining in popularity for two years now (chosen by 19% in 2023, 24% in 2022 and 26% in 2021). Meanwhile, white counters continue to top the list, steadily increasing in popularity (41% in 2023, 39% in 2022, and 33% in 2021). However, even though white dominates for upgraded main countertops, homeowners contrast it with medium-tone wood (16%) and even black (11%) island countertops. In fact, black notably gained 4 percentage points compared with 2022. While wood tones as a group are the second most frequently chosen contrasting color for upgraded island countertops, dark wood is down by 4 percentage points.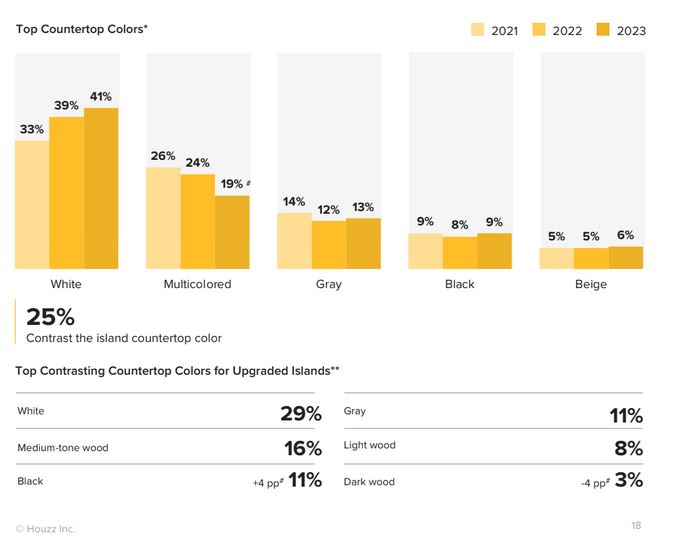 Preference for Contrasting Countertops Rises: Using an island countertop material that contrasts the main countertop material is a popular choice, with a quarter of homeowners doing so; the percentage increased by 3 points this year. The contrasting materials come in many forms, with butcher block or wood slab being the most popular (31%). Engineered quartz as a contrasting island countertop material lost 6 percentage points; however, this material is on the decline for new countertops in general. Only 36% of homeowners now choose engineered quartz as a countertop material, compared with 42% in 2022 — a significant decline. Look and feel (69%) remains the top factor in choosing among many options, followed by durability (57%) and ease of cleaning (38%).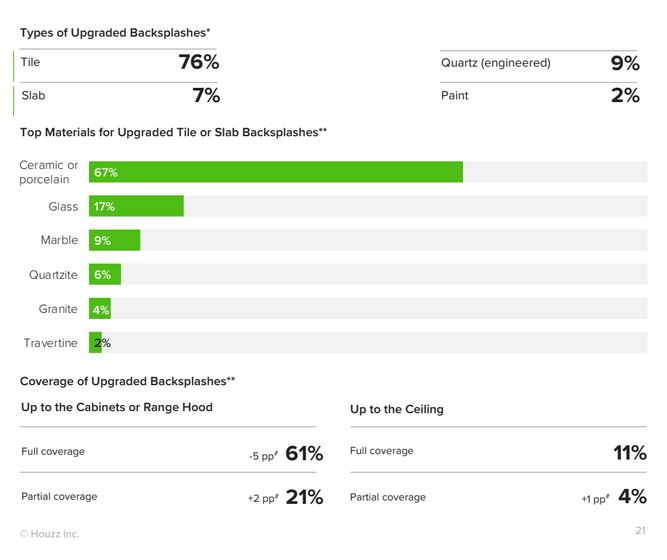 Partial Backsplash Coverage Gains Popularity: Backsplashes providing coverage from the countertop up to the cabinets or range hood declined in popularity by 5
percentage points compared with the previous year. The share of renovators choosing backsplash coverage up to the ceiling remains stable. About 1 in 5 homeowners (21%) partially covers the area up to the cabinets with a backsplash, while 4% partially cover the area up to the ceiling. Tiles are the overwhelming choice (76%) versus quartz (9%), slabs (7%) and paint (2%). For materials, the majority of
renovators choose ceramic or porcelain (67%), followed by glass (17%) and marble (9%).
Recessed lights rising: In renovated kitchens, recessed lights gained six percentage points this year to claim the No. 1 spot from under-cabinet lights, with 72% of renovators choosing them. Interestingly, however, under-cabinet lights also gained favor, rising by three percentage points to come in a close second (70%). Pendant lights saw a slight decline of three percentage points compared to last year. While pendant lights remain the most popular over-island choice (64%), recessed lights saw an increase of five percentage points from last year (35% from 30% in 2022).
Electronic upgrades abound: Electronics are seeing an increase in popularity in the kitchen, including docking stations (up nine percentage points to 49%), wireless speakers (up 11 percentage points to 37%) and stereo systems (up 10 percentage points to 20%). Meanwhile, 51% of homeowners install faucets with high-tech features, such as water efficiency (24%) and touch-only/touch-free activation (23%); and 39% install appliances with high-tech features, including Wi-Fi connectivity and smartphone/tablet controls (25% and 24%, respectively). 
Kitchen usage is varied: While the majority of homeowners (96%) use the kitchen for cooking, they also eat (71%), bake (69%), entertain (57%) and socialize (46%) there. Nearly a quarter of homeowners (23%) also work from their kitchen, which remains relatively unchanged since 2019. One in three homeowners report that their lifestyle is healthier post-renovation (31%), and 68% report no change in healthy habits.
You can download the full 2023 U.S. Houzz Kitchen Trends Study here.
Houzz has more than 25 million photos of professionally designed interiors and exteriors, including completed kitchen projects, and over 3 million active home remodeling and design professionals, including kitchen and bath remodelers, kitchen and bath designers, architects, and general contractors. The Houzz Shop offers millions of products, including items for the kitchen from cabinets and storage to fixtures and tile.
The 2023 U.S. Houzz Kitchen Trends Study is a report of homeowners who are in the midst of, are planning or recently completed a kitchen renovation. The online survey was fielded to U.S. Houzz users in July-September 2022. n=3,627.
*A major kitchen remodel refers to a remodel in which at least all cabinets and appliances are replaced. A minor kitchen remodel refers to all other remodels.