The latest in smart underfloor heating technology is here. The Warmup 6iE, the world's first thermostat with a smartphone screen, is in stock and shipping now. The device, paired with the MyHeating app, works seamlessly to heat your home based on your schedule and local forecast for energy savings up to $500 a year.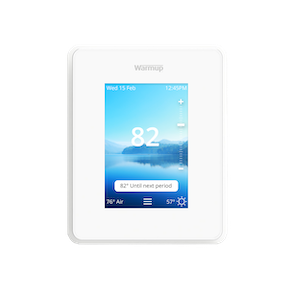 Why 6iE?
The 6iE by Warmup, succeeding the 4iE in North America, is designed to save you time and money. Advanced technology built into the 6iE and MyHeating app help find the most efficient heat settings for your home without constant monitoring. Utilizing geo-fencing technology and your local forecast, the 6iE works in the background after an easy QR code registration to save you money.
MyHeating App
At the center of the technology built for the 6iE is the MyHeating app. The MyHeating app offers features such as SmartGeo™, weather-based early start, and more to make efficiently operating your home heating an effortless, automated task.
For existing Warmup customers, upgrading to the 6iE is as simple as purchasing, installing, and registering the device under your existing MyHeating account. The 6iE is compatible with all Warmup underfloor heating systems. Unlike the 4iE, all 6iE models come WiFi enabled. Find your nearest Warmup dealer here.
Design
Unlike other thermostats, the 6iE does not take away from the design of a space but rather enhances it. The ultra-slim profile brings the unit out from the wall only 5/8" to minimize obstruction. From the front, the 3 ½" high-quality touch screen display allows for customizable photo backgrounds. Currently in North America, the 6iE is available in white.