Doylestown contractor touts skills, longevity and training young workforce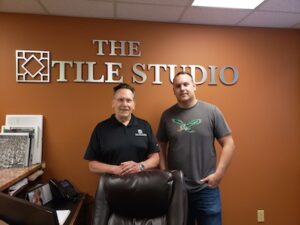 Back in May, when I was in Doylestown, Pa., for TileFest '22 at the TileWorks of Bucks County (formerly known as Moravian Pottery & Tile Works), I stopped in to visit NTCA member The Tile Studio, just down the street.
There I met with Mike Mastrangelo and son Dave, who toured me through their current showroom – which will soon undergo a redesign to better serve the high-end, luxury custom new home and renovation clientele they now serve.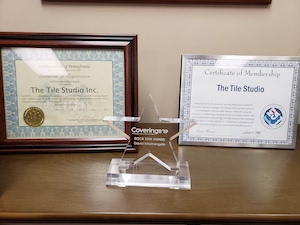 The company started 47 years ago doing commercial and residential installation. The pandemic helped it sharpen its focus and shift its gears into 100% residential, offering top area builders three Certified Tile Installers on staff and specialty in wet-bed installations. Dave Mastrangelo's wife Morgan is also instrumental in growing the company's retail presence, tripling its business and connecting the company to premier designers in the area. With a location that's an hour away from New York City and from Center City Philadelphia, the New Hope/Doylestown area is a perfect location for those wanting to leave the cities for greener pastures and more spacious digs.
The Tile Studio is geared for longevity with its 17 full-time employees, like designer Kim Helm, who has been with the company for 35 years, and other employees who have been with the company for between 15 and 30 years. "We are focused on quality and developing younger people in the trade," Dave said. "We specialize in wet-bed applications as well as the newer technologies, allowing us to be able to adapt to the various projects we are asked to be a part of."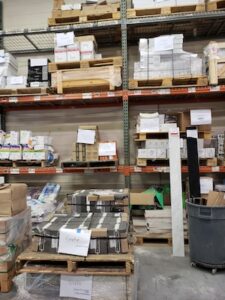 The Tile Studio currently has a Department of Labor approved apprenticeship program with three people working toward their Tile Setter accreditation.
Dave was emphatic about the caliber of people the company hires. "Do you want to OWN a career?" he asked. Owning a career, like current apprentice Matt Moran, means being accountable, responsible and stepping up, and being rewarded with pay and responsibility.
Mike added that The Tile Studio goes head-to-head with the Union in terms of benefits offered to its employees – 100% covered health and dental and matching IRA contributions. "We take care of our guys," he said.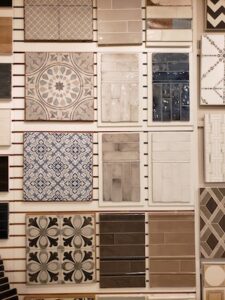 The Tile Studio has been an NTCA member for six years. "It's important to be a part of industry associations in any business, but particularly the tile trade," Dave said. "With the abundance of unqualified contractors doing sub-par work, we use the NTCA involvement as not only a marketing tool but a way for us to continue to learn and grow, giving our customers and builders the peace of mind that they hired the best at OUR price."
He also said that "being a part of the NTCA has been paramount to our growth over the last several years. From the network connections, the ability to bounce ideas off of other industry professionals and even hire a few people for special projects, it has been extremely beneficial to our business. We couldn't be happier and look forward to becoming an NTCA Five-Star Contractor in the near future."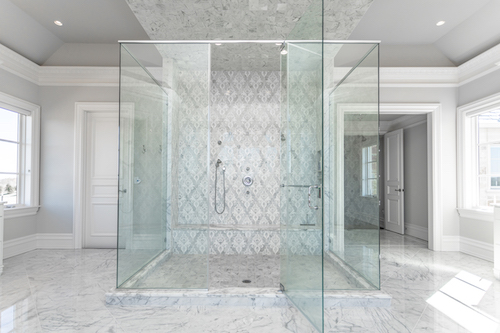 One of the connections the company made through NTCA was with FloFX – a "revolutionary" shower system, Dave said. The system offers a patent pending universal bond flange, 11 drain bodies and selection of eight grates. Mike added that they are now distributors of the product and look to grow that in the future.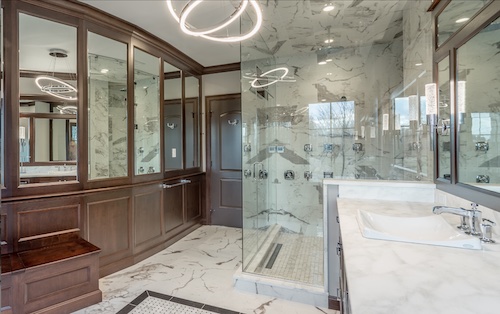 And NTCA members – who are also members of Facebook Groups like Tile Geeks and Global Tile Posse – have helped The Tile Studio on some jobs. For instance, New Jersey tile contractors Carl "The Flash" Leonard of Cutting Edge Tile in Florence, and Metin Gungor of DEKOR CONSTRUCTION, LLC in Bordentown helped The Tile Studio install a lightweight self-leveling system for a massive penthouse project on the 57th floor where dead load was a concern, choosing ARDEX LW™ that combines ARDEX K520 technology with advanced lightweight bead technology.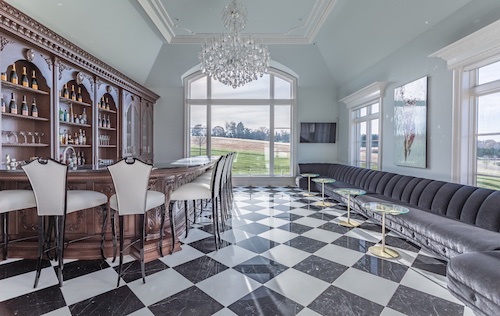 Overall, the company is poised to expand and approaches the future – and its new full-service showroom, with eager anticipation.
"We're fortunate we get to see a project through from the selection and design process through the final installation," Dave concluded. "So, to go from initial selections in our showroom and paper to the 'wow' moment when its 100% installed is really special. And there's nothing like hearing the feedback from a homeowner that we were able to bring their dreams to reality!"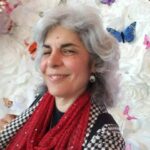 Editorial Director and Senior Writer for TileLetter and TileLetter ARTISAN
Lesley Goddin has been writing and journaling since her first diary at age 11. Her journey has taken her through a career in publishing and publicity, landing her the editor position of TileLetter and its special publications in 2006. Her goal is to educate, inspire, recognize and encourage those in the tile industry -- especially the tile and stone contractor. Other interests include the soft, purring marvels known as cats, labyrinth walking, drumming and percussion, and a range of spiritual, musical and artistic pursuits.