NTCA Five Star Contractor Grazzini Brothers & Company of St. Paul, Minn.,  had a hand print-making workshop for its staff this past autumn for the Global Monumental Hand Print Mural project, spearheaded by the Tile Heritage Foundation (THF).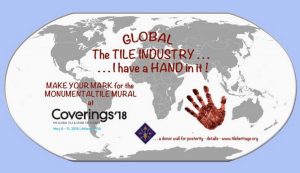 In preparation, volunteers from Grazzini spent Saturday, Sept. 21st with ceramist Josh Blanc at his studio (Clay Squared to Infinity) in Minneapolis where he volunteered to make the 9″x9″x3/4″ wet clay blanks with them for the project. Josh also fired the finished tiles. The Grazzini staff made hand prints during company-wide workshops for the Global Mural between the end of September and early October.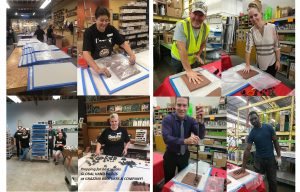 These tiles will eventually join the hundreds more staged at TCNA (Tile Council of North America). Eventually all of the Global Hand Print tiles from all over the country and beyond will be installed at TCNA for posterity. The Global Tile Industry, "You Have a Hand In It," supports the ongoing tile industry archiving work of the Tile Heritage Foundation, which greatly appreciate EVERYONE's support who has participated.
It is STILL possible to have "a hand in it" through 2020. here is an opportunity for companies to have a legacy Hand Print Tile produced FOR their company!  Visit
https://www.tileheritage.org/pdfs/HPWebpost9-19.pdf for details.