The Tile Heritage Foundation has begun its Twenty One Days of Giving. Through December 31, 2019, up to $10,000 in grant funds will match donations. Contributions will support the Tile Heritage Historic Records Storage facility ($7,900 for 12 months) and the Tile Heritage Collections Management ($12,100 for 12 months).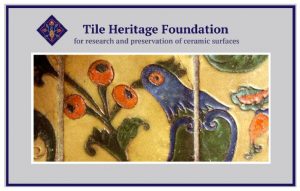 "Your contribution is doubly valuable through December 31st," said Sheila Menzies, executive Director and Co-Founder — with Joseph Taylor — of The Tile Heritage Foundation.
Tile Heritage Foundation was established in 1987 as a member supported, not-for-profit organization whose sole purpose is to protect and preserve the history of the American tile industry. Tile Heritage is dedicated to promoting an awareness and appreciation of ceramic surfaces in the United States.
The Foundation is a repository, an archive, which embraces all aspects of the industry from its inception in the 1870s through to the present time, validating its significance for posterity. The Foundation's archives include an estimated 40,000 documents and an equal number of images, both historic and contemporary. Manufacturing, distribution and installation history are represented.The body of information on hand, coupled with expertise resulting from over 70 years of combined experience in the field and access to a network of experts worldwide, provides assurance of both helpful and accurate answers to questions and solutions to problems.
The primary goal of the Tile Heritage Foundation is to assist in the preservation of ceramic surfaces, which includes its legendary history, significant installations, as well as the objects themselves. By providing pertinent information, unbiased consultation and specific recommendations when needed, the Foundation serves both the industry and the public at large as no other agency can.
For more information, visit http://www.tileheritage.org.