Miami, FL May 2023 – More than 70 Spanish companies presented new products, innovations and trends during Coverings 2023, North America's largest international tile and stone exhibition and conference, at the Orange County Convention Center in Orlando, FL from April 18-21, 2023.
This year, Spanish companies worked meticulously to curate flexible lines that cater to the vastly changing needs of projects large and small. Be it art, color, nature or science, Spanish tile makers drew inspiration from all aspects of life to craft rich collections full of multifaceted designs. The following offers insight into trending collections and designs on display during this year's exhibition:
IN VEIN
Marble has a long-standing history, serving as the look of choice for some of the most beautiful projects around the world. Now, the Spanish ceramic tile industry has combined high-tech performance with the visual purity synonymous with this classic material. Dramatic veined graphics in opulent shades ranging from abundant blues and striking ambers to luscious coppers and smokey charcoals illuminate interiors, creating environments full of movement but with all the advantages of tile from anti-slip to stain resistance and in finishes that range from high polish to matte.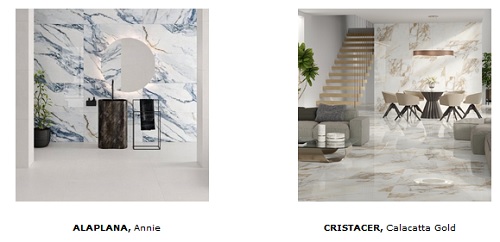 IF WALLS COULD TALK
Wall coverings are receiving a playful refresh in 2023. Advancements in inkjet printing have paved the way for lush graphics and blooming patterns to be presented upon large slabs like never before. Backsplashes, accent walls and interior facades are receiving a dose of personality to liven interiors and invigorate the senses.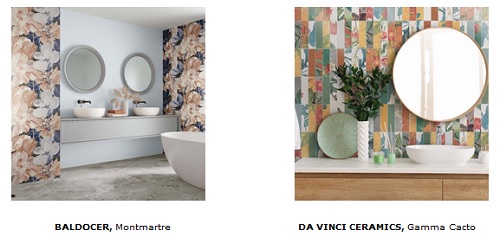 SMALL SIZE, BIG IMPACT
A classic bet, subway tiles are always a timeless choice for a myriad of surfaces. Artisans are experimenting with these rectangular formats like never before, drawing further interest from these beloved pieces. From new sizes and glazing styles that intensify the desired effect of each application to vertical, chevron or herringbone installations, subway tiles are seeing a revitalization that is here to stay.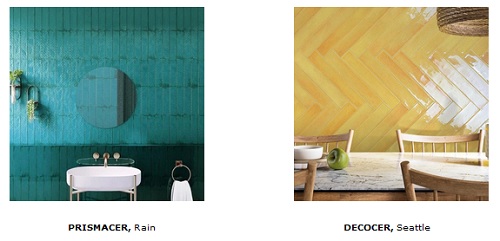 NEW WAVE TERRAZZO
Captivating and show-stopping, terrazzo tiles have long been a favorite thanks to their striking stone-speckled surface. While previous iterations of this genre of flooring focused on more organic stylings, this year's motifs focus on audacious inlays. This scheme will be accompanied by deeply saturated colors and larger-than-life fragments in varying sizes that seemingly pop out of the floor.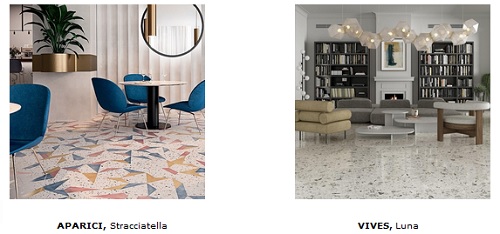 SATIATING SURFACES
While this trend can be considered open to interpretation, the theory behind the concept is a question that should be considered during every design process, "does it bring you joy?" Filling a space with materials and elements that bring about feelings of safety and comfort is imperative to crafting thoughtfully designed atmospheres. Whether its colors, patterns or textures, enhancing a room with surfaces that evoke positivity and happiness should always be top of mind.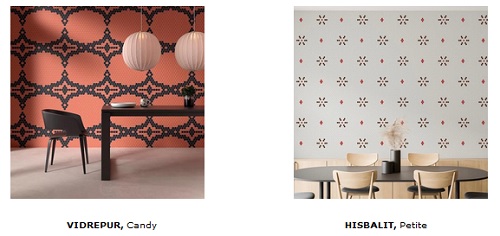 ---
About Tile of Spain
In Spain, tile makers labor as they have for centuries – pushing their passion for design and innovation to new levels of artisanship. With one of the purest and strongest domestic clays available, Spanish manufacturers have an unparalleled ability to make the end product more diverse. From rustic handmade forms; to technical facades thatcool buildings and clean the air; to the impossibly slim, sustainable recycled and ink jet masterpieces that fire the imagination.
The Spanish Ceramic Tile Manufacturers' Association (ASCER), together with España Exportacióne Inversiones (ICEX) are the organizations whose objective is to support Spain's ceramic tile manufacturers and the industry as a whole by stewarding and promoting the Tile of Spain brand worldwide. A strong global leader, the Spanish ceramic tile sector is comprised of more than 100 companies concentrated primarily in the province of Castellón.
For more about tile produced in Spain, contact Tile of Spain Center at the Trade Commission of Spain, 2655 Le Jeune Road, Suite 1114, Coral Gables, FL 33134. Call 305- 446-4387 or visit http://www.tileofspainusa.com.
For photography, interviews or questions, please contact Catherine Hoy at 732-644-3285 or [email protected] or Lori Dolnick at 609-529-2096 or [email protected].