Valencia, Spain June 2022 – Tile of Spain hosted a group of editors, designers and architects for this year's Passport to Creativity tour, which took place in Valencia June 13-17, 2022. In lieu of Cevisama, which had been postponed to February 2023, Tile of Spain treated the illustrious group to tours of factories, showrooms, historic and contemporary architecture; all to help the group discover trends and inspiration at the source.

State of the Industry
On Tuesday, June 14, 2022, prior to the tours, Vicente Nomdedeu, the President of The Spanish Ceramic Tile Manufacturers' Association (ASCER), Tile of Spain and ICEX (a publicly owned business-oriented entity of the Ministry of Industry, Trade and Tourism's Secretary of State for Commerce), held a press conference to outline production, sales, exports and trends in the industry that reflect the strength of Spain's industrial sector.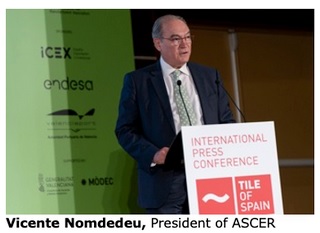 Spain continues to export its tiles to more than 180 countries around the world, with the USA accounting for 22.9% of its exports. Europe, Asia and the Middle East are the three next largest geographic areas. Spain also produced 567 million square meters of tile increasing production 20.3% from the previous year, making it the top EU producer.

Featured Trends
Every industry has faced challenges over the past two years, and the tile industry is no exception. Logistics and supply chain issues, energy crises, staffing and COVID all had an effect on life, community and commerce. The tile industry has weathered these challenges and the companies continue to push the boundaries of design and innovation in the pursuit of excellence. Here are some of the trends proudly shown to the visiting groups:

Deeper Expressions of Nature
People have been working from home or in a hybrid work situation for the past two years. Creating environments with natural materials can enhance well-being and this has given birth to a myriad of collections that honor the natural world. Tile manufacturers are also keenly aware of the importance of sustainability, and are working with nature, rather than depleting its resources.

Pop Culture – Past and Present
Exuberant balance is the most fun-filled, eye-catching trend. It explores the notion of maximalism, taking advantage of cultural narratives to dress up living spaces in rich colors, patterns and materials. Taking its cues from decades of rich cultural designs combined with a bold look into the future of design, these collections make statements that resonate.

Look and Please Touch
Advances in digital and 3 and 4D technology has given rise to collections that beg the question, "how can this be tile?" From the striations in marble-look tiles to the rough-hewn periderm layers which make up tree bark for wood-look tiles, the natural world is re-created using tiles' own natural properties.

Enigmatic Luxury
Tile can be both a serene backdrop to any luxury project or the main character and when looking for either, it's best to ensure that the choices speak to whichever the project demands. These tiles answer that call beautifully.

Rustic Redefined
Advances in extruded tile manufacturing has given tile designers the freedom to create collections that hearken back centuries to hand-crafted tile while at the same time incorporating newer technologies like slip-resistance and the strength to stand up to high-traffic areas.

---
About Tile of Spain
In Spain, tile makers labor as they have for centuries –pushing their passion for design and innovation to new levels of artisanship. With one of the purest and strongest domestic clays available, Spanish manufacturers have an unparalleled ability to makethe end product more diverse. From rustic handmade forms; to technical facades that cool buildings and clean the air; to the impossibly slim, sustainable recycled and ink jet masterpieces that fire the imagination. The Spanish Ceramic Tile Manufacturers' Association (ASCER) is the private organization whose primary objective is to support Spain's ceramic tile manufacturers and the industry as a whole by stewarding and promoting the Tile of Spain brand worldwide. A strong global leader, the ceramic tile industry of Spain is comprised of over 120 manufacturers concentrated primarily in the province of Castellón. For more about tile produced in Spain, contact Tile of Spain Center at the Trade Commission of Spain, 2655 Le Jeune Road, Suite 1114, Coral Gables, FL 33134. Call 305-446-4387 or visit http://www.tileofspainusa.com.