Ryan Fasan, Technical Consultant for Tile of Spain USA, recently presented an overview of the trends we will be seeing moving into 2022 and the influences  that help shape those trends.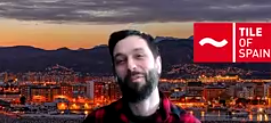 In looking over the last year, Fasan pondered how our experiences have changed our perspective, and how isolation and technology-centric spaces have prompted craving for connection, as seen in the explosion of the hygge trend, and seeking opportunities to meet in real life, away from screen. At the same time, our needs for safety, comfort and flexibility has spurred a need for hybrid spaces that can adapt and change to our needs throughout the day, week and year, supporting technology-dependent workspaces that also offer comfort and new forms of connection.
Fasan postulated that change isn't going away, and ceramics provide materials that can change with our needs, from functional requirements to protecting climate and environment during a product's life cycle. Agility is a keyword for Fasan, who noted that with more at-home work environments, "I'm going to work" has moved from a noun to a verb, signifying a change in energy and focus, vs. physically relocating from home to an office environment to perform job duties. That means flexible work spaces – at home or in commercial spaces or even in restaurants that provide private dining rooms with zoom screens for small gatherings — is key.
Fasan coined the term "agnostic" when it comes to spaces and materials: He called tile "contingency agnostic," meaning it doesn't matter what happens in a space, tile is up for the task; it can address a lot of situations. And in referring to tile as "material agnostic," he illustrated that achieving wood or cement or ceramic aesthetics visually doesn't mean you need to change materials physically – tile can achieve all these looks to suit a range of needs and settings through the use of digital printing techniques.
Trends – from color to technology
How do these influences and conditions in which we are marinating affect trends for 2022?
First up, color will be centered on a triad of blue, grey and beige, with green undertones for neutrals; greyed off, saturated blues, accented by raspberries and corals. Neutrals will show lighter tones with greens leaning towards sage and olive shades vs. that prevent greened neutrals from looking sickly. Earth tones like red wines and berries provide warmth and together with greened neutrals, and creamy buttery beiges pay respects to the biophilia trend.
Digital Augment means microtextures will become more sophisticated, partly through the use of 3D CAD sculpting of molds, technical frits that offer a range of textures, and carving and embossing inks – combining physical texture with visual, digital augmentation. Fasan said organic glues that burn off in the kiln allow for effects like granilla (dry frits), sap lines in wood grains, oxide deposits in metal looks and sunken veins in marble patterns.
In the Chip Off the Old Block trend, Fasan championed the return of layered textures evocative of Donegal wool that from a distance has an overall hue, but up close offers a riot of textures and colors. Terrazzos and agglomerates of all sizes provide multisize chips and flecks.
The Golden Arches trend recalls the Art Deco revival from earlier this  year with metallic sheens and rounded forms, from hexagons to elongated fish scales to rounded rectangles – all of which are a counterpoint to rustic, texturized, vintage styles.
Á Bientot – literally means "see you again" and evokes revival – with Versailles patterns that offer shape and size interest with refined rather than rusticated edges and a modular, multi-format feel that updates the concept.
Crisp Contrast is a celebration of looks that serve as a foil to accentuate each other – larger formats together with small textured tiles, and ultra modern looks combined with vintage, artisanal aesthetics.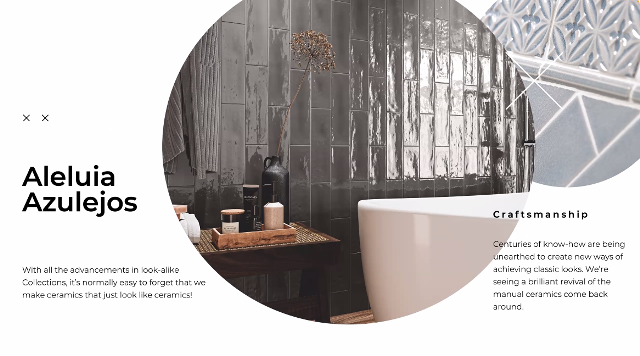 Aleluia Azulejos lets ceramics be themselves – with carved, handmade, brilliant glazed looks normally associated with glazed ceramic tile and new ways of achieving the craftsmanship look.
Pythagorean Play is a nod to the love of geometric forms and the mixture of modernist style that combines solid color with glossy and matte finishes. Layers of texture and color bring richness to simple shapes.
With Vintage Ceramics, layered glazes and inks bring depth of tone and finish. Here you can see how digitally-deposited adhesives fix particles of frit to recreate worn classic glaze effect, Fasan said.
In addition to the technology that results in style, Fasan noted that current and future technologies lend other properties to surfaces. For instance, technology now allows ceramic materials to be even more anti-slip when wet than when dry, and offers tiles with no VOCs. In addition, Fasan noted that the Tile Council of North America (TCNA) is doing testing on new products that have not only antibacterial properties but antiviral properties as well, upping the safety quotient for tile surfaces in a increasingly germ-conscious world.
Ceramic tile offers durability and impermeability to UV, fire, flood, scratches, heat and acid, and is easy to clean and sterilize without harmful chemicals. The life cycle cost of tile also makes it a wise financial choice for floors, cladding, walls and more. For more information about ceramic tiles and Tile of Spain manufacturers, as well as the Quick Ship Program, and the Passport to Creativity submissions for an educational trip to Valencia, Spain and the Cevisama expo next February, visit https://tileofspainusa.com/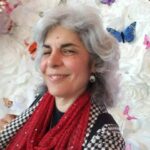 Editorial Director and Senior Writer for TileLetter and TileLetter ARTISAN
Lesley Goddin has been writing and journaling since her first diary at age 11. Her journey has taken her through a career in publishing and publicity, landing her the editor position of TileLetter and its special publications in 2006. Her goal is to educate, inspire, recognize and encourage those in the tile industry -- especially the tile and stone contractor. Other interests include the soft, purring marvels known as cats, labyrinth walking, drumming and percussion, and a range of spiritual, musical and artistic pursuits.