Merkrete and City Tile are thrown a Kurve
undulating across the cityscape of Los Angeles' Koreatown stands its newest towering addition. Kurve on Wilshire balances contemporary function with organic form throughout its 23 stories of luxury rental space. The residential and retail rondure at 2900 Wilshire Boulevard serves as a noble annex to Downtown Los Angeles' crowded skyline. Kurve's blend of arcs and angles cleverly draws the eye while complementing the nearby parks, businesses and apartments. Within, tenants find every modern convenience intelligently integrated to streamline their daily lives, while pockets of foliage and an acre of green rooftop recreational space afford escapes from the bustling marketplaces and humming neon that mark Koreatown.
Kurve's striking design culminates with the 225,000 sq. ft. of tile that enrich the flowing beauty of the high-rise. City Tile and Stone Tile of Van Nuys, Calif., used an exhaustive variety of tile with Merkrete tile-setting products to provide tenants with reliable, graceful finished surfaces made to endure and enhance tenants' every activity. This meant installing complete tiling systems in hundreds of units, and great quantities of large-and-heavy tiles throughout the tower's corridors, common areas and community facilities. However, what appeared to be a straightforward job at the onset quickly became rife with twists and turns as global events intervened.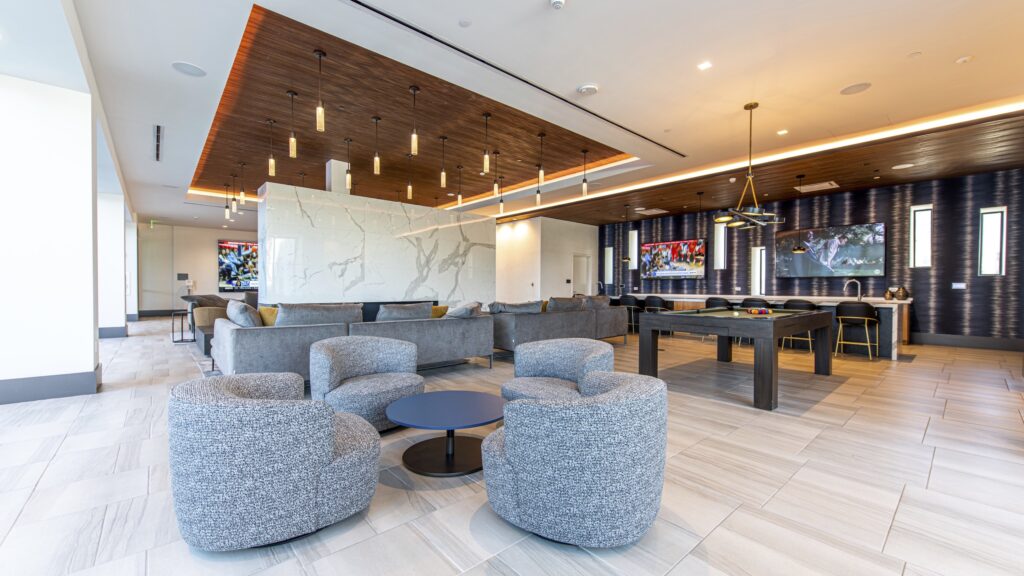 Constructed for a growing world in a changing one
When ground was broken for the $300 million project in early 2019, there were no signs of the drastic changes the subsequent years would bring. Kurve developers Hankey Investment Company and Jamison Properties were fresh off the successful completion of CIRCA, the $500 million mixed-use development in Downtown L.A., and their latest project was to be developed just in time to provide the city with much-needed homes.
Lead architect LARGE Architecture's singular design for Kurve provided new tenants with spectacular views of the heart of L.A. and the Hollywood Hills from its 269-foot frame. Interior designer Dianna Wong Architecture + Interior Design married stone, glass, steel and leaf for clean dwelling and roaming spaces that maximize light and breathing room. The task of materializing Kurve's almost 650,000 sq. ft. was awarded to the team of AECOM and Wilshire Construction.
During selection of a tiling partner, City Tile and Stone Tile's reputation preceded its bid, with its work at nearby 10900 Wilshire Blvd., and Vision on Wilshire serving as vicinal monuments to their mastership of tiling and waterproofing for substantial projects. The inclusion of a full Merkrete system with comprehensive warranty in the bid helped tip the scales in City Tile's favor. In February 2020, City Tile began work. The following month, a pandemic was declared.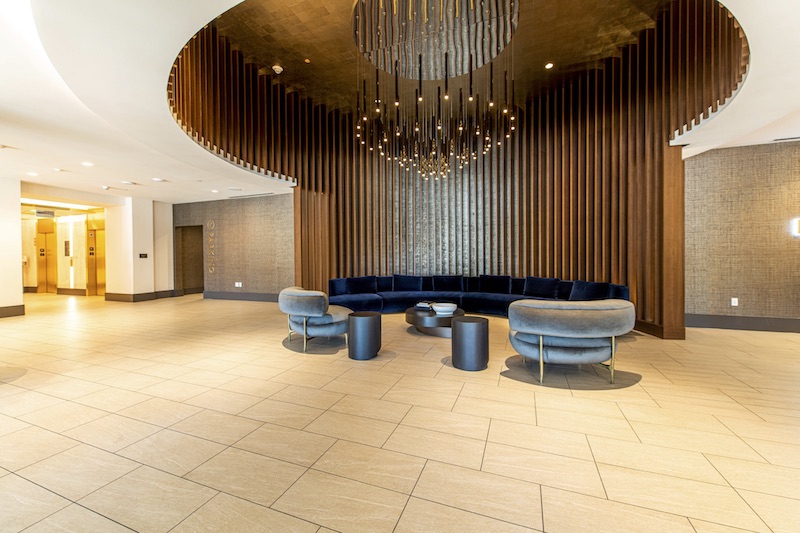 A steep learning Kurve
According to City Tile Senior Project Manager Mike Razook, the COVID-19 pandemic presented some of the greatest logistical challenges he'd faced in his long tiling career. Precautions in place at the time mandated project stoppages for deep cleaning before work could resume. Adding to these delays, the crews relied heavily on Kurve's staircases since only a minimal number of people were allowed in the elevators at one time.
City Tile Superintendent Alex Flores adjusted on the fly to ensure circumstances did not put the project behind schedule. He and Razook worked closely with Merkrete Technical Sales Manager Clint Anna to ensure supplies were ready when needed and arrange to have deliveries made off hours. This close communication meant no compromises had to be made, no corners cut.
A project like no other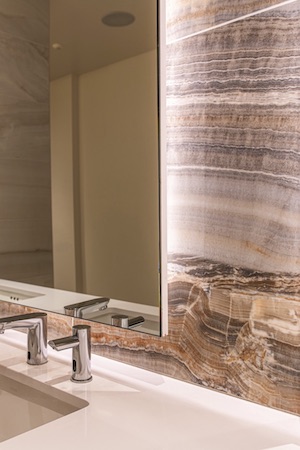 Determined to maintain contact with Merkrete and maneuver around the frequent obstacles thrown in its path, City Tile focused on its largest project to date. Stone sills, shower pans and full waterproofing systems with modified grout were required for the (often multiple) en suite bathrooms in each of the 644 units. According to Razook, upholding the schedule meant staying in compliance with waterproofing and plumbing inspectors. "The Merkrete products, the Hydro Guard SP-1 in particular, were ideal for this project with tile on waterproofing everywhere," he said.
Hydro Guard SP-1 is one of Merkrete's liquid-applied waterproofing membranes. Unlike sheet membranes that are prone to leaks at the seams, Hydro Guard SP-1 forms a monolithic barrier. The thin, load-bearing waterproof barrier was incorporated into Kurve's drain assemblies, creating uninterrupted water runoff from the slopes. Its anti-fracture properties prevent cracks up to 1/8″ wide from transferring to the finished surface, ensuring long-lasting installations throughout Kurve. Razook claimed Merkrete Hydro Guard SP-1 was "either used as waterproofing or crack isolation behind every piece of tile there."
Merkrete's 735 DUSTLESS Premium Flex was used to bond some of Kurve's wall tiles. Its patented DUSTLESS Technology produced significantly less dust than ordinary thin-set mortars. This eliminated much mess during transportation, opening and mixing of the product, saving City Tile's 40 installation crews countless cleanup hours.
Due to the abundance of large-and-heavy tiles used in Kurve, including travertine, antique flame black granite and 145,000 sq. ft., of 12″x24″ gauged porcelain tile panels, Razook's teams used "truckloads and truckloads and truckloads," of 820 DUSTLESS Merlite. Merkrete's 820 DUSTLESS Merlite is a lightweight polymer-modified mortar for large-and-heavy tile and natural stone. It created an instant bond with the tile, resisting sagging and slipping of the massive panels that contribute to Kurve's higher aesthetic. Plus, 820 DUSTLESS Merlite's less-burdensome 30-lb. bag yields the same coverage as a typical 50-lb. bag of mortar.
Completing Kurve's expansive installations, Razook's team used custom colors of Merkrete's ProGrout. ProGrout proved optimal for Kurve's wide variety of tile. Its unique formula accommodates all types of ceramic and dimensional stone tiles that have grout joint widths ranging from 1/16″ to 1/2″ wide. Such versatility eliminated the need for different grout products on the job. And since ProGrout is color consistent and efflorescence free, there will be no calls back to the site to remedy grout complications.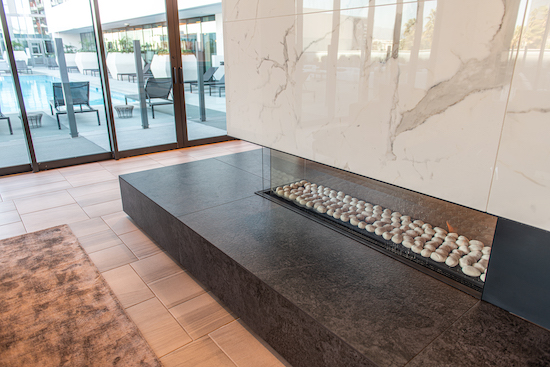 The path to success is Kurved
Today, Kurve's units are filling up quickly. City Tile's high level of adaptability in the face of pandemic and Merkrete's timesaving, high-performance products kept Kurve's installations progressing at the needed rate. The result, Razook mentioned, was City Tile's crews were able to hold the schedule with all other trades involved in Kurve's construction. "There was not one complaint that we were behind."
Anna further attributes the project's success to the nearly 20-year relationship the company shares with City Tile and Stone Tile. "The strong partnership we have with City Tile really helps the trajectory of mega-sized projects like this. It helped that we kept the lines of communication open constantly so we knew what they needed and were able to provide it on time."