Total Solutions Plus, the all-industry conference hosted by The National Tile Contractors Association (NTCA), Ceramic Tile Distributors Association (CTDA), Tile Council of North America (TCNA) and Tile Contractors Association of America (TCAA), took place at Indian Wells Hyatt Regency Resort and Spa near Palm Springs, Calif., on November 6-8, 2022.
The event – in its 13th year — combines business and technical education, a mini trade show in the Table Top event, keynote speakers, a fun dinner-dance, all in a format that is designed to foster interaction and networking. It is one of the most loved events in the industry, attendees say, and helps foster new friendships and expands knowledge.
John Mourelatos, of Mourelatos Tile Pro in Tucson , Ariz., said, "Total Solutions Plus has always been one of my favorite conferences because of the fact we get the time to network with one another ,but more importantly meeting new people…I 've made it a point to go outside my comfort zone and meet new faces and connect different generations – younger people, who maybe are on social media that we don't know directly."
This was the second Total Solutions Plus for Sal DiBlasi from Elite Tile in Medford, Mass. "You are with people who are giants in the industry," he said. "You find out that they want you to succeed, and they want to talk to you, and they want to be your friend. It's amazing how approachable they are and friendly they are and they are willing to help you any way they can."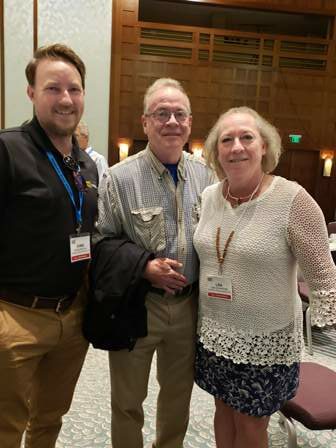 Sponsoring associations held a range of meetings the weekend before the November 6 Opening Reception, including the NTCA  Technical Committee, a meeting of the NTCA and CTDA Boards, MMSA's Business meeting and the TCAA Contractor Business Meeting. Sunday afternoon there was a scheduled Golf Tournament and other off-site activities.
The NTCA Consumer Education Committee, which is tasked with creating documents about various aspects of the tile setting process  — like how to find a qualified tile contractor, leaky showers, spot bonding and more —  geared to educate consumers to get the best result from their tile installation, had a breakfast meeting Monday morning.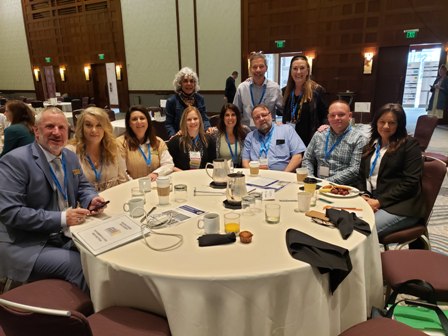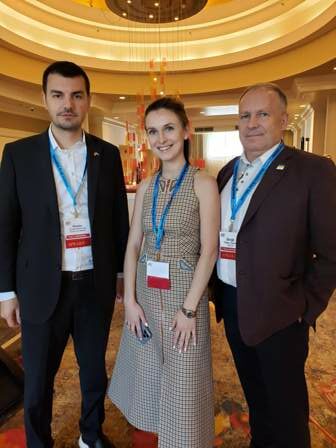 Then, before the event kicked off Monday morning with Steve McClatchy's keynote about balance and making decisions to prioritize what is important in business and in personal life, Kateryna Tyshchenko , from Ukraine-based ceramic distributor Agromat talked about the impact the war in Ukraine has had on its Ukraine-based business, its people and the employees. It has established the We Are Family Charity Foundation that unites the business community to provide support to the victims of the war, including rebuilding houses of employees and tending to the injured. Learn more about the Charity Foundation "We are Family: at wearefamily.com.ua/en/
Interspersed between planned networking breaks were business and technical breakout sessions. Mourelatos added, "I like to balance technical and managerial side of the breakout sessions."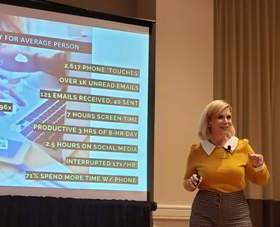 Monday's Awards Lunch honored Frank Donahue of Best Tile as he was inducted into the CTDA Hall of Fame, against a backdrop of past CTDA Hall of Fame Inductees.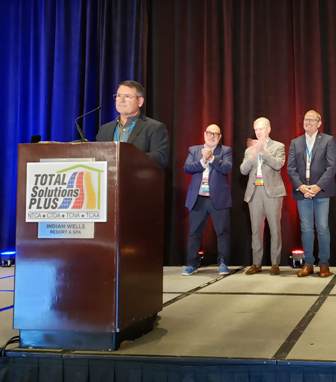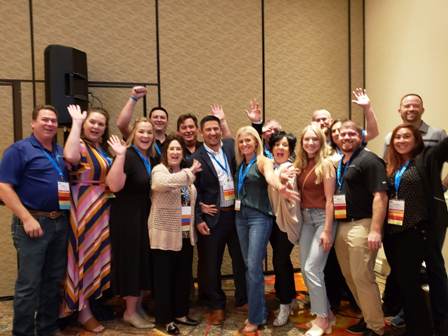 After lunch, NTCA held its Annual Meeting and discussed accomplishments over the past year and plans for 2023 and beyond. First Vice President Sam Bruce of Visalia Tile was voted into the presidency role – with 16 of his family members present– and immediate past president Martin Brookes of Heritage Marble & Tile took over the reins as Chairman of the Board from David Allen Company's Chris Walker.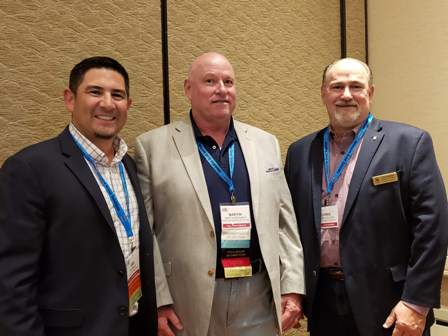 Both CTDA and NTCA held respective Distributor and Contractor Forums. NTCA's focused on glass tile trends, installation, standards and technology, with Jimmy Reed of Rock Solid Tile (who just joined the NTCA Board of Directors to share wisdom about glass tile installation in pool applications), Vince Moiso from Oceanside Glass Tile and Julio Velez of Sicis.
The Forums were followed by three hours of Table Top exhibits, where conference goers had the opportunity to meet exhibitors and learn about new products. Afterwards, a party was held to celebrate 75th anniversaries for NTCA and Dal-Tile LLC/Daltile brand and  MAPEI's 85th anniversary.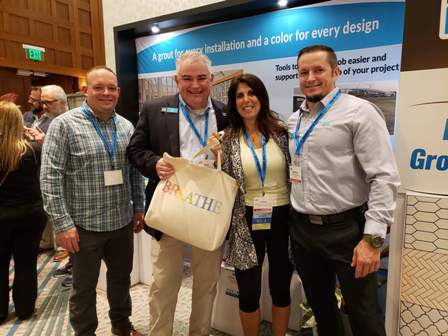 Joshua Nordstrom of Tierra Tile in Homer, AK, valued "the good merch everyone gives away, networking with everybody, and all the knowledge that everybody shares. I'm going to bring that back to Alaska with me and it's going to help my business grow, and me grow as a person.
Tuesday morning dawned with an invitation-only LATICRETE breakfast in which LATICRETE personnel discussed new products and economic outlook for the ceramic tile market in the new home, renovation and commercial sectors.
An economic trends discussion continued with closing keynote speaker John Manzella, who made the point that immigration is an important component to keeping labor in our industry alive and growing.
At the Awards Lunch, David Allen Company's Martin Howard received NTCA's Ring of Honor award, for distinguished service to the industry throughout his career, amongst past Ring of Honor recipients.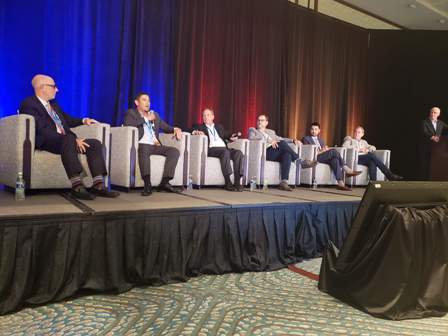 Business and Technical breakouts resumed, peppered with 30-minute networking breaks, and the day wrapped with a Joint Industry Panel featuring Daltile's Marcelo Rodriguez, TCNA's Bill Griese, D&B Tile's Rudy Llerena, and Louisville Tile's Matt Saltzman, together with installation contractors Martin Howard with DAC and Visalia Tile's Sam Bruce. Topics discussed included the role of LVT/LVP, the importance of getting a handle on technology and using it effectively and efficiently, sustainability, and the structure of contractor crews and their flexibility to respond to in inflation and changing demand.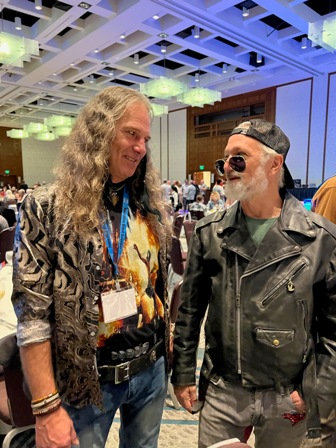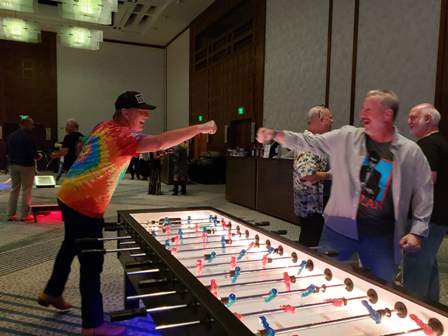 In all about 550 attended the event, which returned attendance to pre-covid levels.
Katie Marcotte of Maine Modern Tile attended her second TSP, and really appreciated the sense of connection she found at the event. "Coming from a rural area, it's nice to actually come and be in community with other like-minded people in the industry," she said.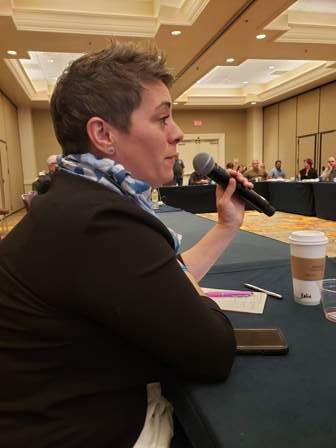 Lee  Callewaert of Dragonfly Tile and Stone Works of Grafton, Wis., near Milwaukee enumerated several things he values about TSP: "the training and education…sessions all day long….the intimate setting, small classroom size, the more one on one you can have with some of these people….you don't have to go through a sea of people to get to an instructor or presenter, they are very accessible." He summed it up, saying that there's "no bigger, smaller event over the year."
Next year's TSP is set for October 21-25, 2023 at New Orleans Hilton Riverside, New Orleans, La. Stay tuned for more information about the show as it is available.