"Every day, wherever you are, you have the opportunity to be a light and a blessing." – Brandon Buell
I am writing to you on January 4, the first day back at work after a two-week break – a break in which I had planned to accomplish so much in my personal life. But the universe and my need for downtime had other ideas, so I still have a list of things to tackle as the year begins. Can anyone relate?
That said, it is good to be on the other side of 2020. There are many sparks of hope as we enter into this month of February. Training opportunities are ramping up again at NTCA, which began with two webinars in January, an NTCA Roundtable Live! on submerged tile installations and an artisan tile roundtable, which is held monthly.
In addition, Workshop Parties on Facebook have been added to the NTCA stable of training opportunities. Workshop Parties consist of six days of engagement on Facebook and YouTube. The first ones were held in January on the topic of "Failures and How Not to Have Them".
These workshop parties are presented in the Facebook group party format. For those who have never attended a Facebook group party, know that it is a medium NTCA can employ to present an NTCA training program over a period of time to a short-term community – from a number of hours to a number of days. Workshop party members can watch, comment on and react to the same posts and videos at the same time. They are designed to not just educate, but also to build relationships among industry professionals, NTCA members and staff – so important in our socially distanced reality. There are lots of opportunities for interaction, and also to participate in contests to win valuable prizes from NTCA partners Alpha Tools, Dust Hog, Rubi and SunTouch.
Starting in March – COVID willing – we will return to an adjusted schedule and protocol for trainings this spring. Our first in-person workshop is scheduled for March 18 at Arley Wholesale in Middletown, N.Y., followed by five more in April. We are slowly re-introducing a GPTP program, workshops and regional training moving into March, as health and safety allow. Be sure to read the announcements in TileLetter and visit www.tile-assn.com, click on the Education and Certification tab for up-to-the-minute info on the live trainings.
Also, at this writing, CTEF has its first Certified Tile Installer hands-on exam scheduled for 2021 at The Carpet & Tile Warehouse in Vero Beach, Florida, on Saturday, February 20, 2021. You can find more information at www.
ceramictilefoundation.org/events.
You may be just getting involved in tile setting or you may be a seasoned installer who's lived by your own lights for decades, or you may be eager to learn new things. Let me just say that training – virtual or in-person – is ESSENTIAL. Live, hands-on programs are great, but virtual training opportunities are nothing to shake a stick at. They ALL help you up your game.
Why is that important? A look at this month's Ask the Experts introduces you to the work of a tile installer who has "done it this way for 30 years," whose practice of spot bonding large-format tiles atop a thin mud bed and wire lath over vinyl tiles spelled disaster for a homeowner. The folly was revealed in this year-old floor when the homeowner's cat jumped from a stool, which subsequently punched a hole through the tile. The NTCA Technical Team assessed the problem and then a local NTCA/CTI tile installer paid a visit to put his eyes on the problem and confirm the diagnosis. Did the original installer even realize this was a technique doomed to failure? He outed other installers for "putting a glob of mortar on the back of the tile" when he himself used a similar technique, except for more globs. Still a failure. Both the distributor and the failed installer himself are assuring these homeowners that no further problems will occur. Needless to say, the homeowners are not happy.
Don't be this guy. Get training. Learn the proper techniques to provide your customers with well-performing, enduring installations. If tile setting is your chosen trade, it is how you show up and shine your light in this world. Do what you can to make sure that light is bright and it radiates favorably for both your customer and your expertise. That's what the installers featured in our National Tile Day Project Gallery do. There you will see stellar projects, excellently executed. Got some inspiring work to share? Send me a synopsis and photos at the email address below.
God bless,
Lesley
[email protected]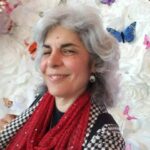 Editorial Director and Senior Writer for TileLetter and TileLetter ARTISAN
Lesley Goddin has been writing and journaling since her first diary at age 11. Her journey has taken her through a career in publishing and publicity, landing her the editor position of TileLetter and its special publications in 2006. Her goal is to educate, inspire, recognize and encourage those in the tile industry -- especially the tile and stone contractor. Other interests include the soft, purring marvels known as cats, labyrinth walking, drumming and percussion, and a range of spiritual, musical and artistic pursuits.