Pebble scribe waterfall and niche
Ken Ballin
Skyro Floors
West Creek, N.J.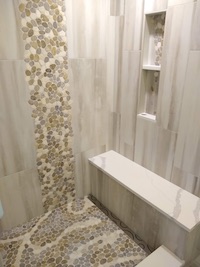 This pebble scribe waterfall and niche is a Schluter shower. It was part of a two bathroom and 1,000-sq.-ft. hardwood install. The entire condo was poured with CMP Liquitek from Bostik. After that was poured, the wood was glued down with Bostik Ultra-Set SingleStep 2. Skyro poured the two bathrooms separately with Bostik SL200 at a different height so the tile could meet up to the hardwood perfectly, with only a soft joint between them. Tile was set with Bostik Stonewall and Hydroment Vivid grout. All the scribing was done with Helix tooling including the K-Skribe blade and polishing pads. The niche was premounted to Schluter DITRA with Bostik BAM, then transported to the jobsite and installed in one piece.
Shower renovation
Rob Melquist, Jr., CTI #1248
Ceramic & Stone Solutions
Milwaukie, Ore.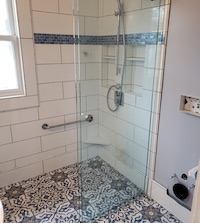 This old house was badly out of level. Ceramic & Stone Solutions used a combination of mud pan with Schluter KERDI board walls. The contractor had to put the drain at entry and create a slight slope of main floor towards drain also. This is a 100% Schluter project down to the All Set thin-set mortar. The niche and bench were mitered because the homeowner did not like bullnose options. Floor was Villa Azul 10"x10" ceramic tile from Bedrosians.
Before and after shower
Nick Wheatley
Floor 2 Ceiling Tile & Stone
West Point, Ga.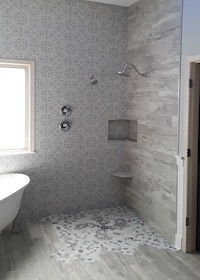 Wheatley couldn't resist sharing these before and after pictures – and crediting his membership in NTCA for upping his game, which has helped him network more with professionals in the industry. "If I could be frank about it, at 40 years old I'm doing the best work I've ever done," he said. "Thanks in great part to the NTCA."
A local Atlanta radio station started a promotion to try to help small businesses during the pandemic. Since Wheatley is an avid fan of the station, he contacted the station and got a little radio time.
"Next thing you know, I'm in one of my favorite radio personalities' master bathroom discussing the project," he said. "We don't have fancy software to create artistic rendering of the remodel. But I do have an art history major fiancée who does beautiful work, and I feel like a hand drawn portrait of what it's going to be means much more than a computer printed photo."
He said "the most challenging part of this job was the drive – over an hour one way every day. But I'm very proud of this project."
Tile was sourced from Floor & Décor, and Floor 2 Ceiling installed a full Schluter shower system, complete with 50% Schluter All-Set (for warranty) and 50% Ardex X5. Wheatley said he uses CUSTOM brand Prism grout on all his jobs and this was no exception.
For the glass shower enclosure, he relied on a Mom-and-Pop company in Villa Rica, Ga., called Townsend Glass and Mirror, who does all the glass for his remodels.
In fact, Floor 2 Ceiling is a full remodeling firm. "I've been a Tile setter for 22 years, but we do it all!" he said. "We installed that bathtub, we frosted that glass; we hung all the trim and installed the barn doors."
3D Fireplace
Erin Epperson
Whistling Bee
Fort Collins, Co.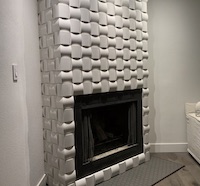 Originally this fireplace was completed in August 2020 by a different tile setter using different tile. Shoddy workmanship led to falling tile. The GC removed existing tile, and when Epperson arrived to do templating, she discovered the marble tile was inappropriately set on the floor. "So, redoing the floor also was added to my scope," she said.
Once the replacement fireplace tile arrived and she pored over it for four hours, she "determined there was no way to successfully set the tile provided." The tile cost was refunded and tile selection started from scratch. This time, the client picked WOW Designs, Arch Series.
"Thanks to my templating, I was able to pick up the tile and spend some time determining the best layout for the tile given the space provided," Epperson said. "I was able to establish that for the most ideal layout, I would need to replace the sides of the fireplace with 1/4" backer. The existing walls were 1/2" too wide for my ideal layout to work without this change.
"When I pulled the original backer, I discovered they had installed all of the backer with inappropriate screws (as in the wrong length) and significant concerns with electrical (clearance issues for a fireplace) that had been installed in the flue space," she added. This meant ANOTHER delay while she called the building department, and got the electrician in to ensure that their house would not burn down.
"In the mean time I got all new backer, and precut as much as I could before arriving on site," she said. Three months later, she finally got all her tile and tools on site. She set floor tile with a 3/16" trowel using the knockdown method and wood block embedding. Floor materials included Schluter All-Set, with Schluter Reno-U for floor transition and TEC AccuColor unsanded grout. For walls she set packed the back of the tile with thinset, and set the 3D tile with TEC Ultimate 6 Plus mortar, 1/4" U-notch trowel, spot checking for coverage as she went, leaving tile ungrouted. To successfully complete the job, Epperson employed "lots of laser use, artistic eye, and confidence in my experience and skill level."
Herringbone kitchen
Kyle Gaudet
Flawless Floorz
Rochester, N.H.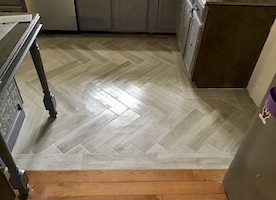 Flawless Floorz showed up to install this plank porcelain tile in a straight lay pattern. "When we began to start the job, the female homeowner decided she wanted a herringbone pattern with a border. I pulled it off and got an awesome compliment," Gaudet said. It was a challenge with the kitchen layout to keep everything square, and all the attention to detail under the appliances is hidden. But then the customer wanted the dog dish area done the same way! (Customer elected to add new cove base at a later date).
Optical illusion entryway
Joshua Nordstrom
Tierra Tile
Homer, Ala.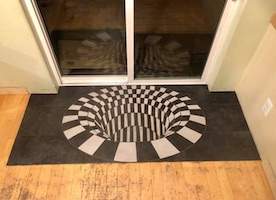 Tile artist Joshua Nordstrom said he had a day he needed to fill, so he decided to tackle his patio entry.
He found an image online, printed it, traced it out on the overhead projector and blew up to size. "If you don't have a projector I'd recommend getting one," Nordstrom said. "Game changer!"
Tierra Tile pre-mounted the mosaic with alkali-resistant fiberglass mesh and TEC HydraFlex, set on DITRA Heat Mat to obtain transition height, set with TEC Ultimate 6+, and grouted with TEC's Power Grout in Raven. In about two and a half days, Nordstrom had this eye-popping entryway to another dimension on his patio.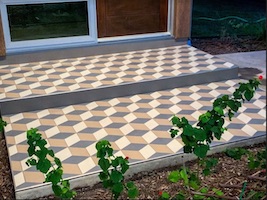 This very complex exterior entryway tile project brought new technical challenges to Yodice with Cabot & Rowe. These included an exterior install, inconsistent tile sizes, a spacer-free install, tiling of risers, intricate profile installation, imperfect substrate (finished exterior concrete) and pre-existing expansion joints that needed to be honored.
The tile material selected for this installation was water jetted down from 12"x24" tiles, which created inconsistent tile sizes, so spacers could not be utilized. Instead, a grid of the pattern size was created to keep grout joints in line and prevent the pattern from shifting and drifting. Tiling the risers was challenging due to height issues and installing the tile edging profiles the client demanded. In addition, the installers had to flatten the substrate (which was full of birdbaths) while keeping a 2% slope in two directions.
"I speak a lot about overcoming challenges which in turn can help you to grow as a person or even a business," Yodice said. "I wasn't always a tile contractor and this installation had many 'firsts' for me. Although this project took me a lot longer I am extremely happy with the installation and grateful to have been able to overcome these challenges to make me a better installer and person. Challenge yourself every day and you will constantly be improving yourself and your business."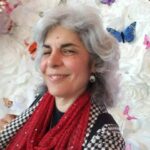 Editorial Director and Senior Writer for TileLetter and TileLetter ARTISAN
Lesley Goddin has been writing and journaling since her first diary at age 11. Her journey has taken her through a career in publishing and publicity, landing her the editor position of TileLetter and its special publications in 2006. Her goal is to educate, inspire, recognize and encourage those in the tile industry -- especially the tile and stone contractor. Other interests include the soft, purring marvels known as cats, labyrinth walking, drumming and percussion, and a range of spiritual, musical and artistic pursuits.