On Tuesday, August 17, NTCA conducted its latest NTCA Roundtable Live! Artisans Edition event online.
The title was "Handmade Tile History," featuring presenters Sheila Menzies, co-founder of the Tile Heritage Foundation (THF), and Katia McGuirk, director of the Moravian Pottery & Tile Works – now called The TileWorks of Bucks County – which was established in Doylestown, Pa., in 1898.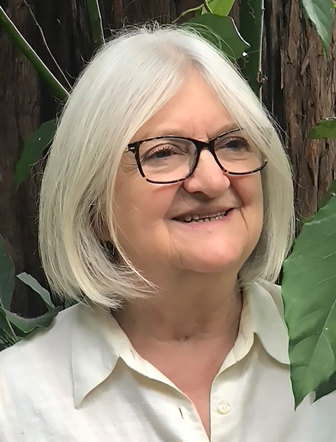 Organized by NTCA Training Director Mark Heinlein, the event featured a team of artisan tile setters moderating the event: Lee and Jane Callewaert of Dragonfly Tile & Stone Works; Angie Re of Unique Mosaics; Joshua Nordstrom of Tierra Tile; and Lesley Goddin, editor of NTCA's TileLetter and TileLetter ARTISAN magazines.
The good news is this entire presentation and roundtable is now available on NTCA's YouTube Channel for your education, information and inspiration. Click here to learn more about handmade tile making in the past and the growth and expansion of the craft today.

Tile Heritage Foundation
Menzies led the group through a whirlwind commentary on the origins of handmade tile stemming back 5,000 years ago from the Middle East, China, Europe through current day. She homed in on the tile making in the U.S., from the East to West Coast and everywhere in between, that was inspired by European displays at the Centennial Exposition in Philadelphia in 1876. She then led the group through a virtual tour of the THF offices and archives, discussing the Foundation's archives, sample boards, vintage architectural renderings, tile collections, catalogs, periodicals, rare books, THF publications and other resources that are housed in Healdsburg, Calif.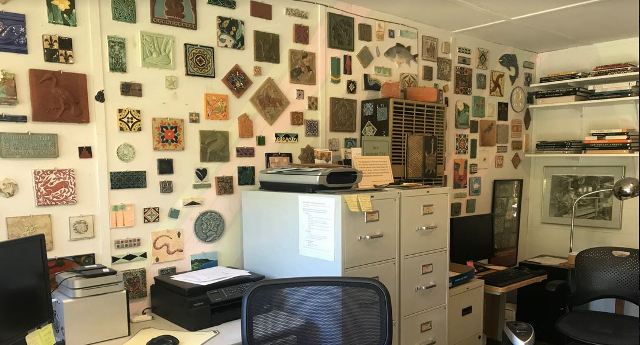 The TileWorks of Bucks County
McGuirk honed in on the incredible contribution to tile making and the Arts & Crafts movement made by Henry Chapman Mercer in Doylestown, Pa., starting in 1898. This continues through today via a resurgence of Mercer's tile works under the direction of McGuirk since 2021. Mercer's home – Fonthill – was one of the first reinforced concrete structures, and is located just a few minutes' walk away from the Spanish Mission-style artistic pottery and tile factory he also constructed of reinforced concrete in 1910- 1912. He used local clay in tile making and championed the humanity in the process of creating tiles that were both decorative and told a story of the local flora, fauna, natives, tools, and inhabitants of the area. Part of his motivation was a backlash against the mechanization and industrialization of tile making at the time. Today, the working pottery holds tours, hosts cultural events, reissues and sells tiles in its gift shop and to the architectural market. It is planning its TileFest for May 20-21 2023 on the grounds, open to anyone and everyone thrilled by handmade tile.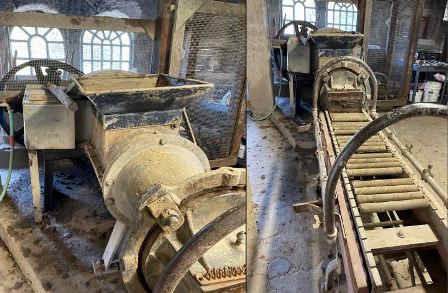 "To evolve and grow, we must first look to our roots," said Lee Callewaert. "Collectively, we will bring art back to our industry.
Spirited discussion among the attendees, presenters and artists ensued and addressed the future of art tile, early women pioneers in tile making, the process of identifying and tracking down the artist or manufacturer of a vintage tile, and current building projects that glorify handmade and mosaic tiles like the Minneapolis Airport and the MTA's New York City subway system.
In addition, nine guests won prizes in a game that challenged attendees to answer questions based on information they'd just heard in the presentation. Prizes included handmade tiles, Tile Artistry Coloring Books from NTCA as well as other NTCA swag.
"It was super informative!" said Joshua Nordstrom. "I'm kind of a history geek and loved hearing about the roots of our trade. Find a couple hours in your busy schedule to watch this one if you missed it!"
"It is one of those roundtable zooms you are glad [is] recorded; there was so much educational information shared you need to watch it more than once, to incorporate it all," said Kim Immenhausen Kelly, a tile artist who attended the roundtable.
Learn about tile history, preservation of tile, archival publications and resources, and the working tile museum that is bridging the past as it steps into the future, by viewing the roundtable, here.