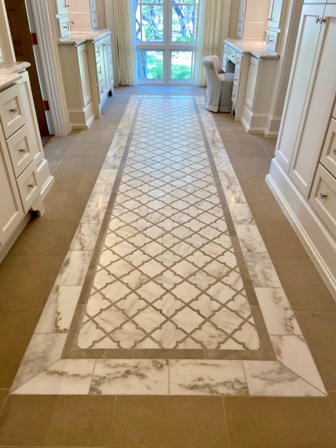 It's time again to submit your nominations for the NTCA Tile Setter Craftsperson of the Year Award. In 2019, NTCA debuted this award to celebrate those NTCA contractors or NTCA contractor employee members who utilize in-depth knowledge of tile methods and standards and exhibit dedication to the artistic execution of their craft. The honor is awarded to both a commercial and residential tile setter each year.
For an NTCA member tile setter to be considered for nomination, they must have been setting tile for a minimum of 15 years and still be setting tile as one of their tasks today.  They must be a leader, mentor others, and stay current on their education. They must be nominated by a co-worker or member of the tile industry.  
The nomination process has a reputation for being rigorous, because the goal is to select the most accomplished candidates. But to make the process a bit simpler, this year, the process to initially submit a nomination has been streamlined, requiring minimal information to get started, and assistance by NTCA to complete the nomination process if needed. Completed submissions must be received by October 14, 2022 for the award that will be presented during the NTCA Ambassador Reception at TISE (SURFACES) in Las Vegas, Nevada in 2023. Any submissions not completed by that date will stay in the system and work for completion for the 2024 prize. In addition, nomination for the 2024 prize will be accepted throughout 2023 to ensure your tile setters get the recognition they deserve.
Besides receiving an award, winners will be featured in an issue of TileLetter and will be reimbursed for travel expenses for two round-trip airfare tickets to TISE, and up to three nights at a hotel in Las Vegas, Nevada.
Do you know of anyone that is a member of the NTCA or works for the member company and is deserving of this award?  Visit www.tile-assn.com/coy to get details and to and start your nominations today!
If you have any questions about the nomination process, contact Becky Serbin at [email protected] for more information.