Los Angeles, CA – April 13, 2022 – Following an impressive showing at Coverings 2022, Walker Zanger & Anthology are back and stronger than ever. Their booth was one of the busiest booths at Coverings 2022, with both new and existing clients visiting throughout the entire show. Thanks to the booth's innovative design and open layout, customers appreciated the pieces' quality and the convenience of viewing them without interruption.
Safe to say, the new line was very well received by customers, who praised the brilliance of the products and how Suzi's designs uses old and new techniques paired with remarkable aesthetics. Inspired by ancient Celtic monuments and Japanese shrines the setting helped to transport customers and industry leaders to a new world of luxury and art.
With the previously established collections, which have become quite popular by now in the market, both product lines at Coverings 2022 were much more impressive than in previous years. Suzi Portugal, VP of Design and Sourcing at Mosaic Companies, designed Walker Zanger's new collections made from Red Clay that features six colors, fifteen different patterns, and different sizes. In addition to being floor rated, the anticipated line can also be installed outdoors or indoors. Suzi also lent her expertise and creativity to Anthology's featured collections from the show: Fabrique & Nature, Artistic Impressions, Oceanique, and D-Lux Pearl.
Offering a unique slate of materials spanning a variety of styles and eras, Walker Zanger displays their commitment to excellence by offering an invitation to create with the highest quality of materials in these new lines. The newest collections from Walker Zanger include Emersyn Lane, Encaustic Echoes and Studio Marble,, and the Pop Culture collection.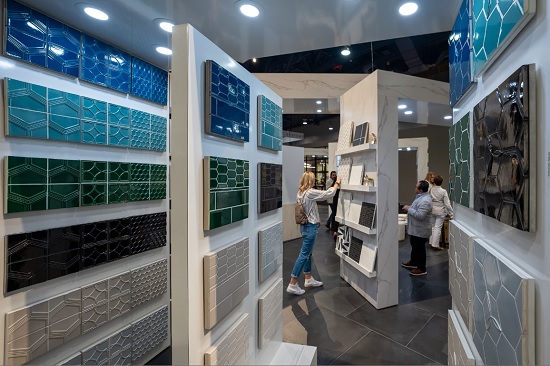 The impressive showing at Coverings 2022 is undoubtedly a culmination of Mosaic Companies – the parent company of Walker Zanger and Anthology – multi-million dollar investment into inventory, providing visibility to the financial emphasis that has been placed on Mosaic's brands. After the show, it is clear that this investment is paying off already, and anticipates the trade show to be only the beginning of a bright future ahead.
---
About Walker Zanger
Walker Zanger is the leading stone and tile design resource in North America. For over 70 years, the company has helped design-trade professionals and homeowners realize their boldest design visions with the most unique, original and thought-provoking surface materials. Walker Zanger has quickly become a go-to expert in the industry, and is often the first to discover new materials, styles, innovations and specialty surface products. Rooted in natural stone slab design, the company continues to push the boundaries of possibility, including recent introductions of cutting-edge materials like recycled glass slabs and thinner-than-stone porcelain slabs that emulate natural marble veining. The company carries on the innovative spirit with equal passion today in their curated showrooms and slab galleries, and 200 authorized dealers nationwide. To learn more about Walker Zanger, please visit www.walkerzanger.com.
About Anthology
Born in 2019, Anthology is the brainchild of Suzi Portugal, head of design and the creative mind behind our tiles. Suzi is a tile prodigy and one of the most knowledgeable tile designers in the industry. With products designed locally and sourced globally, Anthology provides the market with unique and innovative products, awarded by the market, loved by the public, and always available. Our facilities across the country and throughout the world are stocked with inventory and can service all customers nationwide. Our outstanding logistics team is standing by to serve you with a commitment to ship all orders within 24-72 hours. www.anthologytile.com
About Mosaic Companies, LLC
Mosaic Companies, LLC is a holding company formed in 2019 as a partnership between Albert Claramonte, the entrepreneur who founded Surfaces and pioneered the US glass mosaic tile market, and the Baupost Group, a leading Boston-based investment firm with significant experience partnering with family- and founder-owned businesses with the goal of building a leading omnichannel platform in specialty wall, mosaic, and slab. Mosaic provides its portfolio of companies with access to its depth of resources to excel and grow and invests in brands that are devoted to offering quality products and services, while maintaining a strong passion for their customers. To learn more about Mosaic Companies, please visit www.mc.llc