America's most beloved luxury brand in the tile and stone is set to make a splash at Coverings 2022, offering new lines of essential luxury and highlighting some of its future collections.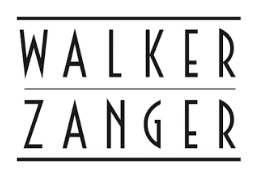 For over 70 years, Walker Zanger has helped design-trade professionals and homeowners realize their boldest design visions with the most unique, original and thought-provoking surface material. Fast forwarding to April of this year, visitors at Coverings 2022 will experience an expansion of the company's already-robust collection with fresh materials which contain the signature embodiment of style and luxury that has set Walker Zanger apart since their inception.

Dreams turn to reality for those who visit Walker Zanger at Coverings 2022, as the company unveils new tile collections as well as inspired new concepts with the styles and designs of the grandest imaginations – providing substance to the blueprints of interior designs that have been awaiting materials such as these. With just one pass through the company's booth, a whole new world of possibilities opens up for architects and interior designers, as the materials presented by Walker Zanger offer the rare opportunity to tap into a new world of color, a taste of refined luxury, and a fresh paradigm of creativity.

Offering a brand new slate of materials which span across a diverse range of styles, it is clear that no matter the era, color palette, or design – Walker Zanger is standing at the forefront of refinement, extending an invitation to create with the highest quality of materials.

Thus, at Coverings 2022, Walker Zanger is set to manifest an experience of luxury, an exhibition of pure inspiration, a tour which brings the visitor on a sensory journey through the serene aura of Emersyn Lane, the smooth patterns of Encaustic Echoes, the sophistication of Studio Marble Impressions, and edgy appeal of Pop Culture.

The walk through the depths of imagination Walker Zanger offers to visitors at Coverings 2022 is set to astound, to amaze, and display the varieties of stone and tile available today to turn dreams into reality.
Emersyn Lane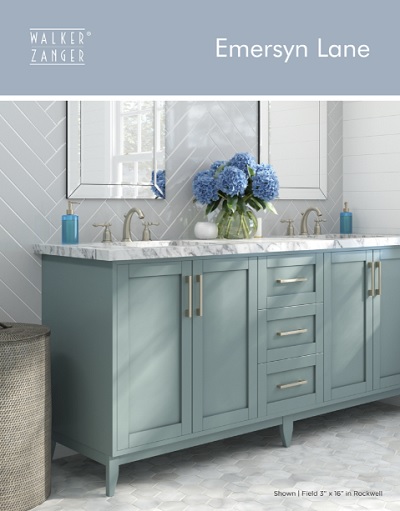 Emersyn Lane is a tranquil, inviting collection of ceramic gloss tiles that bring in a beautifully warm, casual vibe. The neutral color palette of beige, blue, gray, and white combines classic elegance with farmhouse comfort, embracing a transitional design style. Ideal for residential and commercial interior walls, Emersyn Lane welcomes a relaxed, cheerful atmosphere that promotes serenity and wellness. Enrich interiors with wood flooring, sea glass accents, copper hardware, and muted green textiles reminiscent of a seaside retreat.
Encaustic Echoes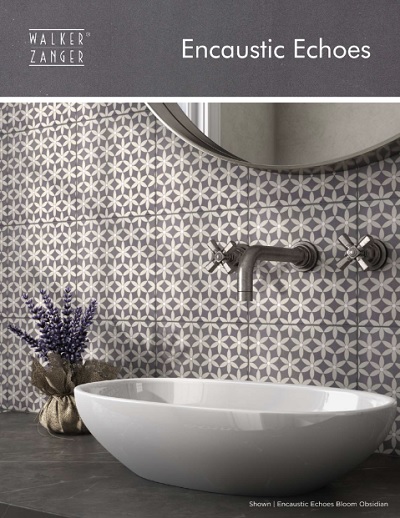 Bring the spirit of hand-made tile into your space with Encaustic Echoes by Walker Zanger. Echoing the soft, matte look and feel of cement tile, these new mosaic stone-inspired encaustics set in porcelain reflect a variety of cultures and architectural influences.

Whether expressed in modern or vintage-inspired projects, the soothing, subtle palette of solids and patterns feels versatile yet effortlessly timeless.
Studio Marble Impressions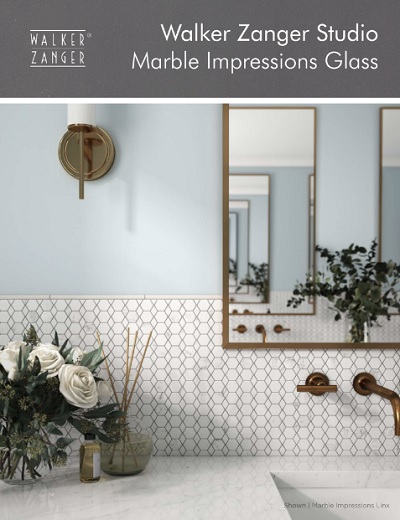 The Walker Zanger Studio Marble Impressions glass collection emulates the look of stylish Carrara marble in five, classic mosaics, creating environmentally conscious designs without compromising luxury and quality.

Capturing the look and feel of Carrara marble on a durable recycled glass material, this collection offers a sophisticated, natural stone look for the hardest working spaces.
Pop Culture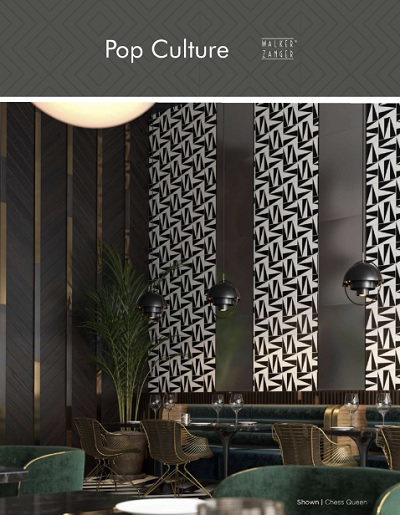 Rejoice in one of the world's most significant art movements that continuously reinvents itself with each generation. Pop Culture, a Walker Zanger design, creates rooms that entertain, astound, and stimulate the imagination with bold, honest features. Whether adding pops of color to build depth to a living room or mixing unique patterns to create a one-of-a-kind kitchen, the Pop Culture collection is rewriting the script on what contemporary home design can be.

The palette of Pop Culture's design contrasts graphic black and white Porcelain tiles with matching white and black field tiles, giving the space an edgy, modern appeal.
---
About Walker Zanger
Walker Zanger is the leading stone and tile design resource in North America. For over 70 years, the company has helped design-trade professionals and homeowners realize their boldest design visions with the most unique, original and thought-provoking surface materials. Walker Zanger has quickly become a go-to expert in the industry, and is often the first to discover new materials, styles, innovations and specialty surface products. Rooted in natural stone slab design, the company continues to push the boundaries of possibility, including recent introductions of
cutting-edge materials like recycled glass slabs and thinner-than-stone porcelain slabs that emulate natural marble veining. The company carries on the innovative spirit with equal passion today in their curated showrooms and slab galleries, and 200 authorized dealers nationwide. To learn more about Walker Zanger, please visit www.walkerzanger.com.