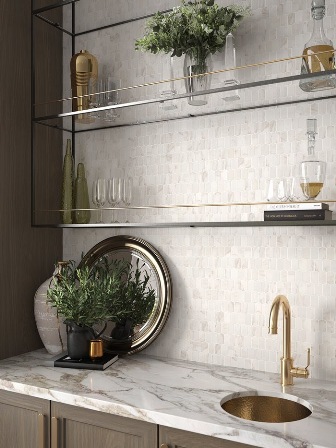 LOS ANGELES – Walker Zanger, North America's leading natural stone and tile design resource announces the launch of three elegant mosaic designs, coordinating with four of Walker Zanger 's existing collections beloved by designers. The classic Calacata, Bera & Beren, Cava Bianco, and Foussana collections have added new, complementary mosaics, bringing an extra dose of versatility and durability to the fashionable lines.

Developed as a result of requests from Walker Zanger customers, the addition of porcelain mosaic tiles provides design trade professionals and homeowners with the option to create whole-room surface solutions with its Calacata, Bera & Beren, Cava Bianco, and Foussana collections. Porcelain mosaics highlights the beauty of stone, executed to perfection in the form of porcelain motifs, giving new life and texture to the durable material with mosaic patterns. The collection is prized for its timeless appeal and enduring durability. Harmonize a space and pair the mosaics with its complementary collection or see the possibilities the series holds when envisioned solo.

"We added mosaics to these designer-favorite collections to enrich spaces and create the most polished projects," said Suzi Portugal, Vice President of Design and Sourcing. "You can now pair a Bera & Beren shower wall with the new matching mosaic for the shower floor, completing a bath space."

The new mosaic shapes are available in Hive, Herringbone, and Hexagon shapes in seven colors including Calacata white, Bera & Beren white, light grey, greige, carrara, thala grey, and grey. Ideal for wet areas such as showers and steam rooms, the series can be applied to wall coverings and flooring in residential and commercial areas and exterior and interior spaces.

Porcelain mosaic tiles additions are available exclusively through Walker Zanger showrooms. To learn more about the collection, visit walkerzanger.com.