Lake Zurich, Ill., August 17, 2021 – One of the most popular radiant heating thermostats from WarmlyYours now works with Hey Google and is compatible with Amazon Alexa to make your heating system voice-controlled.
WarmlyYours, a radiant heating manufacturer specializing in electric floor heating and snow melting systems, is pleased to announce that our nSpire Touch WiFi thermostat (which is most frequently used to control electric floor heating systems but can also be used with hardwired radiant panel heaters) can now be controlled with your voice via a Google Assistant or Amazon Alexa enabled device. This update applies to all nSpire Touch WiFi thermostats, including all future units and all internet-connected models that are already installed in the field. Julia Billen, owner and president of WarmlyYours, said that this product update represents WarmlyYours's commitment to continuous improvement.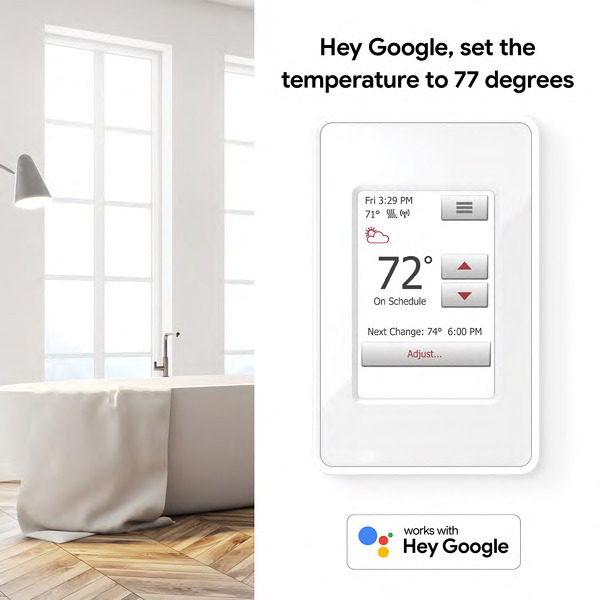 "We're not sitting back and resting on laurels over here," said Billen. "We knew that the nSpire Touch WiFi was a huge hit when we launched it a couple of years ago. But a 'huge hit' can always be improved and so we worked with our manufacturing partner to ensure our customers would have access to one of the most commonly requested features—voice control."
Connecting the thermostat to the Amazon Alexa or Google Assistant-enabled device is a simple process only involving a few steps within your Amazon Alexa App or Google Home App. Additionally, when talking to Google or Alexa, the nSpire Touch WiFi can be enabled to allow for geofencing (where the system can be set up to turn off/on based on the user's location) or establishing "routines" (when properly set up in the Google Home or Amazon Alexa app you can get help with tasks throughout your day just by using your voice).
---
About WarmlyYours Radiant Heating:
For over 20 years, WarmlyYours Radiant Heating has offered the industry's most innovative solutions in radiant heating technology, from our flagship floor heating systems and radiant wall panels to snow melting systems, as well as comfort products, including towel warmers, mirror defoggers, shower floor and bench heating, and countertop heaters. With locations in the United States and Canada, WarmlyYours provides unrivaled personalized customer support from start to finish, featuring measuring and design services, 24/7 technical support, and our No Nonsense™ Warranty.
For more information, visit www.WarmlyYours.com.
Google is a trademark of Google LLC.