Lake Zurich, Ill., Oct. 20, 2020 — WarmlyYours has partnered with Swarovski to offer a new line of radiant heating thermostats that are adorned with designer crystals.
The new line of thermostats features 2 of the most popular programmable thermostats from WarmlyYours (the nSpire Touch and the nSpire Touch WiFi) with genuine Swarovski crystals which can be used for electric floor heating or hardwired radiant panels. There are 5 different crystal patterns available — Comet Argent Light, Golden Shadow, Moonlight, Crystal Infinity (White), and Crystal Infinity (Black) — for a total of 10 unique models. Both Crystal Infinity patterns were created by Swarovski's design team exclusively for WarmlyYours.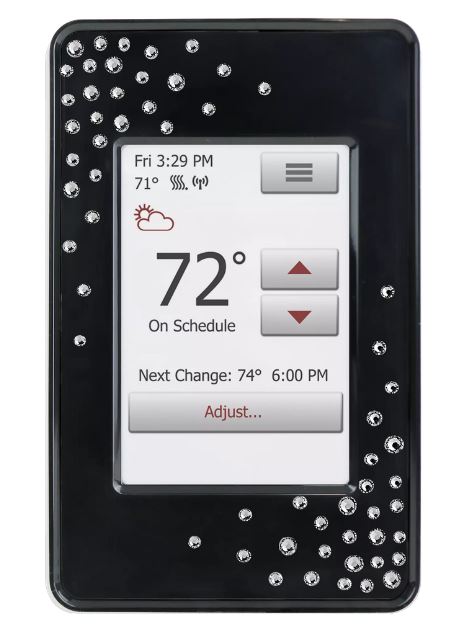 This partnership with Swarovski is the first of its kind in the industry and Julia Billen, owner and president of WarmlyYours, said that these thermostats represent the perfect blend of the luxury of Swarovski's crystals, the comfort provided by WarmlyYours's radiant heating, and the energy efficiency and ease-of-use of a modern touchscreen thermostat.
"Floor heating has always been synonymous with comfort and luxury but until now that relationship has been largely invisible," said Billen. "Too often we forget that the thermostat is the only visible part of a floor warming system and it's the only part that we interact with. Now, by partnering with Swarovski, we've made a radiant heating thermostat that is truly radiant in every way."
Billen went on to say that the variety of different crystal patterns allows for customers and designers to have another outlet to express their own design aesthetic. One area of particular importance was making sure that the patterns would complement strong design elements in a room like fixtures with oil-rubbed bronze or polished hardware.
"We worked directly with Swarovski to make the selection of the crystal patterns and our goal was to make sure that we found elements that would work with both current and future design trends. We decided on 5 different patterns that would work in any room, from an ultra-modern bathroom to a minimalist kitchen, but it wasn't easy because so many of the samples were absolutely breathtaking," said Billen.
According to Billen, the partnership with Swarovski is just another step forward in innovation for WarmlyYours which recently celebrated its 20th anniversary.
"I know that the 20th anniversary is typically the "porcelain anniversary" but I think everyone at WarmlyYours is pretty happy that we went with Swarovski crystal instead," said Billen.