Lake Zurich, Ill., March 15, 2021 – According to a recent industry report, floor heating sales massively accelerated in 2021 to post double digit growth year-over-year.
WarmlyYours, a manufacturer specializing in electric floor heating, released their "Q4 2021 Annual Industry Report" earlier this week. This report analyzes the sales of radiant heating products (by using WarmlyYours sales data as a proxy for the industry as a whole) within the wider context of the national housing and remodeling markets. One of the primary findings in the report was that year-over-year floor heating sales for WarmlyYours hit double digit growth rates in 2021. The 12.6% growth in consolidated sales was the largest increase in more than a decade.
During 2021, the fastest growing product line for floor heating was the Environ Flex Roll (up 37.9%), followed by the TempZone Easy Mat (up 30.2%), the TempZone Cable (up 11.8%), and the TempZone Flex Roll (up 7.7%).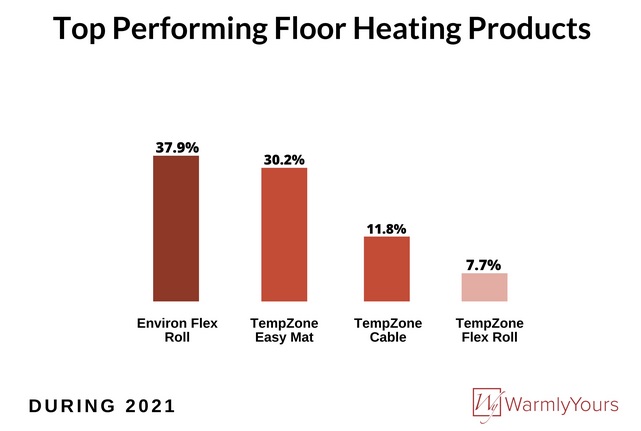 During 2021, WarmlyYours did see significant growth for the homeowner customer segment, which was up 24.4%. Homeowners also led volume sales growth but it was closely followed by the trade customer segment (up 5.2%). Additionally, WarmlyYours saw growth for both e-tailers (up 22.4%) and dealers (up 3.3%).
In addition to people seeking to add comfort to their homes with floor heating, another significant contributing factor, according to Julia Billen, owner and president of WarmlyYours, has been the tension between escalated home buying activity between 2020 and 2021 (sales of existing homes was up 8.5%) and a continued lack of surplus inventory, which has resulted in high levels of competition for potential home buyers.
"The lack of available inventory, combined with increased homesales, has made a lot of potential buyers anxious that they're going to 'miss out' which, in turn, means that a lot of purchasers are settling for available properties instead of waiting for their 'dream homes' to show up on the market," said Billen. "This has resulted in increased remodeling activity as these buyers seek to customize their newly acquired properties to bring them closer to their 'dream home'. This upswing in renovation spending has certainly been a driving force in floor heating sales growth."
The idea that new homeowners are extensively remodeling their recent acquisitions is backed up by the growth that WarmlyYours has seen in the rooms selected for floor heating projects. Bathrooms still make up the majority of projects (well over 60% of projects in 2021 with a year-over-year growth rate of 18.3%) but other rooms are growing in popularity. In 2021, the fastest growing room types were bedrooms (up 51.9%), kitchens (up 31.8%), and family rooms (up 26.3%).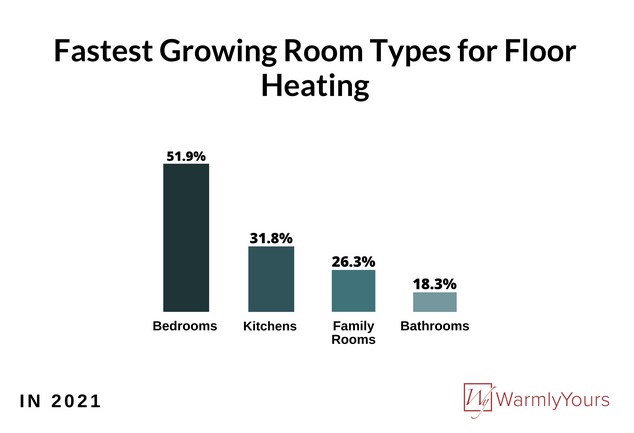 ---
About WarmlyYours
For over 20 years, WarmlyYours Radiant Heating has offered the industry's most innovative solutions in radiant heating technology, from our flagship floor heating systems and radiant wall panels to snow melting systems, as well as comfort products, including towel warmers, mirror defoggers, shower floor and bench heating, and countertop heaters. With locations in the United States and Canada, WarmlyYours provides unrivaled personalized customer support from start to finish, featuring measuring and design services, 24/7 technical support, and our No Nonsense™ Warranty.
For more information, visit www.WarmlyYours.com.