Welcome to July! This month of high summer holds many joys – Independence Day BBQs, vacations and for many of us in the tile industry, a return to Coverings in Orlando, July 7-9. Those of us attending are anticipating a joyous reunion with many tile industry friends and associates, dynamic demos and enlightening education sessions, as well as a profusion of new products, tools and materials. Set your sights on tileletter.com, TileLetter's Facebook page and NTCA's Facebook page for on-the scene reporting from the show floor.
In this issue, learn the difference between flat back-troweling and notch back-troweling and how these terms relate to buttering and back-buttering in NTCA Five-Star Contractor Jan Hohn's excellent technical article on the subject.
Business guru Carly Fiorina has advice for managers to get their teams on the same page in the Business section.
Are you part of the Facebook group Dad's Dinners? NTCA contractor member Tom Habelt and his four children whip up a tasty meal online every night and invite you to the process. In our One-to-One story, NTCA Executive Director Bart Bettiga interviews Tom about being a social media sensation, as well as his views on the tile industry.
Have you had a chance to catch NTCA Training Director Mark Heinlein's Friday Lunchtime Live interviews on the NTCA Tile Training Connection Facebook group? In our Training and Education section, we present excerpts of Mark's conversation with Greg Twarog of Unique 2, LLC in Chicagoland. Greg talks about experiences as a tile setter as well as tackling the recent shortages and shipping delays that are impacting his – and many others' – businesses.
There are many emerging talents in our industry, and our Rising Stars section introduces you to two such tile setters – Seth Ready and Ilisha Harris. Learn about their respective journeys, what they value in their work and their perspective on where the industry is going.
Have you met Trask Bergerson? If not, you have the chance to make his acquaintance in our Member Spotlight this month, and learn about the evolution of his family's business and the value he places on involvement in the industry – for your benefit as well as elevating the industry.
No matter what you do this July, be sure to pack a little fun, celebration and relaxation into your month. It's important to feed your soul, even as you build your business.
God bless,
Lesley
[email protected]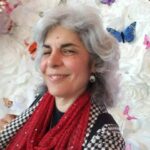 Editorial Director and Senior Writer for TileLetter and TileLetter ARTISAN
Lesley Goddin has been writing and journaling since her first diary at age 11. Her journey has taken her through a career in publishing and publicity, landing her the editor position of TileLetter and its special publications in 2006. Her goal is to educate, inspire, recognize and encourage those in the tile industry -- especially the tile and stone contractor. Other interests include the soft, purring marvels known as cats, labyrinth walking, drumming and percussion, and a range of spiritual, musical and artistic pursuits.