Welcome summer – long days, sultry nights and time to kick back with friends and family after what seems like an interminable winter!
The June TileLetter sets its sights outside, where we will take some time to explore outdoor installations. One of the results of the year of COVID is that people moved a lot of their living outside – onto lanais, decks, balconies, parks, and patios. Spending so much time in these spaces prompted upgrades, expansions and renovations. Take a look at what tile installers Metin Gungor, Frank Canto, Carl Leonard and consultant Dave Gobis have to say about achieving a successful install in our Hot Topics section.
In our Training & Education story, NTCA's Education and Curriculum Director Becky Serbin discusses how the offerings at NTCA University can assist in developing an apprenticeship program. In our Technical section, Rod Sigman of Custom Building Products explains when porcelain tile sealing is necessary and how to set up an effective maintenance program.
Did you attend the virtual Total Solutions Plus last fall online? If you did, you may have participated in the yoga session with Faten Gazaleh of Corporate Yoga Jax. In our Workplace Wellness story, Gazaleh shares strategies to remain strong, flexible and pain free, no matter if you are installing tile on your knees, or sitting in a chair at a computer all day. Voices from the industry share how yoga has improved their health or is part of their daily routine. And if you missed her session, we include a link to it in this issue!
In our One-to-One story, NTCA Executive Director and TileLetter Publisher, Bart Bettiga sits down with Luke Miller to discuss his Tile Money podcast, its growth and the interest generated on business and financial topics it explores. Take a look and learn the top hot buttons for tile contractors as relates to financial matters.
Finally, a note about receiving your printed TileLetter. As you may know, the United State Postal Service (USPS) has been experiencing significant delays since 2020. Recently – most notably with the March issue of TileLetter, there was a long delay at the Memphis distribution center – combined with storms that affected the Southeast – that created a serious delivery delay to some of our readers. Apparently those in the West and Southwest received their issues on time, but we apologize for those delayed March issues. We're doing all we can to get your TileLetter to you on time; and have our fingers crossed that the USPS situation will be rectified soon. Meanwhile feel free to check tileletter.com for the current issue early in the month of publication, so you never have to miss an article or be inconvenienced by the post office shenanigans. 
Make the most of the sun, sand, sea and the great outdoors this month – in your work and in your play!
God bless,
Lesley
[email protected]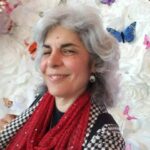 Editorial Director and Senior Writer for TileLetter and TileLetter ARTISAN
Lesley Goddin has been writing and journaling since her first diary at age 11. Her journey has taken her through a career in publishing and publicity, landing her the editor position of TileLetter and its special publications in 2006. Her goal is to educate, inspire, recognize and encourage those in the tile industry -- especially the tile and stone contractor. Other interests include the soft, purring marvels known as cats, labyrinth walking, drumming and percussion, and a range of spiritual, musical and artistic pursuits.