Fourteen members of Tile Council of North America, Inc. (TCNA) will donate lovingly-tiled,
one-of-a-kind doghouses
to the Homeless Pets Foundation at Coverings 2018 in Atlanta, GA.
The participating companies include: AlysEdwards Tile & Stone (#7355), American Wonder Porcelain (#7421), Casa Ceramica (#7243), Crossville, Inc. (#7654), Del Conca USA (#1616), Fiandre (#7646), Florida Tile (#7620), International Wholesale Tile (#4031), Ironrock (#7133), Lunada Bay Tile (#8062), Marazzi (#2817), New Ravenna (#8233), Quemere Designs (#7448), and StonePeak Ceramics (#7847).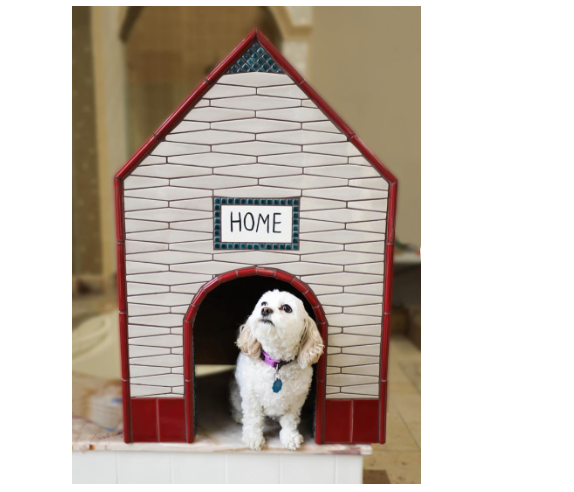 The forms used to make these doghouses were manufactured by Wedi (#7109) and contributed by Wedi and TCNA (#7832). "TCNA is excited to partner this year with the Homeless Pets Foundation to help them achieve their goal of rescuing homeless pets," remarked TCNA Executive Director Eric Astrachan. "TCNA members' generosity, effort, and dedication to this terrific cause is evident in each of the wonderfully crafted, unique masterpieces on display in the Art Tile Courtyard. The doghouses are a showcase of yet one more way tile can be used to make a home a work of art."
"We are very pleased to have been chosen to receive these amazing doghouses," remarked Dr. Michael Good, founder of the Homeless Pets Foundation. "This partnership with TCNA and its members will help us raise funds to further our mission of saving pets' lives both through local adoptions and by transporting them with the Underhound Railroad to areas of the country where the adoption demand is higher. Thank you to TCNA and its members for their support!"
During the show the doghouses (and some four-legged guests from the Homeless Pets Foundation!), will be on display in the TCNA Art Tile Courtyard (#7249), where a donation ceremony will be held at 3:15 p.m. on Thursday, May 10th.
About the Homeless Pets Foundation:
The Homeless Pets Foundation is a 100% volunteer-run organization dedicated to promoting responsible pet ownership, aiding abandoned and homeless animals, and placing adoptable dogs and cats in forever homes. Since its founding in 1998, it has placed more than 10,000 pets into loving homes.
Dr. Michael Good, owner of Town and Country Veterinary Clinic, founded the Homeless Pets Foundation when he saw firsthand the need to get adoptable pets out of overcrowded shelters to prevent unnecessary euthanasia.
Through his Underhound Railroad program, Dr. Good helps dogs in the South that are about to be put down find loving homes in other areas of the country. Overpopulation in Southern pet shelters leads to life-threatening scenarios for adoptable dogs and cats, while shelters in the Midwest and Northeast struggle to find the pets wanted by their clients. Dr. Good finds pets that are nearing the end of their time at local shelters and matches them with shelters in the Midwest and Northeast where demand is higher. These pets are then taken to no-kill shelters or matched with families who will give them loving homes.
Not only does the Underhound Railroad transport these pets, but they also provide them with veterinary care to ensure they are healthy and ready to travel and join their new families once they arrive.