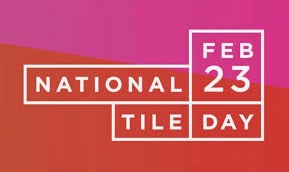 Coverings (coverings.com), the largest international tile & stone exhibition and conference in North America, will honor the beauty and durability of tile on National Tile Day as the February 23 observance enters its third year. Coverings will showcase inspiring images of tile products and applications on its social media channels – including previews of products that will be unveiled at Coverings 2019 – and invites designers to share their favorite products with the hashtags #NationalTileDay, #Coverings2019 and #WhyTile.
Coverings will kick-off National Tile Day celebrations with the help of influencers attending Coverings 2019, who will share their insights on products and trends starting this month and throughout the duration of Coverings, which takes place April 9-12 at the Orange County Convention Center in Orlando, FL. Participating designers and tile lovers include Amber Clore, Ashley Moore, Crystal Nielson, Holly Baker, John McClain, Kirsten Grove, Milton Miller and Sarah Gibson. Leading up to National Tile Day, these influencers will start the celebration of tile, discussing some of their favorite projects and the product's key benefits such as durability, sustainability, versatility, affordability, and more.
"National Tile Day is an opportunity to reflect on the true impact and advancements of tile – while giving designers a chance to showcase their favorite projects," said Alena Capra, Certified Master Kitchen & Bath Designer and Coverings Industry Ambassador. "We are thrilled to spotlight one of the oldest known building materials, which serves as the foundation of so many designs."
Celebrating the best of tile's style and versatility in honor of National Tile Day, Capra has created a 2019 trends forecast, which she will be previewing on Facebook Live on National Tile Day. Here's a look at the patterns, colors, sizes and textures that continue to shape the industry:
Florals & Leaves: With its pop of personality, florals and leaves are a perfect alternative to wallpaper – especially in commercial spaces seeking durability.
Mirror Tile: One of the fastest rising trends, mirrored tile amplifies light and adds personality, with antique or frosted finishes and beveled edges.
Gauged Porcelain Tile Panels/Slabs: Gauged tile applications have become more widely used, appearing as cladding on buildings, walls, floors and installed as countertops or other surfacing.
Bold Color: While blue remains America's favorite color, brighter hues are on the rise, as are sophisticated blacks and dark greys as "new neutrals" – particularly in marble-inspired looks.
Pattern Play: As wallpaper and patterns regain popularity, the trend has translated to tile – with striking shapes, complex geometric patterns, pop art, graphics and patterned wood options.
Large-Format Tile: As production technology continues to evolve, tiles have become larger and larger – with current styles in up to 60" x 120".
Bringing these latest trends to life, Coverings 2019 will feature an extensive range of product showcases, with highlights including:
Aparici (Booth 4620), Tango: Inspired by the Art Deco movement of the 20s and 30s, these geometric shapes create sophisticated environments with sensitivity to nostalgia of past eras.
Atlas Concorde (Booth 1737), Marvel Edge: Available in three different looks (marble, concrete, and stone) and two finishes (matte and glossy), a new 6mm, 48"x109" format expands the collection.
AVA Ceramica (Booth 1747), Marmi: Reproducing the textures and veins of marble, the collection spans 12 colors, seven 6mm formats, two 10mm formats and one 127"x64" 12mm format.
Ceramica Gomez (Booth 4939), Zante: Zante introduces textures and reliefs which turn ceramic tile into works of art, spanning weathered, high-gloss, volumetric, rugged and embossed finishes.
Ceramica Sant'Agostino (Booth 1221), Newdecò: Paying tribute to marble grit floors, NEWDECÒ is available in six colors, 10mm thick square floor and wall tiles and a range of sizes.
Cerdisa (Booth 2112), Stonemix: From Burgundy Stone to marble and small fossils, Stonemix is available in five colors (White, Gold, Grey, Antrax, Multicolor), seven formats and two finishes.
Cevica (Booth 4639), Manhattan: Bringing functionality and personality to any space, this collection lends an air of avant-garde with straight and simple lines with a pop of color.
Crossville (Booth 2600), Reformation: Offered in a quartet of warm-to-cool hues, Reformation's three large-format plank tile sizes, two mosaic options, and trim package offer unique versatility.
Decocer (Booth 4655), Menara: Renowned for its unique, handmade, irregular finish & vibrant glaze, this range cleverly emulates the charm of traditional Zellige tiles.
Fiandre (Booth 3609), Maximum Marmi Collection, Sahara Noir: Nothing is more intriguing than black, yet the extraordinary veins make this product recognizable and create plays of light and shadows, which increase in intensity with matte or polished finishes.
Florida Tile (Booth 3620), Divinity HDP® Color Body Porcelain: Distinguished by the veining, striations and imperfections of natural stone, this floor and wall tile is available in four colors.
Keraben Grupo (Booth 4811), Maranta: Inspired by traditional Mediterranean ceramic, Maranta reproduces their colors and classic shine on 25×70 tiles, with decorative motifs traditional to vintage cement tiles.
Lunada Bay Tile (Booth 3600), Custom Glass Mosaic Blend: Lunada Bay's made-to-order service offers 11 patterns and nearly 70 colors (in multiple finishes) to create a custom glass tile blend.
Marca Corona (Booth 1731), Ossidi: Offering a combination of solid colors, beautiful graphics and unique formats, this porcelain stoneware line includes five shades and a variety of graphic effects.
Metropolitan Ceramics (Booth 3025), METROBRICK®: The METROBRICK Fast Ship offering features six new blends added to the product line for 2019.
Oceanside Glass & Tile (Booth 107), Zoetic: A collection inspired by their nature to find joy, spontaneity, and delight in everyday surroundings, Zoetic is composed of dimensional mosaics.
Panaria Ceramica (Booth 2125), Eternity 0.3: Inspired by the aesthetic of marble veining, patterns, shades and designs, the collection is available in two 6mm sizes and four colors.
Peronda (Booth 5141), FS Yard: FS Yard's geometrical pattern brings personality to living spaces. The tile model comes in three colors– black, blue and sage.
Realonda (Booth 5422), Riga: Combining colorful patchwork with a traditional Provencal shape, this decorative collection is full of character and available in a range of colors, textures and styles.
Sicis (Booth 2131), Vetrite Gem Glass: With glass sheets that capture the beauty of precious stones and lava rocks, these 47″x110″ slabs are available in 6mm and 10mm, in a range of effects.
Vitromex (Booth 3214), Brooklyn: Expanding the Brooklyn ceramic wall tile collection with the best features of glossy subway tiles, Vitromex introduces four new colors, offered in a 3"x 10" wall tile and coordinating 3"x 10" bullnose.
To achieve true impact, projects require the best in both tile and installation. Key tools, installation materials, and technology anticipated at Coverings 2019 will include:
James Hardie (Booth 3835), HardieBacker® 500 Waterproof Cement Board: The first and only waterproof cement board, this introduction passes ANSI 118.10 for waterproofness and protects tile installation and wall cavities from wall penetration, eliminating the need for added coating.
LATICRETE International Inc. (Booth 2641), MULTIMAX™ Lite: The ultimate one-step, non-sag, Large and Heavy Tile mortar for interior and exterior ceramic tile, porcelain tile, glass tile and stone installations, MULTIMAX Lite exceeds the industry's highest performance standard for a cementitious-based adhesive mortar and can be more easily transported and troweled.
Noble Company (Booth 3132), Noble Deck™: One of the only sheet membranes approved for primary waterproofing for exterior applications over occupied spaces, Noble Deck sheet membrane is engineered for outdoor use, providing waterproofing and high-performance crack isolation for thin-bed tile installations.
Pearl Abrasive (Booth 3072), Tuscan SeamClip TruSpace: This all-in-one tool, made in the U.S.A. brings tiles into alignment and sets the grout spacing without the need for additional spacers. Clips hold tiles in place until they are set, then are easily snapped off leaving a level tile surface.
Protecto Wrap Company (Booth 4029), Protecto Deck™: Protecting roof deck surfaces from costly water damage, this system's nominal 70 mil membrane and liquid detailing serve as the primary roof deck waterproofing in an installer-friendly application. Its peel-and-stick application with a fabric-top coating makes an excellent bonding surface for latex modified thin-set mortars.
Schluter®-Systems (Booth 2629), Schluter®-KERDI-DRAIN-H: This two inch horizontal drain outlet makes relocating showers easier by allowing the drain to be connected to an existing drain pipe – significantly reducing demolition work and project costs.
The Tile Doctor (Booth 4425), ZHERORisk® Products: This new line of non-toxic, non-corrosive and sustainable products includes introductions like Litokol® Aquamaster Waterproofing, a solvent-free, ready-to-use liquid membrane for waterproofing moist environments; Litokol® Litoelastic EVO, a two-part adhesive for ceramic tiles and natural stone; and Litokol® Epoxy Elite EVO, an acid-resistant epoxy mortar/setting for the installation and grouting of ceramic tiles.
For further exploration of tile, design professionals can attend Coverings 2019 at no cost from April 9-12, at the Orange County Convention Center in Orlando, Florida. The show brings together 1,100 exhibitors representing over 40 countries and will feature the latest in innovations, trends and live demonstrations, as well as a range of educational conference sessions and CEUs.
Learn more about Coverings and opportunities to participate in National Tile Day at coverings.com.
# # #
Coverings Social Media
Facebook: facebook.com/CoveringsShow
Twitter: @Coverings, #Coverings2019
Pinterest: pinterest.com/Coverings
Instagram: instagram.com/CoveringsShow
YouTube: youtube.com/TheCoveringsShow
LinkedIn: linkedin.com/groups?mostPopular=&gid=1693367
Google +: google.com/+Coverings
Blog: coverings.com/blog
About Coverings
Coverings is the largest and most important ceramic tile and natural stone trade fair and expo in the United States. It features exhibitors from over 40 countries and is the stage for introducing some of the most innovative tile and stone products in the world.
The exposition serves as a valuable resource for continuing education for all segments of the industry, with more than 45 informative, accredited seminars and live demonstration sessions throughout the show, all free of charge. Coverings attracts thousands of distributors, retailers, fabricators, contractors, specifies, architectural and design professionals, builders and real estate developers, as well as journalists and bloggers who cover this vital and dynamic industry.
Sponsors of the show are The Ceramic Tile Distributor Association (CTDA), Tile of Spain/Spanish Ceramic Tile Manufacturer's Association  (ASCER), Ceramics of Italy/Confindustria Ceramica, National Tile Contractors Association (NTCA) and the Tile Council of North America (TCNA). The show is managed by Taffy Event Strategies, LLC.
Coverings 2019 takes place April 9-12 at the Orange County Convention Center in Orlando, FL. For more information, visit coverings.com or contact Taffy Events, Coverings Show Management, 703-539-5504.