(Jackson, MS)—National Tile Contractors Association (NTCA) presented its prestigious Tile Person of the Year award to Joe and Wendi Kerber of Kerber Tile, Marble and Stone at Coverings 2023 in Orlando, FL. This award is given to individuals who have supported the goals and objectives established by the NTCA.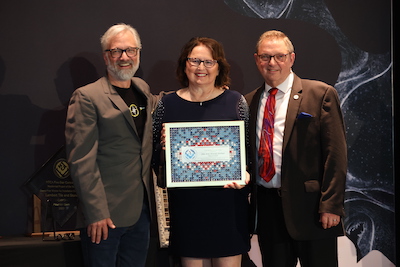 "Tile contracting companies are often family-owned businesses, and Joe and Wendi Kerber have successfully managed Kerber Tile and Marble and Stone together for many years," said NTCA Executive Director Bart Bettiga. "They are the second husband and wife team to be honored by NTCA in our 76-year history, and they are truly deserving of this recognition."
Joe Kerber has been a member of the NTCA Technical Committee and Methods and Standards Committee for many years and received a best practice award in 2015 for his work on language related to membranes. He served two terms on the NTCA Board of Directors and is currently an ambassador for the association. He is a certified tile installer and evaluator for the Ceramic Tile Education Foundation. Wendi Kerber is a CPA and in addition to managing the financial and tax planning for Kerber Tile, she has helped many local Minnesota tile contractors in this capacity.
The award presented to the Kerber's at Coverings 2023 in Orlando, Florida by 2022 Tile Person of the Year Dirk Sullivan of Portland, Oregon.