(Jackson, MS)—National Tile Contractors Association (NTCA) presented four young leaders with $4,000 academic scholarships at Coverings 2023 in Orlando, FL. This award is given to individuals who have supported the goals and objectives established by the NTCA. Ron Nash, President of Laticrete International and a sponsor of the scholarship program, presented the awards to the students.

"Tom Ade, long time NTCA member and supporter, has contributed over $250,000 to our scholarship program, and our Association has matched that commitment," said NTCA Executive Director Bart Bettiga. "We are thrilled to support four deserving recipients in 2023."

Attending and receiving scholarships in person in Orlando were Meadow Karp of Shakopee, Minnesota, Isabella Fox of Escondido, California, and Grant Owen of Brooks, Georgia. A fourth individual, Breanna Foster of Shelley, Idaho was unable to attend in person.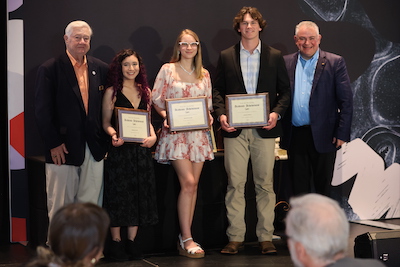 Academic scholarships are awarded to deserving recipients attending college or vocational and technical schools as well as registered apprenticeship programs. Tom Ade is a former NTCA Tile Person of the Year and Ring of Honor recipient and established the scholarship program with the Board of Directors approval in 2008. NTCA has matched his generosity in order to create a sustainable scholarship program for years to come. LATICRETE International added its support to the program in 2017 with an annual $5,000 contribution.