The University of Ceramic Tile and Stone Consultants (UofCTS) drew an enthusiastic crowd to its live classroom course on "How to be a Professional Architectural Sales Rep," held during Monday April 17, 2023 at the Orange County Convention Center in Orlando, Fla., the day before the Coverings Expo opened.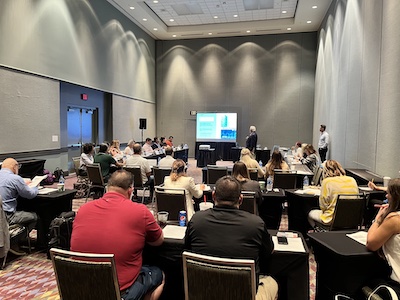 The course taught 30 students how to be successful professional architectural sales representatives and provided tactics for helping to ensure they make "the sale." Students also learned key steps to developing "bullet proof" specifications, which are resistant to value engineering and substitutions. Students were given strategy for developing meaningful relationships with architects and how to target and track projects to help ensure they "get the order."
Classroom training focused on the six characteristics of a successful architectural sales representative:
Being strategic
Organized
Persistent
Honest
Reliable
Having exceptional communication skills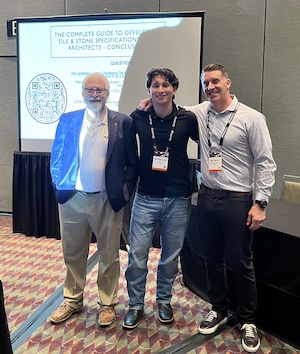 Trainers Donato Pompo of UofCTS and Oceanside Glass & Tile's Vince Moiso shared their many years of experience being professional architectural representatives and sales managers, which included training and managing architectural sales representatives. Pompo and Moiso are the authors of the UofCTS Online Course, "The Complete Guide on Developing Tile & Stone Specifications with Architects," which can be purchased as a book by clicking: Purchase Book.
The live classroom course was based upon content from the UofCTS Online Course called "The Complete Guide on Developing Tile & Stone Specifications with Architects," and can be purchased from CTDA, NTCA, TTMAC, Fuse Alliance, or through the UofCTS website at UofCTS.org/Store.