– Sponsored content –
Tile can be the pivotal design element, transforming bathrooms from mundane to mesmerizing, be it striking or serene. Current tile trends embrace extremes – extremely large tile to mosaics, opulent designs to sleek minimalism, all in an expansive array of textures and materials. Bathroom spaces are designed to make a statement, whether emulating nature, creating a spa-like setting or boldly arresting the senses. While today's trends might seem to ignore all design rules, the latest looks demand unparalleled precision and discipline for tile installations.
Here are 5 on-trend bathroom tile installation tips.
Plan for Complexity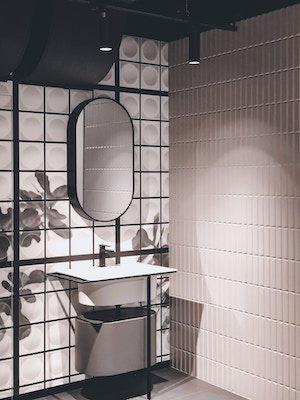 Planning a bathroom tile project requires meticulous attention, especially with contemporary trends. Popular gauged porcelain tile panels (GPTP) necessitate extra care in planning tile handling and layout. This foresight can generate significant savings in installation time and less waste. GPTP needs particular tools to move, handle, cut and set, such as specific trowels, pressure pliers, and frames. Planning for and adhering to manufacturer guidelines is crucial for successful GPTP installation.
Modern bathroom designs are featuring curves in round showers or vanity insets. Curves require extra planning and techniques to ensure tiles fit contours. Moreover, the diverse mix of tiles in a single bathroom like large natural stone paired with fluted marble or glass panels, might tempt installers to plan with multiple brands of installation materials. However, specifiers, installers and owners benefit from using one brand, to be covered by the manufacturer's system warranty, protecting the project for its lifetime.
Prioritize Waterproofing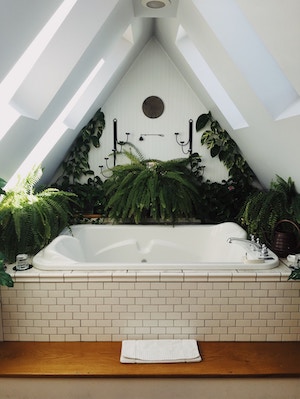 Contemporary spa-like bathrooms favor doorless shower spaces and extensive square footage. Dramatic freestanding tubs can have tiered tile surrounds. With water exposure in more areas, these bathrooms need multiple floor drains. To safeguard the tile, a robust waterproofing and crack isolation system is necessary. TEC® HydraFlex™ Waterproofing Crack Isolation Membrane has twice the crack isolation properties of leading competitors and creates the watertight surface required under tile in wet areas. After installing the waterproofing and crack isolation system as per manufacturer instructions, always perform a flood test for verification.
Leverage Advanced Technology Adhesive
The trend of expansive bathroom size has paved the way for tiling beautiful lounge and vanity areas. Fortunately, tile installation technology has kept pace with the latest tile options, so that it's possible to install a wide variety of tile with just one advanced product. New TEC TotalFlex® XMS Tile Adhesive is tailored for the most challenging wall applications. From building exteriors to submerged use in pools or shower areas, and from GPTP to clear glass tiles; TotalFlex XMS offers unmatched versatility along with time-saving one-sided application. For current bathroom tile challenges, installers save time and effort with advanced technology found in the latest ready-to-use tile adhesives and high-performance mortars.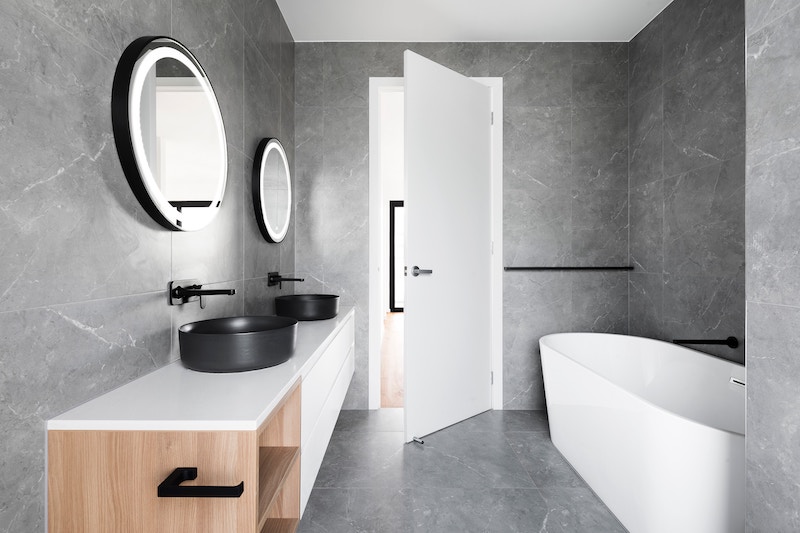 Grout for Strength and Long-term Beauty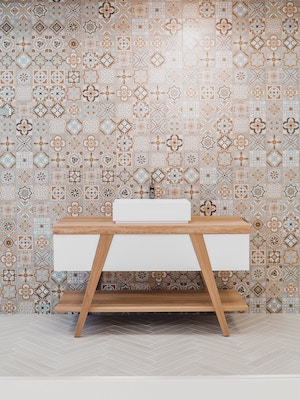 Bathrooms today are designed to be visually stunning. Tile helps deliver unique visuals, with its infinite mix of options. A popular aesthetic is the escape-to-nature indoors accomplished with tiles of natural stone, wood-look, and colors that evoke relaxing nature scenes. Conversely, another bathroom design trend is to create a bold-edgy-stark statement. Tile contributes to this aesthetic through vibrant colors, giant sizes and unique shapes/patterns. No matter the aesthetic, grout becomes a tool for pulling together the visual.
While thin grout lines have been the trend, intermittent use of thick grout lines has become a new design element. Thin or thick, keeping grout clean and crack-free is a critical challenge and concern for owners. TEC® Power Grout is an advanced performance grout that has a unique formulation that is stainproof* and delivers strong, consistent color joints resistant to shrinking/cracking. Perfect for wet and high traffic areas, it meets the easy-to-apply and efficiency needs of today's bathroom installations with extended pot life, fast 4-hour set time, zero efflorescence and no need for sealing, ever.
Finish the Aesthetic
No bathroom tile can maintain its just-installed beauty, if finishes are not applied properly. Follow the tile manufacturer's recommendations for care, including sealing natural stone. To protect the tile installation from movement, silicone caulk should be used at changes in plane/expansion joints. Silicone caulk should also be used for any tile corners in showers or where tile meets a tub/shower pan – areas subject to independent movement that would crack grout and create leaks. Preventing cracks and water damage on the tile surface maintains the installation's beauty and functionality.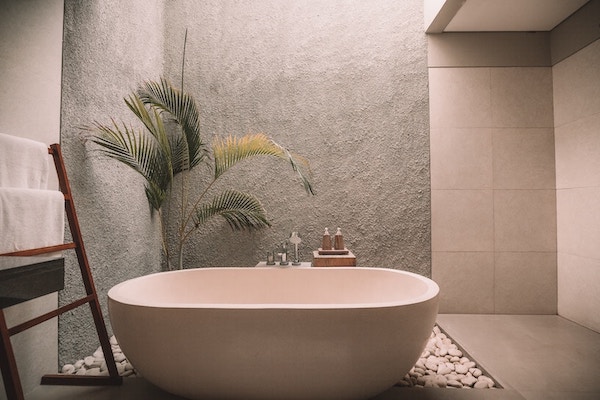 Today bathrooms are transcending their primary function and becoming sanctuaries of comfort and personal expression. Tile installation products have evolved to meet the challenges of the many popular tile materials, sizes, and design elements. With planning, careful attention to product choice and proper techniques; installers can efficiently and effectively set bathroom tile across horizontal and vertical spaces, curved or straight lines, water exposure or dry areas. The end result is bathroom tile that will remain visually stunning for the long-term.
Article written by Denise Tripamer
*Power Grout is stain proof to most common water based stains when cleaned immediately. The prolonged exposure of any stain will increase the likelihood of permanent staining or discoloration of grout surface.