WASHINGTON, June 15—Associated Builders and Contractors reports today that its Construction Backlog Indicator rose to 8.0 months in May, according to an ABC member survey conducted from May 20 to June 2, 0.1 months higher than in April 2021 and May 2020.
While ABC's Construction Confidence Index readings for sales increased modestly in May, confidence regarding profit margins and staffing levels slipped. All three indices remain above the threshold of 50, indicating expectations of growth over the next six months.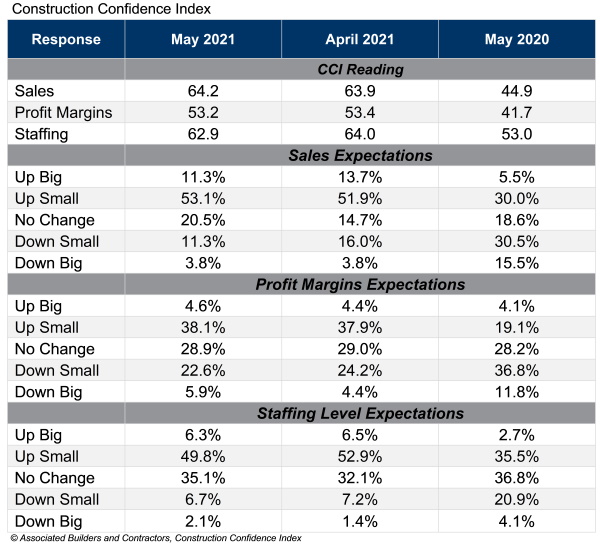 "Nonresidential construction backlog continues to edge higher, consistent with expectations that sales, profit margins and staffing will expand over the next six months," said ABC chief economist Anirban Basu. "For at least four reasons, this represents an extraordinary set of findings.
"First, materials prices have risen significantly over the past year and labor costs are also on the rise," said Basu. "All things equal, one might think this would suppress profit margin growth. Apparently, demand for construction services is strong enough to generate sufficient pricing power to more than fully countervail those factors. Second, skills shortages continue to impact the construction industry and many other segments. Despite that, the average nonresidential contractor expects to expand their teams during the months ahead.
"Third, conventional wisdom suggests that commercial real estate fundamentals are weak in the context of remote working, online shopping and sluggish business travel," said Basu. "Nonetheless, backlog in the commercial category remains stable. Fourth and finally, while there has been much talk about a federal infrastructure plan, it remains elusive. Nonetheless, backlog in the infrastructure category rose significantly in May, perhaps a reflection of stronger state and local government balance sheets and associated increases in infrastructure outlays. In sum, contractors can expect healthy growth in activity through the balance of 2021."
Click here for a short video from ABC's chief economist to see what the latest survey data mean for the construction industry.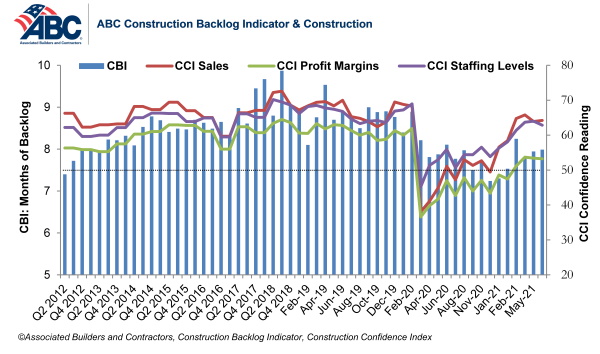 Note: The reference months for the Construction Backlog Indicator and Construction Confidence Index data series were revised on May 12, 2020 to better reflect the survey period. CBI quantifies the previous month's work under contract based on the latest financials available, while CCI measures contractors' outlook for the next six months.
 Click here for historical CCI and CBI data and here for methodology. Visit abc.org/economics for the CBI and CCI reports, plus analysis of spending, employment, GDP and the Producer Price Index.

Associated Builders and Contractors is a national construction industry trade association established in 1950 that represents more than 21,000 members. Founded on the merit shop philosophy, ABC and its 69 chapters help members develop people, win work and deliver that work safely, ethically and profitably for the betterment of the communities in which ABC and its members work. Visit at abc.org.