Seasonally adjusted construction employment rose in 38 states and the District of Columbia year-over-year (y/y) from March 2017 to March 2018, and declined in 12 states, an AGC analysis of Bureau of Labor Statistics (BLS) data released on Friday showed. The largest percentage gains again were in West Virginia (11%, 3,400 jobs) and Nevada (9.0%, 7,500), followed by Idaho (8.6%, 3,800), Massachusetts (7.7%, 11,500) and New Mexico (7.6%, 3,400). The most jobs again were added in California (54,400 jobs, 6.8%), Texas (34,000, 4.8%) and Florida (31,600, 6.3%). Over the year, North Dakota lost the highest total and percentage of construction jobs (-4,300 jobs, -15%), followed by Iowa (-3,900, -5.0%), Kansas (-2,500, -4.1%) and Nebraska (-2,000, -3.8%). For the month, employment rose in 29 states, fell in 19 and D.C., and was flat in Vermont and Wyoming. (AGC's rankings are based on seasonally adjusted data, which in D.C., Nebraska and five other states is available only for construction, mining and logging combined.)
The value of new construction starts in March jumped 11% at a seasonally adjusted annual rate, following decreases of 3% in February and 2% in January, construction data provider Dodge Data & Analytics reported on Friday. "The nonbuilding construction sector, comprised of public works and electric utilities/gas plants, soared 73% in March, boosted by the start of several very large projects. These included the $3.5 billion Mountain Valley Pipeline expansion in West Virginia and Virginia, the $1.1 billion I-405 highway project in Orange County, California, the $855 million Grand Parkway highway project in Houston…and a $400 million wind farm in Kansas….both nonresidential building and residential building eased back slightly in March, with respective declines of 1% and 2%. During the first three months of 2018, total construction starts on an unadjusted basis were…down 7% from last year (which included exceptionally strong amounts for airport terminals and natural gas pipelines). On a 12-month moving total basis, total construction starts for the 12 months ending March 2018 were up 1% from the [previous] 12 months."
Housing starts in March increased 1.9% at a seasonally adjusted annual rate from the February rate and 11% from the March 2017 rate, the Census Bureau reported on Tuesday. Single-family starts slumped 3.7% for the month but increased 5.2% y/y. Multifamily starts (in buildings with five or more units), which are often volatile, rebounded 16% for the month, following a 12% drop in February, and jumped 24% y/y. For the first three months of 2018 combined compared to the first quarter of 2017, starts increased 8.0% (7.0% for single-family and 9.5% for multifamily). Building permits, a fairly reliable indicator of near-term starts, rose by 2.5% for the month and 7.5% y/y. Single-family permits slid 5.5% for the month but rose 1.7% y/y. Multifamily permits soared 23% for the month and 19% y/y. For the first quarter, permits increased 6.2% (single-family, 5.3%; multifamily, 7.0%).
"Economic activity expanded at a modest to moderate pace across the 12 Federal Reserve districts in February and March,…with robust construction activity noted in three districts," the Federal Reserve reported on Wednesday in its latest "Beige Book." The report is a compilation of informal soundings of business conditions in each of the districts, which are referenced by the name of their headquarters cities. The summary includes these comments relevant to construction: "Several districts reported continued worker shortages across most sectors, with contacts often mentioning shortages in the construction, information technology, and manufacturing sectors…Four districts saw a marked increase in steel prices, due in part to a decline in foreign competition. Price growth for building materials such as lumber picked up, stemming from an uptick in construction activity." Short summaries for each district included these comments. Philadelphia district "construction and existing home sales changed little." Cleveland district "construction activity remained buoyant." Chicago district "construction and real estate activity grew slightly." Minneapolis district "commercial construction grew strongly, but residential construction was mixed."
The Architecture Billings Index slipped to a still-favorable seasonally adjusted score of 51.0 in March from 52.0 in February and 54.7 in January, the American Institute of Architects (AIA) reported on Wednesday. The index measures the percentage of surveyed architecture firms that reported higher billings than a month earlier, less the percentage reporting lower billings; any score above 50 indicates an increase in billings. Scores (based on three-month moving averages) for the four practice specialties were mixed: residential (mainly multifamily), 53.4 (down from 54.5 in February); commercial/industrial, 53.1 (up from 52.7); mixed practice, 51.1 (down slightly from 51.2); and institutional, 49.7 (down from 51.8). The AIA also asked "responding architecture firm leaders about the potential impact of the planned US tariffs on imported steel and aluminum, and [24%] of respondents…indicated that they have already seen specific consequences from the proposed changes. Regardless of whether or not they've already seen specific consequences from the proposed tariffs, 91% of respondents indicated that they expect to see at least a minor impact from the tariffs on current and future projects at their firm, with 43% anticipating a moderate impact and 21% anticipating a major impact. Of the firms expecting an impact from the tariffs on their projects, more than half (53%) think that it is very likely that construction costs will rise for most projects."
In the past week, steel makers Gerdau and Commercial Metals Company (CMC) announced immediate price increases of $20 per ton for reinforcing steel products. The reader who forwarded CMC's notice reported, "3 increases this year totaling a 19% increase. And I don't think we're done yet. Plus supply is severely constricted. Rebar and wire mesh is very hard to come by." Readers are invited to forward price announcements to [email protected].
The Data DIGest is a weekly summary of economic news; items most relevant to construction are in italics. All rights reserved. Sign up at http://store.agc.org.
Sign up here for May 10 webinar (2-3:30 pm EDT) on construction outlook with Ken Simonson, Kermit Baker (AIA) & Alex Carrick (ConstructConnect). Please note that the next issue of the Data DIGest will be on May 11.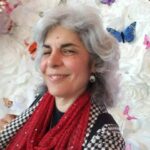 Editorial Director and Senior Writer for TileLetter and TileLetter ARTISAN
Lesley Goddin has been writing and journaling since her first diary at age 11. Her journey has taken her through a career in publishing and publicity, landing her the editor position of TileLetter and its special publications in 2006. Her goal is to educate, inspire, recognize and encourage those in the tile industry -- especially the tile and stone contractor. Other interests include the soft, purring marvels known as cats, labyrinth walking, drumming and percussion, and a range of spiritual, musical and artistic pursuits.