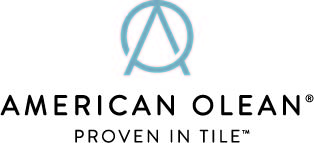 Continuing in the tradition of reinventing the classics, American Olean launches two new collections for summer that offer designers a fresh perspective on concrete and marble.
"Designers and homeowners seek inspiration in the materials found around us and in nature, which led us to create these contemporary styles that invite the outdoors inside with accents to refresh spaces," said Micah Hand, senior marketing manager of Dal-Tile, American Olean's parent company. "The latest collections from American Olean provide elegant, inspired solutions without sacrificing the trusted quality and durability that designers, architects, and consumers have come to expect from our porcelain products."
NeoConcrete™ is the concrete-look tile that delivers both style and enhanced slip resistance, for spaces that demand higher performance. Five svelte colors in two finishes come in large sizes, as well as a contemporary 3-D cube mosaic. Designed to coordinate with one of our favorite collections, NeoSpeck, NeoConcrete completes the offering as a rectified Colorbody™ porcelain tile featuring Stepwise™ technology. Proprietary Stepwise technology makes NeoConcrete 50 percent more slip resistant than regular tile when compared to tile meeting ANSI Standards, making it an ideal selection for indoor and outdoor installations.
Beautiful, elegant, timeless — words that define white marble. Ideology™ brings the history of white marble and contemporary design together. Updated larger sizes and fascinating geometric mosaic and decorative tile options let designers and homeowners insert marble veining into today's designs. These glazed porcelain products are available in three colors, including Vein-Cut Calacatta, Lasa, and Carrara.
The latest new summer launch collections from American Olean join three new spring launch tile collections that were introduced at The International Surfaces Event in January 2019 — each an elegant take on natural materials.
Rich graphics come to life through the Waterwood™ collection, which pulls inspiration from the bricola wood pillars that grace the waterways of Venice. Bricola is transformed by years of water exposure and the Waterwood glazed porcelain series emulates this unique wood found in only one place in the world and delivers a nontraditional oak look.
With a captivating mix of color movement, sleek lines and clean finishes, Presario™ marble is sure to create an elegant design. Three cosmopolitan colors of natural marble stone modernize this classic look, and a variety of mosaic shapes allow designers to make a lasting impression in their projects.
The calming effects of the sun setting over the water infuse the Sunset Falls™ collection. This travertine stone-look delivers classic style in several sizes, rectangular shapes and a herringbone mosaic. Offering design flexibility, these porcelain tiles lay a stunning foundation that will check all the boxes when it comes to beauty and performance.
All of the new 2019 American Olean products will be on display at Coverings 2019 in Orlando, Fla., from April 9-12 in booth #2100. To learn more about the new collections, as well as the full line of American Olean products, visit www.americanolean.com.
American-Olean-Coverings-Fact-Sheet-Summer-Spring-2019
About American Olean
Since 1923, American Olean has been offering an extensive array of quality tile products. Through an appealing selection and a trusted network of industry professionals, American Olean empowers the creative visions of residential and commercial design and construction. For more information, visit www.americanolean.com and follow American Olean on Facebook, Twitter, Instagram, Houzz and Pinterest.