Dallas, TX – June 16, 2021 – American Olean's new Crafter porcelain tile collection offers a concrete look inspired by the visuals of the unique fibers found in craft paper.  The assortment includes popular large format porcelain tiles, in five on-trend colors, as well as corresponding 8" hex ceramic decos that create an eye-catching 3D effect.  All feature proprietary StepWise technology for tile that is 50% more slip resistant than ordinary tile.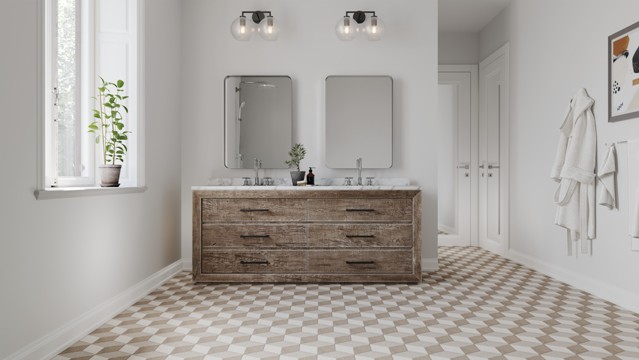 "American Olean's new Crafter collection is ideal for creating contemporary designs in both commercial and residential spaces," said Shelly Halbert, director of product design, Dal-Tile Corporation. 
Made in the USA, these matte finish tile products are appropriate for use on floors, walls, countertops, shower floors, and exterior floors.   In addition to StepWise which makes Crafter suitable for indoor and outdoor use, the assortment also features TruEdge and Reveal Imaging for designs that are virtually indistinguishable from the original materials they are emulating.  Crafter also boasts the inclusion of SimpliClean and the tiles/decos/mosaics/trims are waterproof, stainproof, dentproof, scratch-resistant, and fire-resistant.