On 1st July the winner of the competition promoted by Ceramiche Caesar will be announced to contribute to reflection on architecture and design of the future
Fiorano Modenese, June 2021 – The final evening of the Caesar Design Film Award will be held on 1st July at the Spezzano castle (MO). This is the second edition of the competition promoted by Ceramiche Caesar as part of the sixth edition of the Ennesimo Film Festival, which rewards short films related to design and architecture.
Design for Living is this year's topic — a complex and challenging one — signalling how the rebirth after the crisis that has involved us all on a global level must also be supported by the design of a new world in which to return to living on a different basis.
This revolution of common spaces is led by architecture and design, in an approach that combines aesthetics, community and sustainability.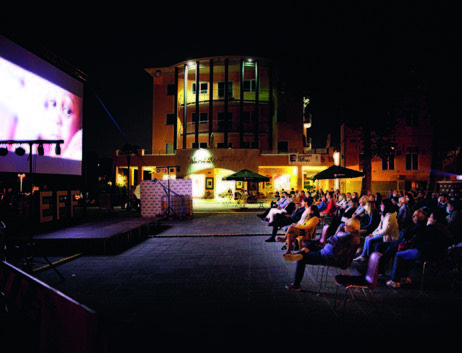 Paola Antonelli also spoke about design and sustainability on 26th May at the Design Talks meeting organized by University of Bologna in collaboration with the Ennesimo Film Festival and Ceramiche Caesar. Antonelli, curator of MoMa's Department of Architecture and Design, presented the Design Emergency project, an exploration of the designer's key role in building a better future.
The winner of the Caesar Design Film Award to be announced on 1st July at the Spezzano castle will be chosen from these six short films:
A Little Piece Of Earth – Ryan Malloy, USA
Next Sunday – Marta Bogdanska, Lebanon/Poland
Permanent Camping – Jim Lonsbury, Australia
There's a tree on the sidewalk – Jonathan Pinkhard, Adam McConnachie, South Africa
Troiane – Stefano Santamato, Italy
We Are Not Bad Kids – Ben Falk, UK
In two years, over 200 productions from more than 35 countries all over the world have been selected. For Caesar, this selection testifies to a lively and conscious interest in such an important subject. The desire to redesign a world where we can live more consciously and completely is a sentiment that has touched the sensibilities of numerous artists. Each filmmaker has given their own personal interpretation in short films – all extremely interesting and heterogeneous – capable of stimulating in Caesar, too, the determination to continue a program that has succeeded in combining technique and art, cinema and design, ceramics and design, offering a new way of communicating.
The five members of the panel, chosen according to their expertise, will evaluate the films, judging the different aspects with top professionalism:
Guglielmo Renzi, architect and designer
Ana Carola Traverso-Krejcarek, sociologist and urban planner
Stefano Maffei, Architect and Design Ph.D. at the Politecnico, Milan
Vito Palmieri, film director and professor at the University of Bologna
Adolfo Tancredi, CEO of Ceramiche Caesar
The final evening will also reveal the Wannabe Designer mention, designated by a panel of Architecture and Cinema students, from a selection of six films that reached the final stage and were screened during the event.
With this initiative, Ceramiche Caesar lays the second stone of that ongoing project that began last year with special consideration and with a strong echo at the same time, which reaffirmed the public's desire to respond to new communication methods.
Different cultures and aspects of design once again come together in the more intensive search for ceramic innovation, where a material with a strong tradition and at the same time in constant evolution such as porcelain tile gives new ideas to architecture and design.
The cinema thus becomes the eyes and voice of a vision that Caesar foster every day in their production areas, where collections are created from high professional and technological standards but also from a strong passion that inspires every series, every project, whether product or architecture.
And ceramics, with Caesar, becomes a great added value.