Aliquippa, PA (January 24, 2017) – ARDEX Americas celebrates 40 years of innovation in 2018, and kicking off the celebration is its first new product announcement, ARDEX S 1-K™ One-Component Waterproofing and Crack Isolation Membrane.
ARDEX S 1-K is a single-component topside waterproofing compound that is extremely easy to use and produces a flexible waterproof coating perfect for use in showers, bathrooms and other wet areas. Recommended for use over a wide range of substrates and finishes, the highly workable consistency minimizes drips and splatters.
Flood test ARDEX S 1-K in 12 to 24 hours after the second coat has been applied. It also provides crack isolation up to 1/8" (3 mm). Available in two convenient sizes (large 3.5 and small .7 gallons), ARDEX S 1-K provides excellent coverage at nearly 57 sq. ft. per gallon in two coats.
"We're excited to add to our waterproofing line this easy-to-use, single component solution," said Russ Gaetano, ARDEX Senior Marketing Manager, Tile & Stone Installation Systems. "Everything about ARDEX S 1-K was designed to provide ease for installer, even the containers are oval shaped to readily accommodate a roller."
ARDEX S1-K is now available for purchase at ARDEX distributors throughout North America.
For more information on ARDEX Americas, please visit www.ardexamericas.com or call  1-888-512-7339 to find a distributor near you.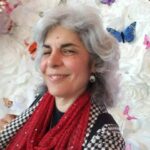 Editorial Director and Senior Writer for TileLetter and TileLetter ARTISAN
Lesley Goddin has been writing and journaling since her first diary at age 11. Her journey has taken her through a career in publishing and publicity, landing her the editor position of TileLetter and its special publications in 2006. Her goal is to educate, inspire, recognize and encourage those in the tile industry -- especially the tile and stone contractor. Other interests include the soft, purring marvels known as cats, labyrinth walking, drumming and percussion, and a range of spiritual, musical and artistic pursuits.