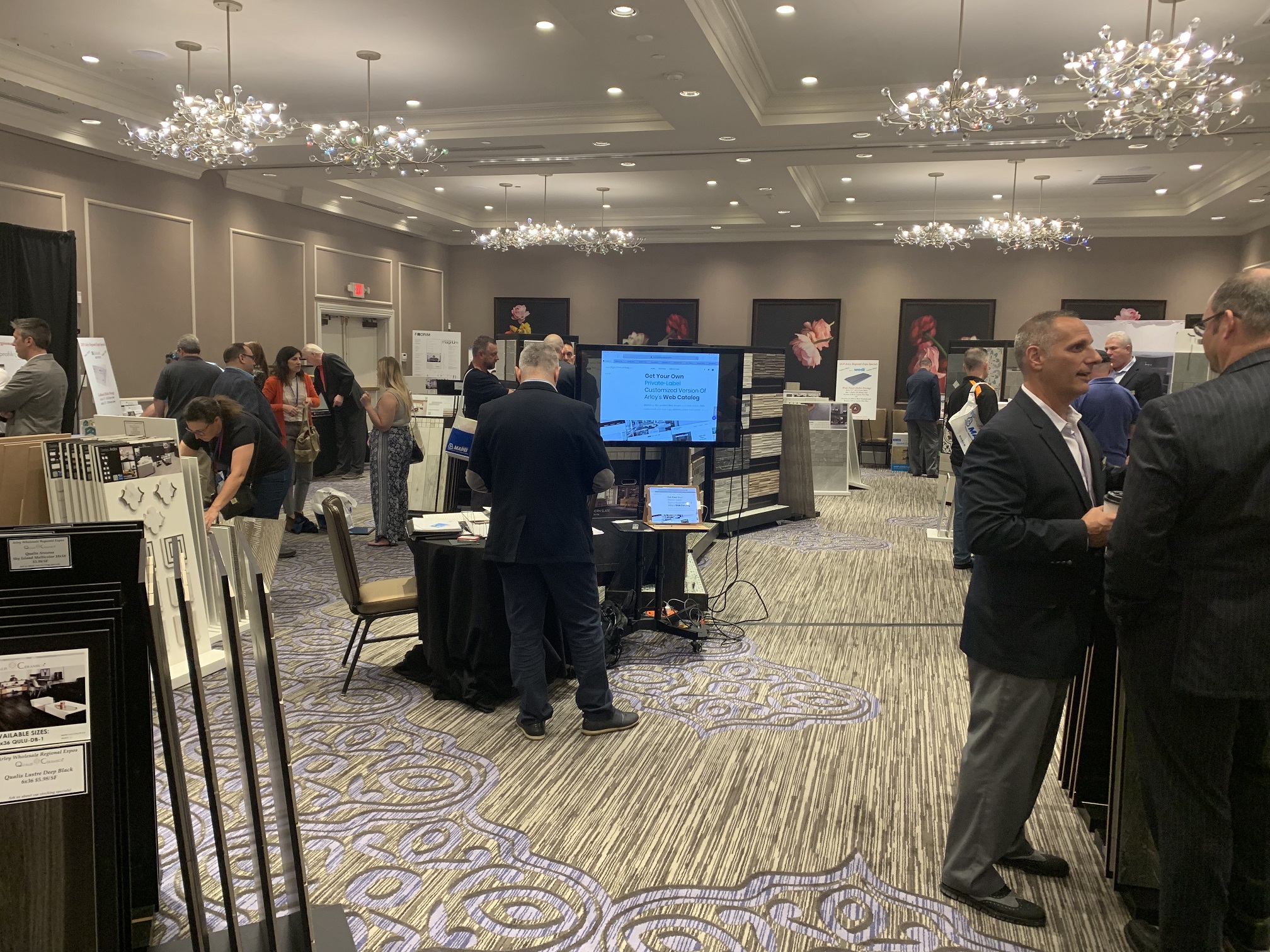 Arley Wholesale's first summer road show, which took place June 11 at Hilton Christiana/Delaware Park Hotel in Wilmington, Del., has been rated a success. The supplier is holding four regional expos in different cities outside of its home base location in Scranton, Pa. About 110 enthusiastic Arley customers attended, primarily from central Pennsylvania, Philadelphia, southern New Jersey, Delaware and northern Maryland.
"Our first 'road show' proved to be a valuable event for everyone involved," beamed Scott Levy, President of Arley Wholesale. "We were able to meet firsthand with a great number of customers, spending some quality time discussing their business and how Arley can help them grow.  The enthusiasm was high. We unveiled many new products, new marketing opportunities and much, much more."
New products were from Arley's private label, trademark-protected Qualis Ceramica Collection  "We wanted to bring these new products directly to them and in doing so, reinforce the fact that Qualis offers the best possible opportunity for our customers to compete against Big Box and online competition," Levy added. "Our customers love Qualis products because they are prohibited from being sold on the internet so they have more confidence in them and realize higher margins than on other tile lines they sell."
Other items addressed were the expanded "Arley App," offering customers even more state-of-the-art digital opportunities. "We are very serious about providing much more than just the best products to our clientele," stated Levy. "We want our customers to benefit with the digital technology Arley offers them. For example, because many of them want to have an actual interactive website, not just a landing page, we actually produce and maintain cutting-edge websites for our customer-partners."
Levy emphasized the fact that his firm's existence is based 100% on the strength of its customers. "If they're successful, we're successful. That's why we not only brought new products with attractive pricing programs to the event… we also had a number of key sundry supplier educational demonstrations. And of course," concluded Levy, "in classic Arley tradition, we all had a great deal of fun, as well."
Three more Arley "Road Shows" are scheduled for the summer of 2019.
July 10th at Saratoga Hilton/Saratoga Springs Casino in Sarasota Springs, NY
July 23rd at Mohegan Sun Casino in Uncasville, CT
August 6th at Hollywood Casino in Columbus, OH
For more information and registration forms, please contact your Arley Sales Representative or email [email protected].  .