Amityville, NY, August 2021 – Infinity Drain, the manufacturer at the forefront of architectural and decorative drains for both indoor and outdoor applications, continues to serve as the leading choice for proper shower drainage and bathroom irrigation in commercial and hospitality projects around the United States.
Hospitality Centric Products:
Game-Changing Stainless Steel Shower Base Expansion
Infinity Drain expands the innovative Stainless Steel Shower Base line to include 42 SKUs. Available in both center and linear drain options, a variety of drain placements, five finishes and seven grate styles, the Infinity Drain Stainless Steel Shower Bases can integrate for either curb or curbless (barrier-free) showers.
Click here to learn more about this revolutionary offering.
Seamless Design and Flexibility for Barrier-Free Showers
The Infinity Drain® Site Sizable Low Profile Linear Drain establishes a low threshold, reducing the floor height needed for shower installations. This progressive new profile for the Site Sizable® drain eliminates the need for a shower curb and opens the door for barrier-free showers, open concept bathrooms and wet room designs.
Click here to explore this exciting drainage solution.
Multiple-Installation Options, One Affordable Linear Drain Kit
The Universal Infinity Drain® linear drain is compatible with most waterproofing methods. The new Universal Kit Infinity Drain® is designed to adhere to both modern and traditional waterproofing techniques and eases the shower installation process.
Click here to discover the endless possibilities of drain installation.
With innovations like the Stainless Steel Shower Base, Universal Infinity Drain®, Site Sizable Infinity Drain®, design-centric center and linear drains and more, available for mass-quantity purchase, Infinity Drain has earned a stellar reputation for assisting with the enhancement of bathroom design in both small and large scale settings.
Recent Case Studies:
Stainless Steel Shower Base for One Wall Street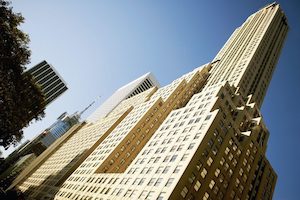 Infinity Drain joined forces with Macklow Properties to help transform New York City's iconic One Wall Street office tower into a residential oasis in the heart of the city. For this project, Infinity Drain custom fabricated 550 Stainless Steel Shower Bases, each with a unique dimension to outfit the bathrooms of every residential unit. The bases also arrived flood-tested with a pre-sloped floor primed for tiling, which sped up installation and reduced project costs.
Click here for more on this project.
Tailor-Made Center Drains for the Bellagio Resort Renovation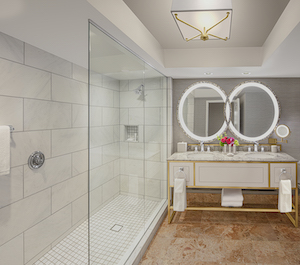 The guest rooms at the famous Bellagio Resort in Las Vegas, Nevada received a refreshing update with the help of Infinity Drain and architect firm The Gettys Group. With a design concept that lends a nod to the hotel's most iconic feature, the Fountains of Bellagio, each bathroom has been furnished with a show-stopping walk-in shower.
To ensure the custom-designed showers had a sturdy drainage system, The Gettys Group turned to Infinity Drain to craft 2,300 custom-made TD 15 5"x5" center drains to maintain the appropriate water flow rate and drainage needed in each of the guest bathrooms.
Click here for more on this project.
Linear Drains Line the Locker Rooms at the Rocket Mortgage Field House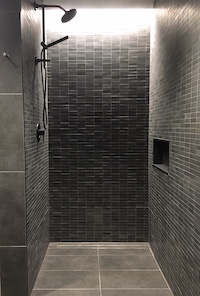 Located in downtown Cleveland, Ohio is the Rocket Mortgage Field House, an expansive 152,970 sq ft sporting, concert and event venue. This notable arena recently experienced a contemporary remodel at the hands of architect firms, SHoP and Rossetti.
Home to the Cleveland Cavaliers, the bathrooms and showers in the locker rooms required special attention, due to the shower dimension standards set by the NBA. SHoP and Rossetti enlisted the help of Infinity Drain to craft custom length linear drains for each shower to meet the needs of the shower head height and water production to avoid flooding. This one-of-a-kind drainage solution provided optimum waterproofing to ensure no water damage occurred in other sections of the bathroom.
Click here for more on this project.
To experience these products, view additional case studies and learn more about Infinity Drain, visit:
HD Expo 2021 – https://infinitydrain.com/hd-expo-2021/
August 24-25, 2021
Mandalay Bay – Las Vegas Nevada
Booth #5269
BDNY/ICFF 2021 – https://infinitydrain.com/icff-2021/
November 14-15, 2021 
Javits Center – New York, New York 
Booth #2869
---
About Infinity Drain
For over a decade, Infinity Drain has established itself as a leader in design-centric architectural shower drains with a reputation of unsurpassed quality. From hand polishing decorative grates to custom fabrication – all at the exacting specifications of customers, Infinity Drain offers the broadest selection of decorative choices and installation options. Its award-winning designs and innovations, including the Site Sizable® linear drain, continue to shape barrier-free bathroom design. Infinity Drain is revolutionizing bathroom installation with its completely waterproof Stainless Steel Shower Base backed with an original owner lifetime guarantee. Infinity Drain products are proudly fabricated in Long Island, NY, USA. For additional information, visit infinitydrain.com.