Only 3% of the onsite workforce in the housing industry is women, although 90% of women make the home-buying decisions.
BuilderBooks, the publishing arm of the National Association of Home Builders (NAHB), aims to change the conversation and reality about women in construction. BuilderBooks is releasing a new children's book, The House That She Built, on September 14, 2021, with a goal of bridging the gap in the skilled labor shortage by educating and exposing children to STEAM (science, technology, engineering, the arts, mathematics/applied mathematics) and construction careers, and elevating women in the industry. The book is inspired by the team of real women who came together from around the country to build a one-of-a-kind home in Utah: The House that SHE Built.
"We have a skilled labor crisis right now, and it's great to see a book that proactively educates children and their parents about how the home building industry can be a wonderful career path," said NAHB Chairman Chuck Fowke, a custom home builder from Tampa, Fla.
Young women will learn about 18 different and inspiring STEAM and construction careers through the tradeswomen who contribute their individual skills to complete the collective project — a new home. The House That She Built will leave all kids excited about their skills and interested in learning new ones. Exposure to the trades at a young age helps facilitate conversation before career-based bias can form.
Author Mollie Elkman and Illustrator Georgia Castellano work together at Group Two, a leading new home marketing company for home builders. Their goal for the book is to cultivate curiosity about skill development and careers in construction by empowering discussion at the age where self-esteem and identity are being formed.
The House That She Built is only the beginning of inspiring diversity and inclusion for future generations of the skilled workforce for the housing industry. With this book, there is the opportunity to demonstrate the impact that women can have on housing and develop the programs and education to make it happen. Industry leaders 84 Lumber and Andersen Corporation are sponsors of the book and support its mission to further workforce development initiatives in home building by generating awareness of the skilled trades to underrepresented communities.
"This is an incredible one-of-a-kind book for education children and parents about the trades," said Maggie Hardy Knox, President and Owner of 84 Lumber. "Sharing stories of successful women and careers in construction is important. As a woman-owned company, it's rewarding for 84 Lumber to participate in this project."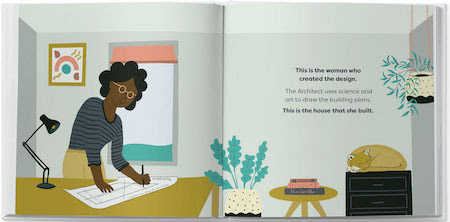 "Throughout our history, women have played a pivotal role in shaping our company and the building industry," said Annie Zipfel, Senior Vice President and Chief Marketing Officer at Andersen Corporation. "We are delighted to share this story of women in construction to inspire the next generation of young women to pursue rewarding careers in the trades."
Advance praise from the target audience is high for the book.
"It was all women and I'm so happy about that because I'm a girl," said Ellie, a kindergarten student. Fellow kindergartner Nina said, "I want to design the house and my sister will build it!" Elementary school teacher Katelyn Killea noted, "This book teaches children beautiful lessons about exploration, teamwork, and nontraditional career opportunities." And parent Samara Gertner, mom of a 3-year old, added, "My daughter was so engaged and smiling throughout the whole book. We love it and will definitely be reading it a lot."
Proceeds from the book will support skilled workforce development and diversity and inclusion in the construction industry. Find about more about the book at NAHB BuilderBooks: Hardcover: 978-0867187854; eBook: 978-0867187861 or visit www.shebuiltbook.com