Amazing work is being done by artisan tile setters and mosaic artists every day – to beautify, memorialize, inspire, soothe or renew the space for a client. Artisan tile setting and mosaic tile allow the artisan to create a truly custom installation that reflects a client's sense of personality or passion. Enjoy these selected projects. Got one of your own to share? Send high resolution photos with a short description to

[email protected]

.
---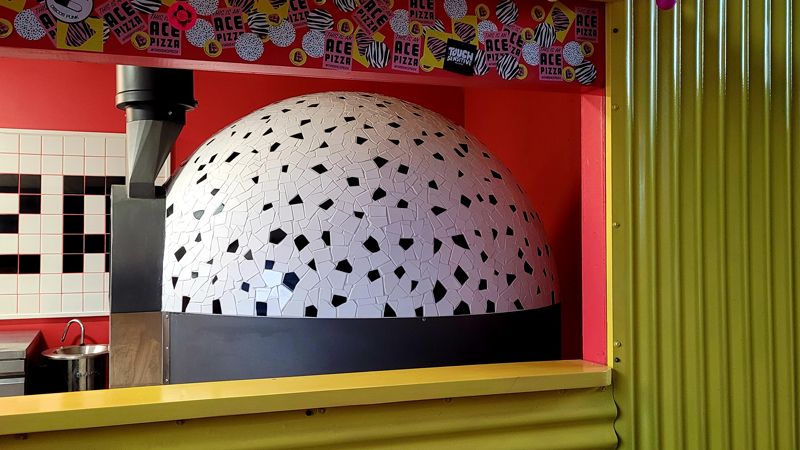 I want a pizza this!
Sharon Taylor of Viva Tiling in the UK created this oven for Ace Pizza, located at the taproom of Five Points Brewery in Hackney, London. "The client wanted that pattern as part of their look which is very funky, and they had seen other 'crazy paving' designs," Taylor said.
She broke 6″ ceramic tiles into shards and affixed them to a fiberglass shell with Kerakoll Bio Gel Extreme, a two-part adhesive that Taylor said is "great for awkward substrates – highly workable and deformable."
The oven was grouted with Kerakoll epoxy grout. She made the mosaics in the pizza oven project into plastic-faced sections at home to make for a quicker install on site.
---
This is history

This gorgeous custom entry floor in a historic home was designed and installed by Lee Callewaert of Dragonfly Tile and Stone Works in Grafton, Wis. From the freehand drawing, Shae Callewaert created a vinyl template to facilitate cutting and fitting together of the pieces, which were hand-cut and mounted on fabric sheet membrane (Check out the Technical article in this issue for more information on that technique). The "rug" was sized to fit perfectly into the hex field tile. The floor was prepped with mud work and anti-fracture membrane and the custom rug was installed to perfection! 21st Century Tile in Milwaukee supplied all the marble.
---
Tree of Life
Marisa D'Alimonte of D'Alimonte Tile & Stone, located in Petawawa, Ontario, Canada, has been in the trades for 10 years, working since 16 as a masonry laborer, but just established her own business this year. Shortly after completing the Heritage Masonry Program at Algonquin College she met Mario Anze, owner of INCA Tile & Marble, who she worked with for the last eight years. "He is a very talented tile setter, who helped shape me into the tradeswoman I am today," she said.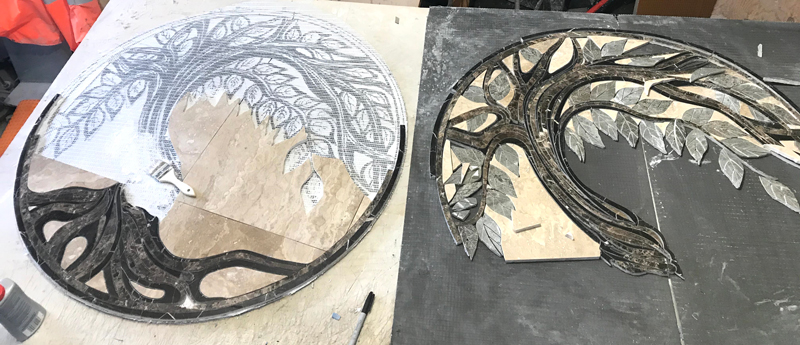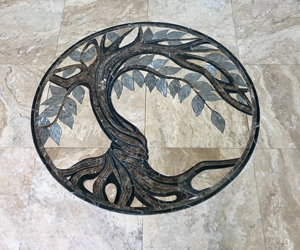 For this project, D'Alimonte conceived of the Tree of Life medallion to bring together custom art pieces in the client's home. She designed and sketched the tree for the medallion – her first! She had the image enlarged at the local print shop to use as a template.
She combines travertine for the field, two different types of marble for the trunk, and leaves are porcelain. She cut the pieces using a 3″ blade on an angle grinder with water attachment, and a diamond bit on a different grinder to smooth the pieces out. She finished them with a diamond pad, polishing all the edges, then glued the pieces to a mesh backing and installed the medallion on site.
"I really loved every minute of making this piece," D'Alimonte said. "It's absolutely incredible what we can create out of tile and stone."
---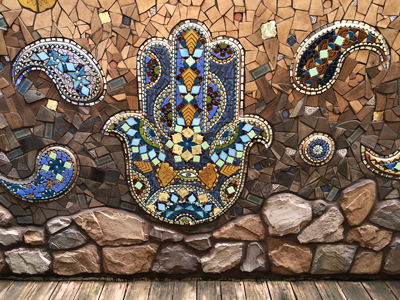 Backyard Urban Oasis
Hidden away the labyrinth of alleyways and concrete walls separating brick row homes in Philadelphia's historic Italian Market Neighborhood, is a tiny backyard patio unlike the others. The 14′ x 8′ space is surrounded by a 6′ privacy wall, raised double high on the left side where the wall meets the neighbor's house. When the homeowner purchased the property there was an existing tile mural which had deteriorated beyond repair, but was nonetheless one of the elements he loved most about the home. He wanted a new mural, built to withstand the extreme weather in Philadelphia, with an organically flowing design that indicated meditation, reflection, and relaxation.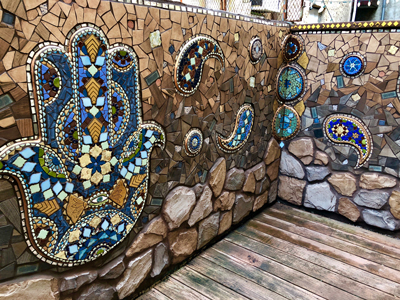 With these soothing qualities in mind, Trish Metzner (www.madeinmosaic.com) opted for a floating design inspired by the movement of water. Offsite, she created combinations of detailed, blue, green, and periwinkle paisley forms on wedi substrate along with circular mandalas. The focal point is a 3′ Hamsa design, a symbol of protection. It is visible from inside the house, framed by the glass door entry.
The old mural was chipped off and hauled out in bags through the house, (the biggest challenge) and the wall was re-cemented and waterproofed. Next came setting the pre-fabricated Elizabeth porcelain pieces and following up with setting the background design, mainly wood-patterned and earth-toned floor tile. To exaggerate the height of the wall, she created a subtle color gradation from lighter at the top to dark at the bottom. On the lower 1′ to 2′, the whimsical movement and colors of the upper design are anchored by the larger, higher-relief faux veneer-stone. The mural was grouted and caulked in areas where the high relief portions stand out. The wall was capped with coping stones, keeping a small portion of the original yellow tiles as requested. Metzner used LATICRETE products for waterproofing, thinset, grout and caulking, and high-quality Elizabeth porcelain tile that offered extraordinary color variety.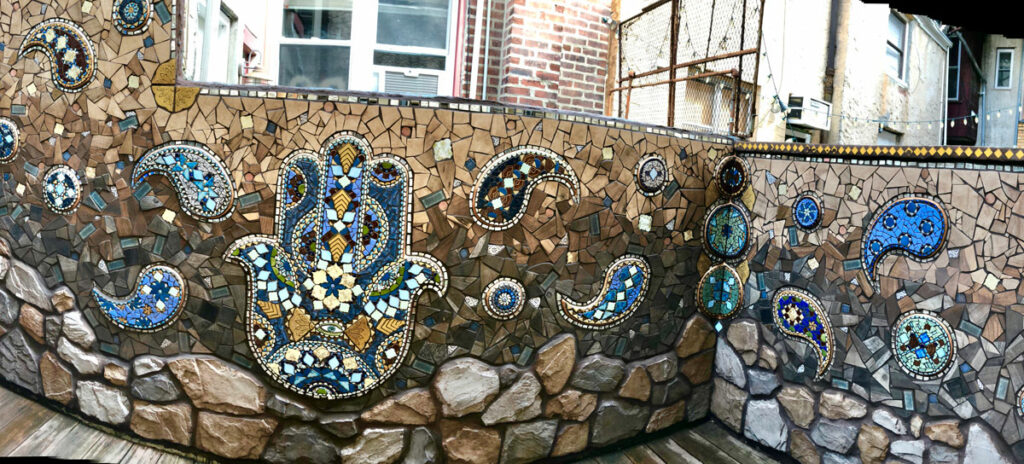 ---
Remembering Dan Hecox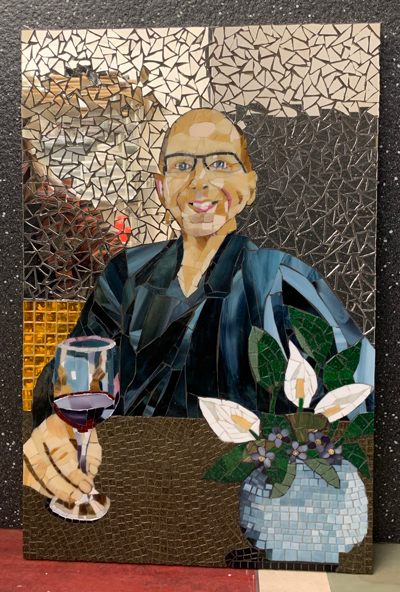 Angie Ré of Unique Mosaics created this memorial mosaic of Dan Hecox, beloved Nebraska tile contractor, NTCA member and Certified Tile Installer Evaluator for the Ceramic Tile Education Foundation. The mosaic featured a portrait of Dan with his trademark beaming smile, as well as peace lilies and forget-me-not flowers in the vase as a special touch in remembrance.
Ré worked with a group of people on this project, starting with Sean McLeod who approached Ré with the idea of creating the mosaic to give to Dan's mom. He gathered a group of people to commission the piece. Once the idea was posted on social media, donations for the mosaic Ré would create (at a deep discount from her rate) came pouring in and in 24 hours, Ré had enough funds for the commission. In 48 hours, there were enough funds for Robert Davis to create a custom frame with a CNC scripture inscription at the bottom. Once the mosaic was complete, Rod Katwyk made and donated a foam box for shipping; NTCA paid for shipping the mosaic to Davis, and then to Dan's close friend Mike Sima in Nebraska, who along with other close friends of Dan, presented the mosaic to Dan's family.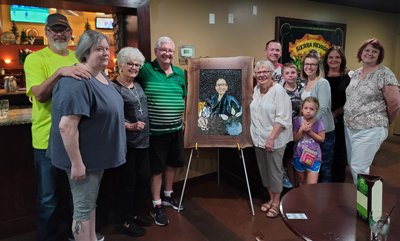 "Dan was such a loved man," Ré said. "It was my honor to be asked to create something for his family to cherish. I created the piece with a mirror background so that when you see Dan, you can see yourself with him."