"Creativity takes courage." – Henri Matisse
It's a new year, and a new opportunity to celebrate and explore the possibilities of artisan tile setting!
2021 was a tough year, and at this writing, 2022 is shaping up to be no exception, with different challenges impacting not-so-distant nations (no one is really that far away when we are all on the same spinning planet), and operations at home.
But in the words of Ron Nash, President and COO of
LATICRETE North America, during a recent conversation, "Art will save the world." And who better to share and spread that transformative art than those who are part of the growing artisan tile movement?
This Spring edition of TileLetter ARTISAN comes to you with news of an important development: a brand new chapter will be established in the NTCA Reference Manual this year dedicated to artisan tile setting. "Chapter 6" is the "artisan chapter," and a brand new document about pre-mounting techniques for mosaics is the first paper to be included. Read more in our Technical story.
At Total Solutions Plus last October, the NTCA named its Tile Setter Craftspersons of the Year – Gary Fox of Fox Ceramic Tile for commercial and Jay Cerda of Cox Tile for residential. Head over to the Craftsperson feature to learn more about Cerda's perspective on being a craftsperson and what's essential for anyone pursuing this trade.
Sheila Menzies and Joe Taylor of the Tile Heritage Foundation explore the history of California-based decorative tiles in Tile Throwback, focusing on the distinctive and extraordinary Batchelder Tiles and California China Products Co., tiles of the early 20thcentury.
In our Maker section, Josh Blanc discusses the origins and history of Clay Squared to Infinity handmade tile studio in Minneapolis, Minn. He discusses his intuitive technique of designing tiles, his influences, clients, and partnership with tile reproduction companies to service his customers.
If you are in the tile industry, you undoubtedly are familiar with the work of Jimmy Reed of Rock Solid Tile, Inc., the L.A.-area based legend responsible for spectacular pool installations. Reed shares his approach to excellence, installation, hiring and the competition in our Artisan feature.
Our Installation spotlight is the "Natural Florida" mural in Orlando, Fla., by Cherie Bosela of Luna Mosaic Arts in the same city. I had the opportunity to watch Bosela work on this lush mural last year at Coverings 21. This 2022 CID Award winning project incorporates both handmade and purchased tiles to portray Florida flora and fauna. Explore Bosela's process of designing the mural, creating the tiles, and installing them – at times accompanied by Sandhill Cranes, which also are an important design element in the piece.
Our Business section brings you two pieces of news: a collaboration between the Society of American Mosaic Artists (SAMA) and the Stained Glass Association of America (SGAA) that has breathed new life into SAMA and new opportunities for SGAA, starting with a shared conference in June in Toledo, Ohio. Another event is taking place farther east in May in Doylestown, Pa., as the TileWorks of Bucks County resurrects its longstanding tradition of its annual Tile Festival on its grounds. Both sound like inspiring events to attend – or exhibit at – for tile artisans.
There are never enough pages in this magazine to show EVERY incredible artisan project being created today – but we keep trying! Visit the Gallery and take a look at stunning mosaics and tile work to celebrate and inspire.
You're sure to get a kick out of our cover story that chronicles a decorative column by mosaic designer Julie Richey for the Antonio Catalan Marriott Hotel in Fort Worth, Texas. The Pamplona Rose column is inspired by the work of local boot maker M.L. Leddy and its iconic leatherwork and stitching, which Richey translated into mosaic art, with the help of LATICRETE International.
Thank you for reading, and mostly, for creating remarkable projects that beautify and transform our world. I can hardly wait to see what you are up to next!
God bless,
Lesley
Editorial Director and Senior Writer
[email protected]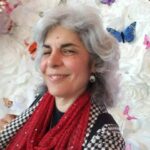 Editorial Director and Senior Writer for TileLetter and TileLetter ARTISAN
Lesley Goddin has been writing and journaling since her first diary at age 11. Her journey has taken her through a career in publishing and publicity, landing her the editor position of TileLetter and its special publications in 2006. Her goal is to educate, inspire, recognize and encourage those in the tile industry -- especially the tile and stone contractor. Other interests include the soft, purring marvels known as cats, labyrinth walking, drumming and percussion, and a range of spiritual, musical and artistic pursuits.