This issue brings six examples of artisan tile work to you for inspiration and admiration. From completely unique renditions of Mother Nature to a hex-tastic shower installation to a community project at an elementary school in Chicago and more, these artworks demonstrate that the artisan tile movement is alive and well – and growing – as it beautifies, unites, inspires and expresses as only tile can do. Enjoy these selections – and if you have one of your own to contribute for our Fall issue, send high resolution images (3-5 MB each) and a 150 word blurb to me by August 15, 2023.
– Lesley Goddin, [email protected]
Being Kind to Mother Nature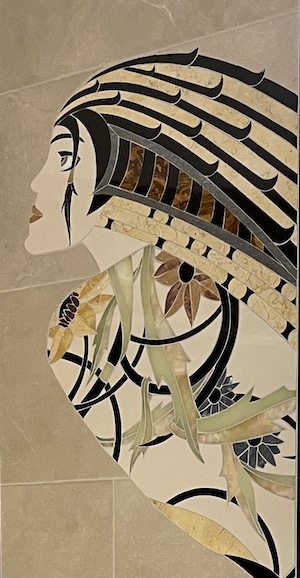 This custom project was designed and created by Lee Callewaert of Dragonfly Tile & Stone Works, Grafton, Wis., for a client who loves art and was excited about an artisan feature in this shower. Callewaert reframed the shower corner to reflect other architectural elements in the space and guided the client in material selections to reflect the dramatic mood while remaining classic: a neutral porcelain field tile with black granite trim, sills, curb, seat and countertop. The art feature sweeps around the exterior entrance of the shower as a focal point when entering the room, with red and green onyx, limestone, granite, marble and porcelain complementing the field tile. A vinyl template was created for the feature, which was then hand cut and pre-mounted in sections, and finally cut in to the field work. LATICRETE products were used for all prep and installation. The client was thrilled with the result exclaiming, "I feel like this should be in a magazine!"
Callewaert named the piece "Emily Jane," aka "Mother Nature" after the character in the Rise of the Guardians fantasy universe. Dragonflytile.com.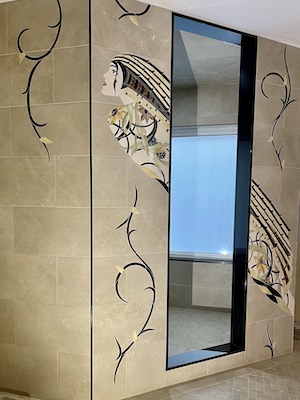 I put a hex on you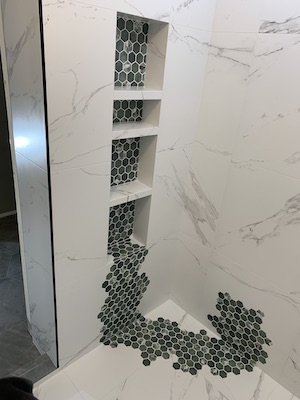 Jordon Walton, owner of Walton Tile LLC in Bellingham, Wash., has been installing tile for 16 years, starting when he was 18 years old. In this recent shower project for his sister and her husband, Walton collaborated on the design with his sister: 2″x2″ porcelain cascading hex mosaics down the wall to the shower floor of 24″x24″ porcelain tile.
Walton has been upping his skills by attending TISE the last three years, taking a porcelain panel class at Daltile and watching NTCA videos on large-format tile installation. He's passed his written Certified Tile Installer exam and plans to take the hands-on this summer.
"The tools and knowledge I acquired for porcelain panel installation guided me through all of the challenges I faced," he said. "Templating, high-quality blades, polishing tools, suction cups, slab table, cutting and handling large tiles. These are all skills and tools that I did not have before preparing for porcelain panel installation."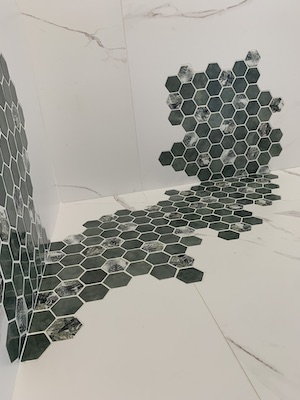 Golden ratio, rendered in stone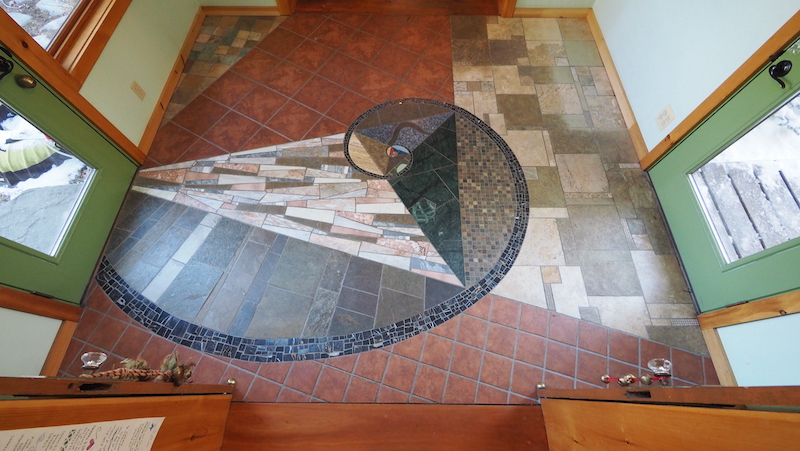 Nick Gilbert, Owner of Poetry of Stone in Ithaca, N.Y., specializes in stone artistry. He apprenticed with a master stone and tile mason when he was 17 and a earned a scholarship to the Rhode Island School of design based on his portfolio.
This mosaic floor was inspired by the golden ratio interpreted with triangles, instead of rectangles are most commonly associated with the design, he said. "The smallest triangle is a blue crystal tile that points east toward the rising sun. This piece is entirely created using scrap, reclaimed and salvaged stone and tile."
Gilbert said he uses "LATICRETE mortar and grout on all my projects because I want to ensure my installations will last." Learn more at www.poetryofstone.com.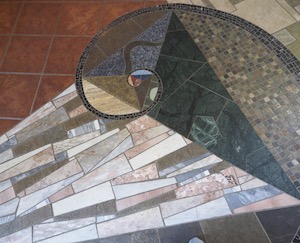 Mother Nature, redux
Mother Nature seems to be a theme in our gallery this time around. Chris Resti, of Crest Tile and Mosaic, brought this work by Ann Thane to our attention.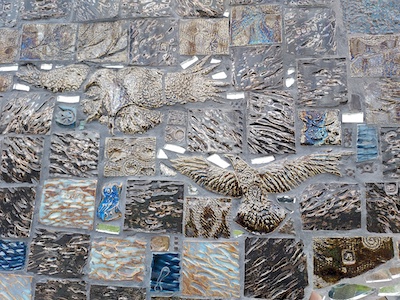 Thane's work, two 12′ x 6′ wide mosaics set on a concrete monolith, were gifted to the city of Amsterdam, N.Y. by the artist and installed on the Mohawk River in Riverlink Park. Entitled Mother Nature, and Mother & Child, they feature handmade, high-fired ceramics and mirrors that were pre-mounted and installed on site. Members of the community contributed their own tiles and handprints, made in Thane's studio, which were installed along with the fauna, flora, fish, birds and creatures from imagination. She grouted with LATICRETE PermaColor Select, mixing pigments in different shades to blend the grout colors in transitions.
After the tile work was complete, local metal-artisan Andrew Benson fabricated a topper including a life-size crane out of stainless steel and forks, knives, and spoons donated by the community to accompany the piece. Resti himself will return this spring to help complete the mosaic installation on each side of the structure. Learn more here: https://thaneartwork.com/mother-mosaic/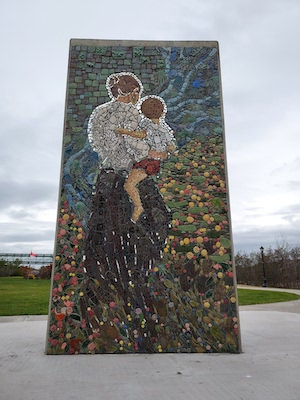 Pillars of creativity
Robb Olson, of Footprint Wood and Stone in Lakeville, Minn., had a challenging installation project on this hands, to meet the needs of his client, who wanted to wrap the back of the island cabinets and all four sides of these pillars with an 18″ x 36″ metallic 3D tile.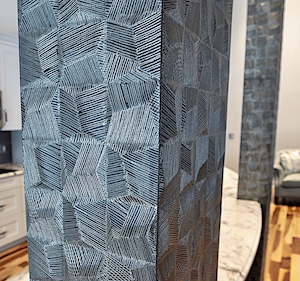 Olson said, "Due to the 3D pattern in the tile and the desire to have the corners wrap seamlessly around the pillars, we needed to plan for our miters to fall between the raised pattern of the tile. Ultimately, we had to work backwards and determine what size we could miter the tiles to and then add additional framing to the existing posts, so that once we added our backer board/mortar/tile, the raised pattern would flow perfectly uninterrupted around every corner. The end result is a stunning focal point to an already incredible area."
Find out more about Footprint Wood & Stone at https://www.facebook.com/Footprint-Wood-Stone-81257625903/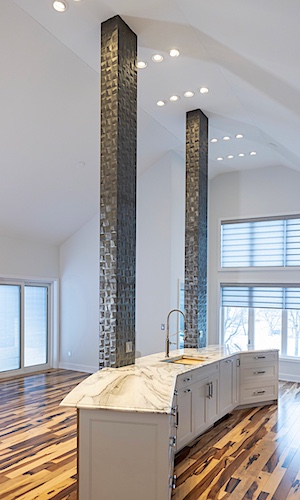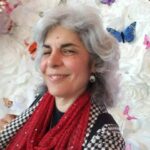 Editorial Director and Senior Writer for TileLetter and TileLetter ARTISAN
Lesley Goddin has been writing and journaling since her first diary at age 11. Her journey has taken her through a career in publishing and publicity, landing her the editor position of TileLetter and its special publications in 2006. Her goal is to educate, inspire, recognize and encourage those in the tile industry -- especially the tile and stone contractor. Other interests include the soft, purring marvels known as cats, labyrinth walking, drumming and percussion, and a range of spiritual, musical and artistic pursuits.